A hoax about Mark Zuckerberg is spreading widely on Facebook in part by exploiting the social network's new focus on elevating content that generates discussion.
The hoax claims Zuckerberg, the Facebook founder and CEO, invented the abbreviation "BFF," and that typing it in a comment will reveal the security status of your account. This is completely false, but it's gone viral in several countries.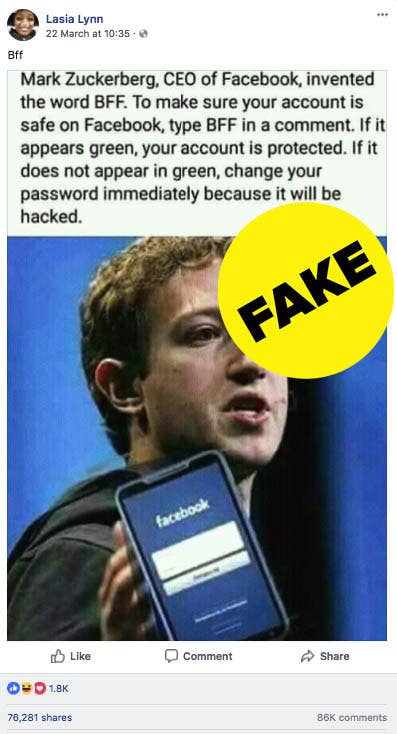 One English-language post was shared more than 76,000 times and received almost 87,000 comments, with the vast majority of those reviewed by BuzzFeed News consisting of nothing more than people typing "BFF." The popularity could at least in part be attributed to Facebook's latest News Feed algorithm change, which focuses on "meaningful interactions," according to the company. This means posts with a lot of replies are getting shown more prominently in the News Feed.

As for the claim about Zuckerberg creating "BFF," that's not true. The hoax also plays into a Facebook feature that sometimes changes the color of the text when "BFF" is used in a comment. (The same happens for words such as "congratulations" or "xoxo.") But the color change has nothing to do with an account's privacy or security status. The hoax has not only gone viral, it is international, also spreading in Turkish and Mongolian.
In an emailed statement, Facebook confirmed to BuzzFeed News the "BFF" claim is a hoax. "A meme is currently making the rounds claiming that entering 'BFF' into the comments section will secure a person's Facebook account. This is untrue. Entering 'BFF' will simply activate a Text Effect animation showing two hands coming together," a spokesperson said.
Although Snopes and other fact-checkers were quick to debunk the hoax, searches for "Mark Zuckerberg BFF" on Facebook don't surface the correct information.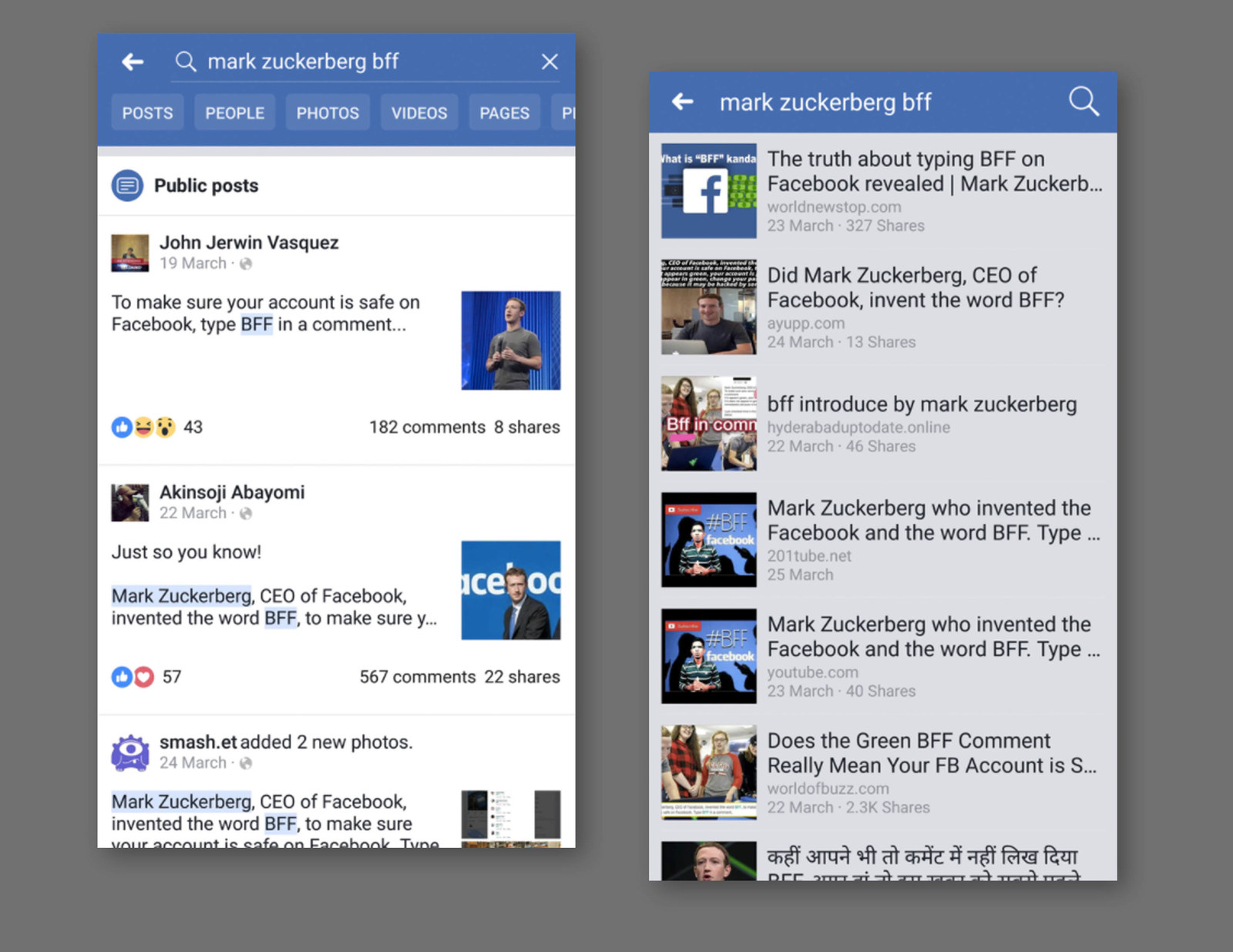 In a blog post two days ago, Facebook's director of analytics, Dan Zigmond, said fact checks are going to inform the company's algorithm and rank disputed stories lower in the News Feed. However, the company hasn't said how it plans to deal with images, videos, or text posts that share false information. The "BFF" hoax has been spreading on Facebook since at least March 15.
UPDATE
The post has been updated with comment from Facebook.