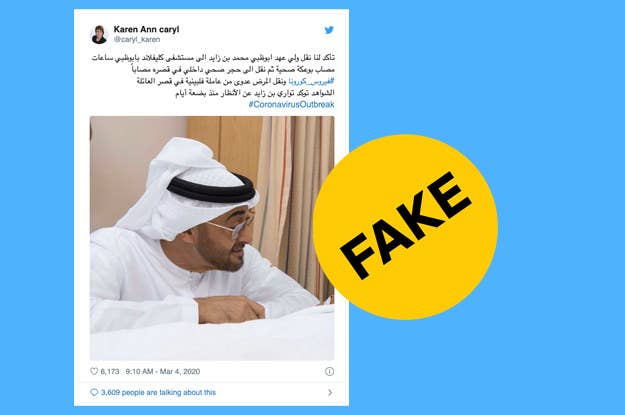 Twitter has suspended an account posing as a journalist that spread a rumor that United Arab Emirates Crown Prince Mohammed bin Zayed Al Nahyan has the coronavirus. The fake user was seemingly the first to tweet the unverified rumor, which broke the company's policy against platform manipulation. Several news reports cited the account as the source of the information, which is unconfirmed.
There's no evidence that the crown prince has the virus. According to the Crown Prince Court media center, he has been actively speaking to other world leaders and there have been no other reports to indicate he has been infected. BuzzFeed News was unable to reach the court for comment.
The account used the name "Karen Ann caryl" and described itself as a "Specialist Researcher & Journalist in The Yemeni and Gulf States Issues." It was created on Aug. 1, 2018, and had nearly 23,000 followers before being taken down by Twitter.
"We have confirmed the transfer of Crown Prince of Abu Dhabi Mohammed bin Zayed to Cleveland Hospital in Abu Dhabi, hours sick with a health problem and then transferred to an internal quarantine in his palace, sick with #coronavirus and the transfer of the disease came from a Filipino worker inside of the family's palace. Witnesses confirm that bin Zayed has not been seen for several days," the account tweeted in Arabic.
Twitter declined to comment on the record.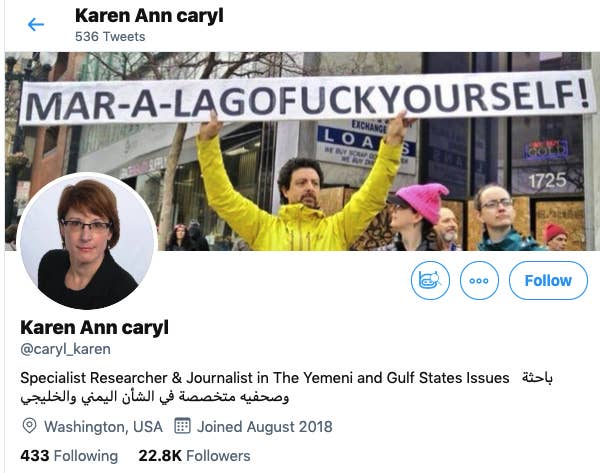 The unconfirmed rumor was picked up by others on Twitter as well as at least three major news outlets — Al Bawaba, based in Jordan, and N12, a major Israeli broadcaster that has since deleted its tweet. The Daily Sabah, the largest pro-government newspaper in Turkey, also posted a story about bin Zayed's rumored illness, citing N12.

One telltale sign the Twitter account was fake was its profile image. A reverse image search showed that the woman in the photo was not Karen Ann Caryl, but a marketing manager who lives in New Jersey and has a different name. BuzzFeed News is not identifying the person behind the genuine photo to protect the woman's privacy.
It's not clear whether the account was part of a larger disinformation operation or who was behind it. The rumor with the same text also spread on Facebook, where a verified account shared it to its 163,000 followers from a different, unverified account labeling itself as "Breaking News" in the bio.
Elamin Abdelmahmoud contributed reporting to this story.