President Trump on Wednesday posted a video on Twitter accusing Google of promoting former president Obama's State of the Union addresses on its highly trafficked homepage, while ignoring his, claiming the search giant is biased against the Republican.

"For years," the video claims, "Google promoted president Obama's State of the Union on its homepage. When President Trump took office, Google stopped."
The video, which was accompanied with the comment #StopTheBias, then shows alleged screenshots of Google's homepage on the dates of State of the Union addresses between the years 2012 and 2018. In the last two years, during Trump's presidency, the video spotlights a blank space where the State of the Union had been promoted.
But in a statement, Google said it did promote a live video stream of Trump's address in 2018. The year before, in 2017, a video wasn't promoted on the homepage because Trump delivered a joint statement to Congress, not a State of the Union.
"On January 30 2018, we highlighted the livestream of President Trump's State of the Union on the google.com homepage. We have historically not promoted the first address to Congress by a new President, which is technically not a State of the Union address. As a result, we didn't include a promotion on google.com for this address in either 2009 or 2017," a Google spokesperson said in a statement to BuzzFeed News.
An Internet Archive capture of the Google homepage confirms the company's statement, showing promotion of Trump's State of the Union address.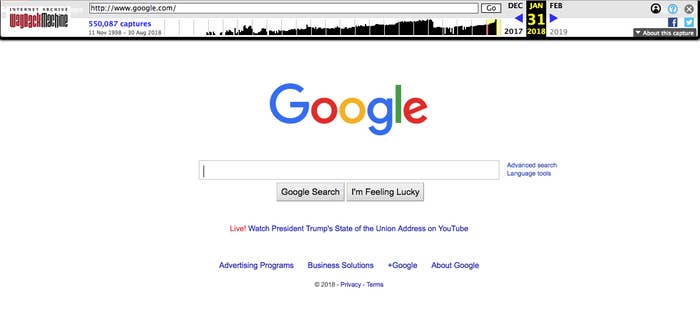 A user of the pro-Trump Reddit board /r/The_Donald also posted a screenshot seven months ago capturing Google's homepage promotion of Trump's address. Although a screenshot could be easily faked, it was posted during Trump's speech, at 9:36 p.m. ET. The 2018 State of the Union was delivered between 9:15 p.m. and 10:32 p.m.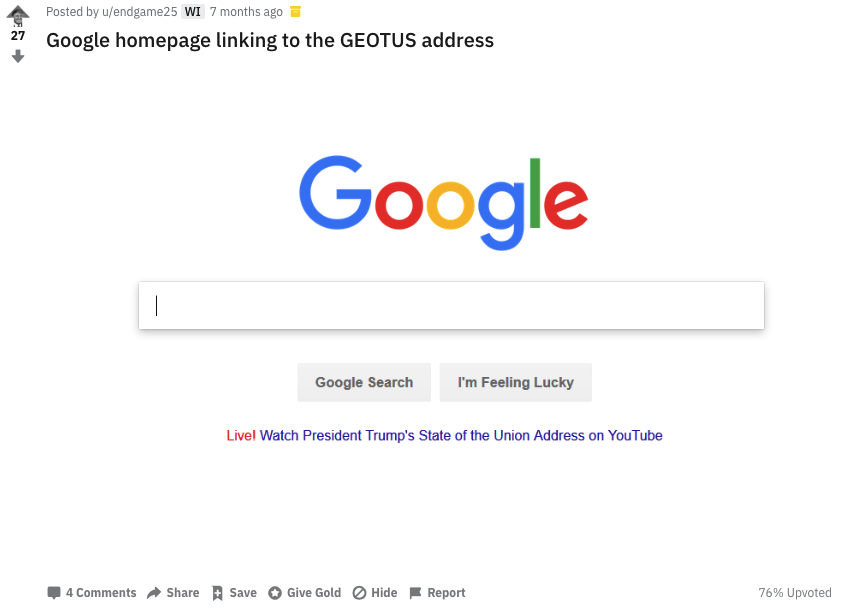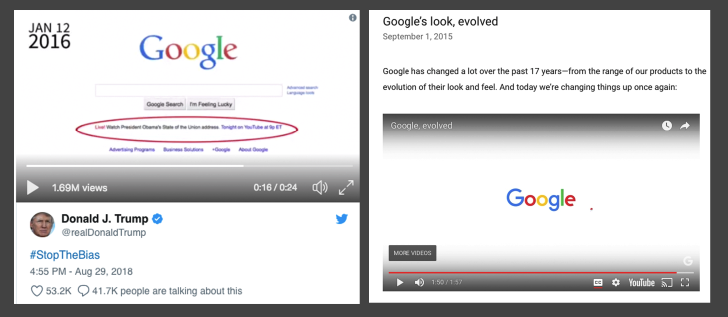 Some of the president's supporters immediately seized on the message and promoted the hashtag.
GOP chair Ronna McDaniel said companies "shouldn't be picking sides."
And the Kremlin-funded media outlet RT posted a story parroting Trump's claim, without a response from Google.