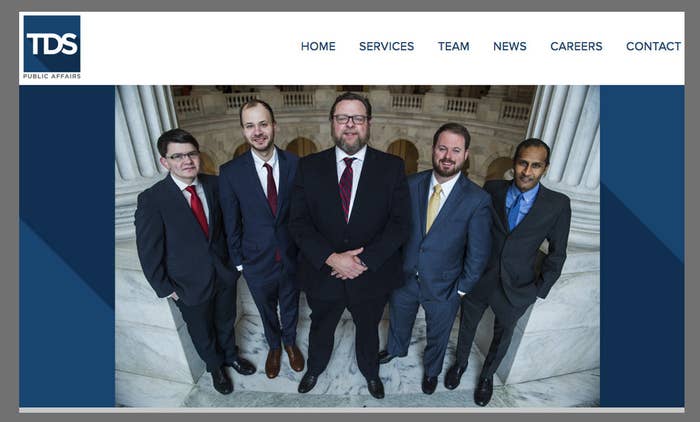 Conservative media has long been the home for impassioned arguments against the welfare state, gun control, and taxes.

But if you look closely at key conservative sites including the Daily Caller, Breitbart, the Washington Examiner, and the Daily Wire, you'll see another track of articles, no less passionate for just how obscure its targets are. Say, contact lens regulations.
"Everyone must be warned of the cogs that are turning in the minds and actions of crony members of Congress and lobbyists backed by the largest prescribers and contact lens companies," says one article published on Red Alert Politics, titled "Big brother is after your contact lenses."
Does anybody really care that much about contact lenses? Well, big corporations like Costco and online retailers like 1-800 Contacts sure do. And a BuzzFeed News investigation has linked the authors of at least some of the wave of contact lens op-eds to a stealth corporate propaganda campaign that saw a Washington, DC, public relations firm place articles for its clients — often without the knowledge of the editors who published advocacy for everything from payday lenders to online gambling.
"The author submitted the article to one of my editors, but didn't say he was working for a PR firm," Ben Shapiro, a rising star in conservative media who edits the Daily Wire, told BuzzFeed News regarding two pieces it published by Daniel MacLane in the Wire, one about contact lenses and the other about online privacy. "The author pitched himself this way: 'Daniel MacLane is a conservative activist and columnist for the American Thinker, the Lone Conservative, and the Daily Targum.'"
Shapiro said he hadn't considered taking the two posts down, saying "they receive no traffic, and as far as I'm aware, they're not factually incorrect." But, he said, MacLane won't be writing for the Daily Wire anymore and they will add a disclosure.

"We'll never publish anything from that author again, obviously," said Shapiro. "We don't publish press releases."
The MacLane articles are just two of 33 articles across 10 publications identified by BuzzFeed News that were part of an effort by the firm Third Dimension Strategies, known as TDS, to covertly influence policy debates since 2016. The topics ranged from contact lenses and internet lending to attack pieces against Elon Musk. The authors were often young students or recent graduates who are active in conservative student politics. In three cases, nonexistent authors wrote about the same topics and for the same publications as people working for TDS.
The 33 articles may represent the tip of the iceberg. BuzzFeed News identified 11 other authors who have written on TDS's favored topics across various publications, but whose ties to TDS we weren't able to confirm. Emails and phone calls to those authors, whose body of work makes up nearly 500 articles BuzzFeed News identified, went unanswered.
TDS, which is headed by Republican consultant and commentator Jim Terry, says it specializes in "opinion content placement" and "engaging a vast assortment of mediums to convey our clients' message to everyone from elected officials and think tanks to the public at large."
Terry didn't respond to any of the detailed questions BuzzFeed News sent by email, but he did issue a statement.
"Our firm is proud of the diverse opinions and perspectives of the authors, activists, and policy organizations we work with," Terry said. "It is what makes us effective advocates on public policy for our clients. We hold our employees and partners to a high standard and anytime we learn of practices that don't meet our standards, corrective action is immediately taken."

MacLane told BuzzFeed News over Facebook Messenger that he's "not heavily involved with TDS" but didn't respond to follow-up questions. Two other freelance writers identified by BuzzFeed News as working for TDS — Jonathan Lee and Andrew Magloughlin — did not respond to multiple requests for comment.

The TDS stories offer a rare glimpse at a long-standing form of subversion in American media, in which readers are duped by explicitly paid-for content that does not disclose its origin. This kind of "astroturf" is often speculated on, but rarely emerges into the light because of flimsy disclosure rules and plentiful corporate money. Occasionally, outlets like the New York Times will issue an editor's note for failing to disclose an author's ties, such as when an author of a sympathetic op-ed about Facebook failed to disclose her ties to the company and its founder. But that's different than someone being paid to surreptitiously place corporate PR in real media as if it's their own point of view.
There is in fact a subterranean industry of journalistic payola. In one notorious case, conservative and liberal publications carried stories praising the corrupt and brutal Malaysian government — a pattern that became public after reporting from BuzzFeed News prompted a political operative to register as a foreign agent and disclose tens of thousands of dollars in payments to commentators.
The practice takes advantage of the tenuous relationship between online commentators and publications hungry for content. Usually when trying to place a story, a writer will send a pitch or a completed article to the editor, who will then decide whether it should run. Professional reporters get paid for their work, but it's not unusual for those starting out in the industry to accept exposure as remuneration. Many blogs and news sites will also publish opinion pieces from contributors as a way to bolster their coverage and output.
That seems to be how MacLane, one of the writers who publicly cites his affiliation with TDS on LinkedIn, ended up with his bylines on the Daily Wire and the American Thinker.
The Daily Wire's Shapiro said the payola violated his site's policy. The American Thinker's editor-in-chief, Thomas Lifson, told BuzzFeed he wasn't sure if the post was placed on behalf of TDS, but said it would not be against their policy if it was. When asked whether the site should disclose to readers when a story is commissioned by a PR agency on behalf of a paying client, Lifson said it was, "Food for thought and possible policy change."
MacLane isn't the only TDS writer to tip his hand on LinkedIn. Jonathan Lee, whose online bios describe him as an economics student (or, in some cases, "graduate") and freelance journalist living in California, is also listed in one bio as a "ghostwriter" for TDS.
Lee contributed to websites like Red Alert Politics, Mises Institute, Tea Party Nation, TheBlaze, the Washington Examiner, and the Daily Caller. BuzzFeed News found 16 articles written by him between 2016 and 2017 on topics like cloud data laws, payday lending, Elon Musk, and contact lens regulation. Lee did not respond to several emails requesting comment.
The editorial director for Red Alert Politics and the Washington Examiner, Hugo Gurdon, confirmed through a spokesperson that Lee wrote for the both publications on behalf of a public relations firm. Emails pitching the articles to the Washington Examiner have since been lost because of staff changes, according to Gurdon. He said Red Alert Politics knew the articles were coming in on behalf of TDS. Gurdon said Red Alert Politics was not paid by TDS to publish the articles, nor did it pay Lee.
"Three pieces by Lee were published by Red Alert Politics (RAP) before it became part of Washington Examiner," Gurdon wrote.
TheBlaze's managing editor Leon Wolf said they unpublished articles by Christopher Lee "out of an abundance of caution" after BuzzFeed News pointed to the connection between Lee and TDS. One of Lee's articles was published using the website's community platform, which has since been disabled.
"TheBlaze does not knowingly permit any public relations firm to post op-eds on our site, with or without a disclosure," he said in an email. "TheBlaze has no relationship with Third Dimension Strategies."
The third author who openly says he writes for TDS is Andrew Magloughlin. He says on LinkedIn that his work for TDS was published on Breitbart and Laura Ingraham's LifeZette. He wrote about the renewable fuel standard, advertising tax, and radio frequency.
"President Trump's economic boom is repairing forgotten America. Deregulation and tax reform are spawning jobs and wages for the middle class," reads his op-ed for Breitbart. "But beneath good news, swamp creatures still swindle working America with Wall Street scams. We call these scams the 'Renewable Fuel Standard' (RFS)."
Neither Magloughlin or editors at either publication responded to BuzzFeed News's requests for comment. The TDS-planted articles did not carry any indication that they came from a public relations firm.
Because publications do not disclose the source of the articles, it can be difficult to know which of them came from TDS and which are the product of personal passion. However, there's indication that at least three fake authors were created by the firm to spread their message.
One fake writer, "Shepard Stewart," seems to be connected to TDS through the firm's policy topics. That author was outed in 2016 when Bloomberg reported that the author wrote articles attacking Tesla CEO Elon Musk and subsequently revealed "Shepard Stewart" was a fake persona. The fake author also wrote about hedge fund magnate Bill Ackman and, like TDS ghostwriter Jonathan Lee, contact lenses.
Most articles by Stewart were taken down after Bloomberg's revelation, and the real identity of the writer remains hidden. But BuzzFeed News was also able to connect Stewart to a second fake writer, Beth Johnson, who also wrote about Bill Ackman and the seemingly contentious issue of contact lens regulation.
Both of those fake authors pitched stories about contact lenses to the Libertarian Republic, a conservative web magazine, in 2016. Former editor-in-chief Josh Guckert told BuzzFeed News over Twitter DMs that they pulled Beth Johnson's articles down when they realized they were being duped. The other author pitching to Guckert on the same topic and to the same private Gmail address he does not share was Shepard Stewart.
"At one point, when an article was pitched, it was already a draft in WordPress under Shepard Stewart's name, which I found really, really strange, but didn't piece together until later," he said. "Shepard and Beth both had a decent Rolodex of contributions on other pretty reputable sites, so there was no real reason to be skeptical."
It didn't require much digging to figure out Stewart was a fake author. His picture was a photoshopped headshot stolen from someone else's LinkedIn. After being published by news magazine the Liberty Conservative and revealed as fake, Stewart deleted his email address and Facebook account.
"I believe he was probably not a single person but some sort of firm was behind him as it seemed I was always talking to different people when I communicated with him," said Gavin Wax, the editor-in-chief of Liberty Conservative, over Twitter DM. Although they were never able to figure out who was behind the fake author, articles from the fake authors match in tone and subject matter to articles by real TDS writers.
Together, the two authors published articles in at least 10 different publications, though many of those articles are no longer available. That includes the Hill, which published the fake author Beth Johnson on online gambling.
The Hill removed a post by Beth Johnson after BuzzFeed News's inquiry. The publication's editor-in-chief Bob Cusack told BuzzFeed News through a spokesperson that "all writers must sign documentation disclosing any conflicts of interests."
Another author, who also appears to be fake, Duke Fergus, also covers the topics of particular interest to TDS. His web presence seems to be limited to posts on Red State, which go back to 2013. Managing editor Caleb Howe said the articles were uploaded using the website's "diaries" platform, which allows anyone to essentially run their own blog.
"Senate Appropriators Aid Cronies In Fight Against Contact Lens Consumers" is the title of one impassioned op-ed.
"Let's hope these defenders of freedom step up the plate and defeat the cronies pushing for less choice and higher prices for the consumers of contact lenses," another Duke Fergus op-ed says.
Fergus doesn't list any social media on his profile and an email to his address bounced. There's no Duke Fergus on Twitter, Facebook, or LinkedIn that would match his profile and the writer doesn't provide a photo or details that could help find his identity. However, there is a common thread with the other authors linked to TDS, both real and fake — contact lenses.
The majority of contact lens articles published by TDS writers are linked to by keepcontactlenschoice.org, a website for the Coalition for Contact Lens Consumers Choice. There's no contact information listed on the website and a message sent by BuzzFeed News via the contact form went unanswered. The coalition, whose members include 1-800 Contacts and Costco, was created to lobby against the Contact Lens Consumer Health Protection Act introduced by Republican Sen. Bill Cassidy. The point, it seems, is to make it look like the issue is getting extensive press coverage.
One of Duke Fergus's posts, about training kids in computer science, is also linked to by the Computer Science Education Coalition on the In The News portion of the website. This coalition hired TDS for lobbying work in October 2016, according to documents. This further links TDS to the fake author. Coalition chair Erin Siefring didn't respond to a request for comment.