The US election and its surprise victory for Donald Trump have helped propel liberal hyperpartisan Facebook pages and websites to new traffic and revenue heights. But with success has come increased tensions, lawsuits, and other messy disputes.
Court filings reviewed by BuzzFeed News, in addition to interviews with writers and owners of liberal websites, paint a picture of an increasingly lucrative business that has become a battlefield of lawsuits, doxxing, hijacked Facebook pages, and accusations of unfair labor practices and stolen content. In one case, a writer for a liberal site who was in a dispute with her employer leaked information that ended up forming a key part of an attack story published by noted alt-right troll Charles C. Johnson.
Scratch the surface of the lawsuits and disputes and it comes down to two key things: money, and the massive Facebook pages that determine how much of it you can earn.
Some of the biggest liberal pages are Occupy Democrats, which has over 6 million fans on Facebook, The Other 98% (4.7 million fans), Liberal Daily (2 million fans), and Being Liberal (1.6 million fans). These pages and related sites produce articles and memes that rile up liberals and progressives in the same way that hyperpartisan conservative publishers pump out anti-Obama and anti-Hillary content.
"It's like a meme war," Rafael Rivero, one of two owners of Occupy Democrats, told the New York Times Magazine last year, "and politics is being won and lost on social media."
In recent months, some major liberal publishers have begun fighting with each other while also trying to win the meme war.
"The fact is, the liberal blogosphere is an ugly little cesspool of pettiness, greed, and jealousy, and is competitive to the point of being downright distasteful and embarrassing," wrote Tiffany Willis, the owner of the Liberal America website and Facebook page, in a recent post on Facebook. "I'm sure the conservative blogosphere is the same. It seems that when you get large amounts of money involved in anything, it brings out the worst, even in principled people."
In an interview with BuzzFeed News, she added, "Most of us got into this industry because we wanted to make a difference — and we were seduced by unexpected wealth."
Courtroom battles and accusations of hijacked pages
On the afternoon of Aug. 3, as the US election entered its critical final months, Mark Provost discovered he could no longer post content to US Uncut, a liberal political Facebook page that he and a partner named Carl Gibson had been running since 2011.

At the time the page had more than 1.5 million followers and was the key source of traffic to USUncut.com, the pair's progressive website that was generating more than 10 million pageviews a month, according to Provost and Gibson. They then watched as the page began posting links to a website called USUncut.news. Someone had taken over their page and was now using it to push traffic to what they viewed as a copycat website.
Provost and Gibson later learned the page had been taken over by their former partner, Ryan Clayton. And to their surprise, Clayton subsequently revealed that he was now working with two of the kings of the burgeoning, increasingly profitable world of liberal hyperpartisan news.
In October, Gibson and Provost sued their former partner and his new heavyweight associates over the loss of their Facebook page, and what they said was damage to the US Uncut brand being inflicted by the copycat website. Then there's the biggest issue of all: money. With no Facebook page to drive traffic to their website, Gibson and Provost are losing lots of it, they allege in court filings.
The trail of court filings and many of the largest liberal hyperpartisan Facebook pages and websites invariably leads back to two men in Illinois: Matthew Hanson and Daniel Gouldman. They were the new partners Clayton teamed up with once he took over control of the US Uncut Facebook page. They're also the parties named in a lawsuit by the owners of Occupy Democrats.
The pair run the Addicting Info website and the associated Facebook pages, which are numerous. A BuzzFeed News analysis of a sample of Addicting Info's posts leading up to the election found that 24% of its content was false or misleading, the highest percentage of the three liberal pages analyzed.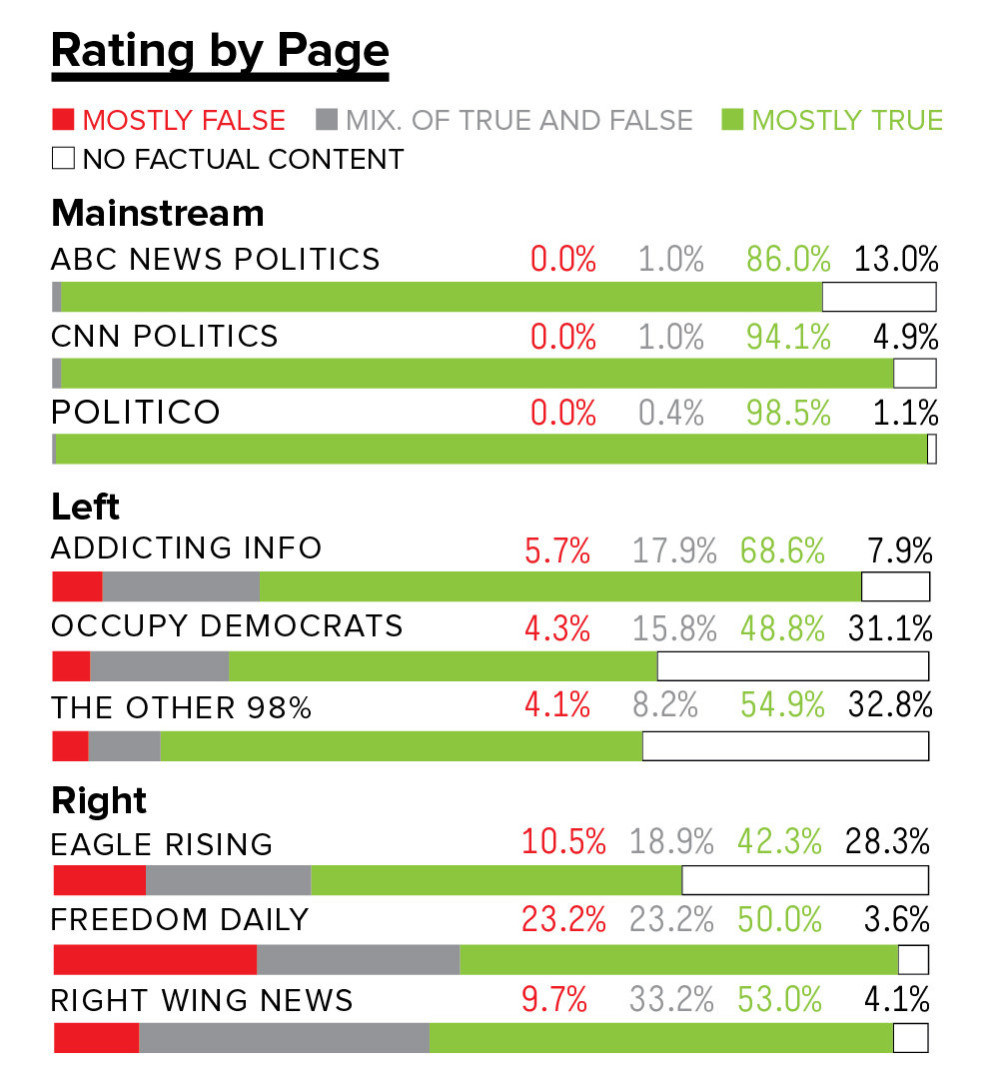 Many former writers for Addicting Info and its sister sites have gone on to launch their own liberal Facebook pages and sites, in many ways making Addicting Info the epicenter of the world of hyperpartisan liberal news. Willis is among the site's alumni. She says she struck out on her own over dissatisfaction with the way the company was being run.

Hanson and Gouldman did not respond to multiple requests for an interview, or to a detailed list of allegations.
Hanson started the Addicting Info website in 2010. Long before Facebook was the dominant way to drive traffic to news websites, Hanson was staking out his turf there. An archived page from the Addicting Info site shows it promoting 16 different political Facebook pages with names like "Republicans Are Idiots And Arguing With Them Is A Waste Of Time!" and "Help Ben Gleck Get More Fans than Glenn Beck."
In 2012, Hanson wrote that he was the administrator of more than 50 Facebook pages. That same year, Addicting Info was accused of "plagiarism for profit" in a post from Whiskey and the Morning After, a blog run by Manny Schewitz. At issue was an image allegedly taken from a Facebook page and recirculated by the Addicting Info and Being Liberal pages. Hanson responded in a Facebook post, saying "We take plagiarism very seriously" and dismissed the accusation as "petty attacks."
Last year, as traffic and revenue grew for liberal and conservative sites alike, tensions began to boil over. Hanson and Gouldman figure prominently in three lawsuits filed in 2016 that center around page ownership, finances, and an alleged improper disclosure of company secrets. Taken together, the filings show how a small number of big players control many of the dominant pages and sites in liberal hyperpartisan news, writers are often paid in the form of ad commissions from the content they create, and the top sites generate at least tens of thousands of dollars per month in revenue.
Addicting Info currently has over 1.2 million fans on Facebook, but that pales in comparison to the Occupy Democrats page's more than 6 million. The Occupy page and site are run by Rafael and Omar Rivero, twin brothers based in Miami. Today, Addicting Info and Occupy Democrats are competitors fighting for the same liberal audience. But in a display of just how intertwined the liberal hyperpartisan world is, it wasn't that long ago that the men behind these operations were working together, according to court documents.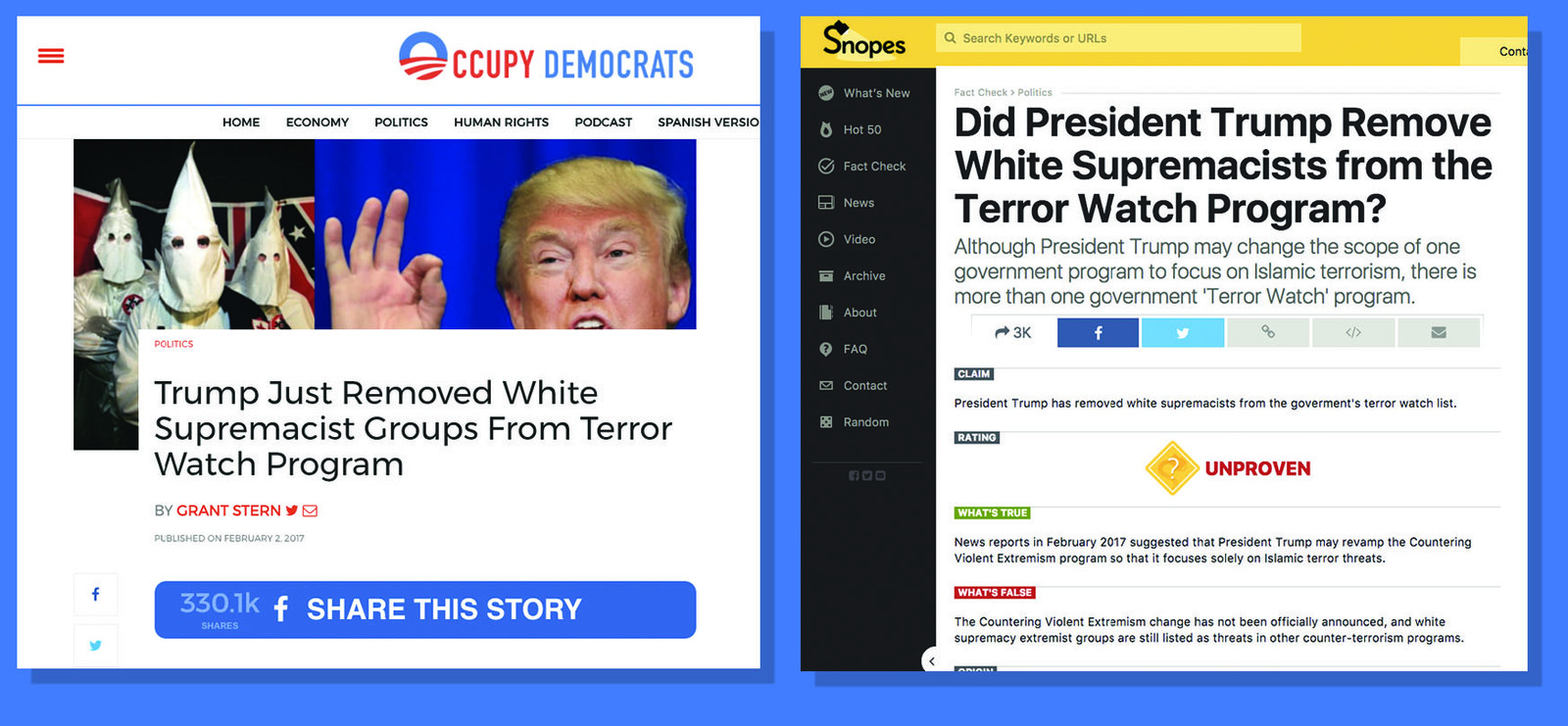 Last year Hanson and Gouldman sued the Rivero brothers over the ownership of Occupy Democrats. They allege that the Occupy site was initially unsuccessful, so the men formed a content sharing agreement that saw Addicting Info help promote Occupy Democrats content on its Facebook page. (The Rivero brothers did not respond to detailed requests for comment sent to them and their lawyers.)

Content sharing agreements are common for both liberal and conservative pages. Sharing content from like-minded sites helps ensure that owners always have fresh content to promote, and it helps grow their audience by bringing new people to their site from other pages. It's also a way to help an already successful piece of content reach maximum exposure. For example, when Occupy Democrats shared a video from the popular page The Other 98%, the post earned an additional 27,000 shares on top of the original 58,000.
The lawsuit says the men agreed to a division of advertising profits that saw 60% go to the brothers and 40% to the Addicting Info owners. (In their filing with the court, the Rivero brothers denied this.) Hanson and Gouldman then allege that at the beginning of 2016 the Rivero brothers cut their partners from Addicting Info out of Occupy Democrats operations.
"On January 31, 2016, without the knowledge or consent of Plaintiffs Gouldman and Hanson, Defendants transferred all the files associated with 'OccupyDemocrats.com' to a server that was not associated with Occupy Democrats, LLC," read a March 2016 court filing. "On February 2, 2016, all of the advertising units set up by Occupy Democrats, LLC were shut down." In a response filed with the court, the brothers denied this series of events took place.
Essentially, the Addicting Info owners allege that the Riveros snatched away the Occupy Democrats page and revenue after Addicting Info helped grow it. The initial filing asked for $50,000 in damages, but the figure then grew to $75,000. "As a result of the increased traffic, occupydemocrats.com achieved a revenue figure in excess of $40,000.00 in March of 2015," claimed Hanson and Gouldman in a court filing. In the end, the case was resolved in mediation earlier this year and was officially dismissed March 1.

Another domain associated with Hanson and Gouldman is IfYouOnlyNews.com, which has a Facebook page with half a million fans. The ownership of that domain is disputed — it's currently the subject of a lawsuit filed by Hanson and Gouldman against Leah Farley, a woman who managed the day-to-day operations of the site and wrote content for it. Farley says she's a partner in the venture, but Hanson and Gouldman say they employed her as a manager.
Hanson and Gouldman claim Farley disclosed proprietary information and as a result they are seeking court recognition that Farley doesn't own If You Only News, as well as legal costs. Court documents say Farley disclosed the income of If You Only News and spoke with the person who "outed" Gouldman as one of its owners as well as the person behind the Icarus Verum byline on the site.
That information eventually made its way into a article on the right-wing website GotNews.com written by notorious troll Chuck Johnson. The story labeled Gouldman, whose family is Jewish on his mother's side, as "anti-Semitic" and incorrectly labeled his wife as being "Arab." Gouldman subsequently threatened to sue Johnson for libel over the accusation of him being anti-Semitic, among other complaints. He did not, however, deny his involvement with If You Only News and Addicting Info.
In court documents, Farley argued that she was in a depressed state when she disclosed the information, and in Facebook conversations entered into evidence she pleaded for understanding. After this article was published, Farley emailed BuzzFeed News to say she had nothing to do with outing Gouldman, saying it was the work of a former employee. "I would never do something like that," she wrote. Farley said her apology to Hanson and Gouldman in the court documents was about "not so nice" things she wrote about them to a friend. Farley filed a counterclaim against Hanson and Gouldman regarding her articles on the site, saying they are copyrightable material and asking for them to be removed. She also asked for profits generated by If You Only News since Feb. 1, 2016, and ownership of the website, alleging that she is the owner. The suit is ongoing; meanwhile, Farley launched and now runs her own liberal site, GOPocalypse.org.
More money, more problems
Since Trump's election, social engagement and revenue for liberal sites has been growing at impressive rates, publishers tell BuzzFeed News. That's in contrast to last year, when conservative sites racked up big growth thanks to a steady diet of anti-Hillary and anti-Obama content. With Trump in power, liberal publishers have an enemy to go after every day who gets their audience riled up.

"I don't know one progressive news site that hasn't seen an increase in traffic since Trump's been elected," Roxanne Cooper, the publisher of liberal news site Raw Story, told BuzzFeed News.
Willis of Liberal America says her site currently receives between 3 and 5 million visitors per month and that she makes between $30,000 and 50,000 in monthly ad revenue. Her site went from a hobby to a full-time job.
"All of us were shocked at the amount of money we could make," she said.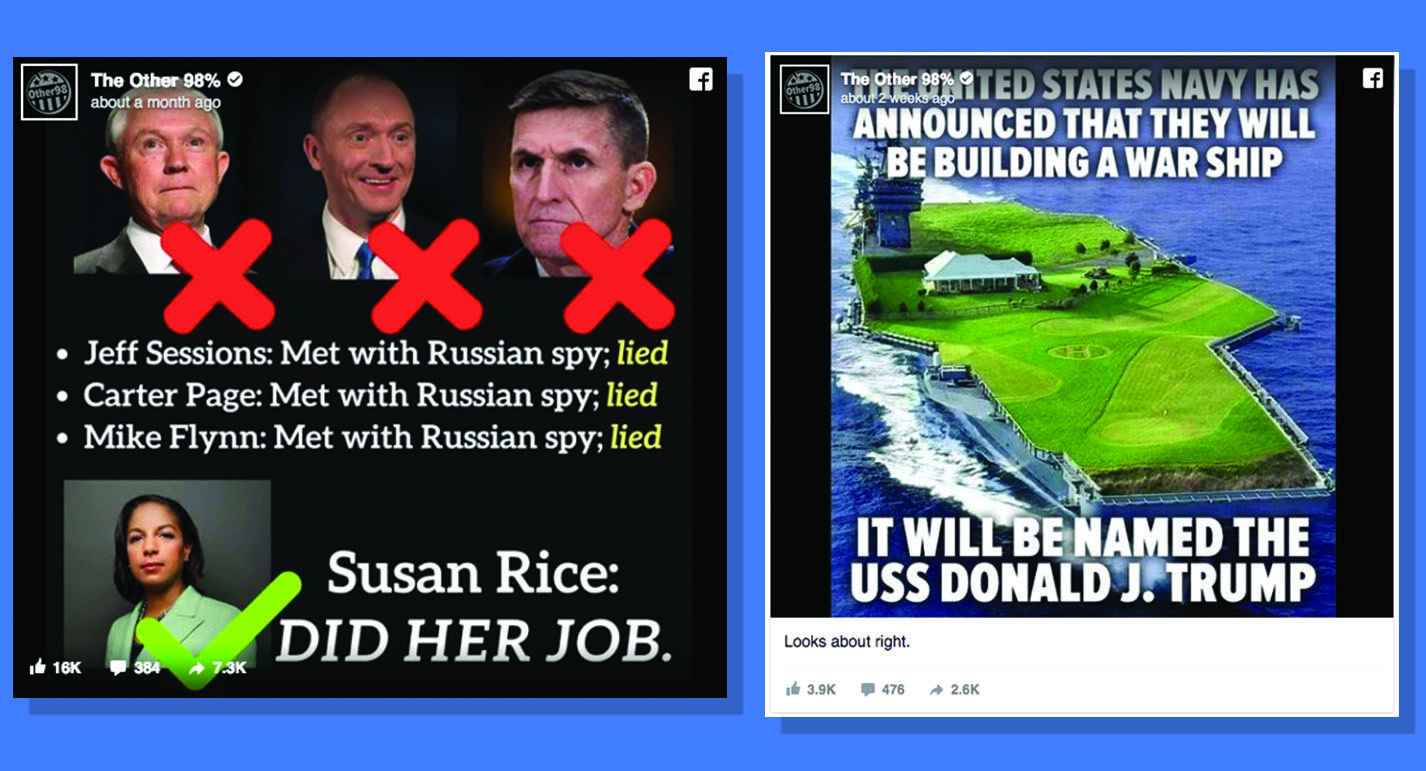 But the success is causing friction between more established left-leaning sites and the new breed of Facebook-focused hyperpartisan sites that have emerged in recent years. Cooper's site Raw Story has been in business since 2004. She told BuzzFeed News her site's original reporting is quickly appropriated by the newer entrants. She calls them "bottom-feeder" and "vampire" sites, and says they rarely credit her writers.
A March article from the progressive website AlterNet leveled similar accusations of plagiarism and unethical behavior at operations such as Occupy Democrats and Addicting Info. The story was headlined "Vampire Webpages Suck Content From Legitimate Progressive News Sites."
"These Facebook pages and their affiliated websites pose as progressive champions, but their content is largely copied, if not plagiarized, from legitimate news and opinion outlets with real reporters and analysts, not rewrite teams," AlterNet reported.
Cooper said she's not a fan of the hyperpartisan sites' over-the-top headlines and aggregation style. "It's not that hard to duplicate what they do if all you care about is making money, but we're in the news business," Cooper said.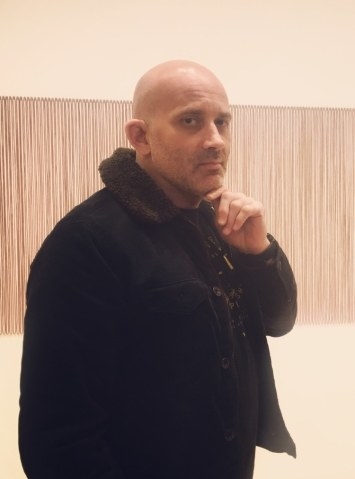 Sky Palma runs a liberal website called DeadState and says the gold rush for liberal sites is seducing owners into writing misleading articles and headlines. In a Facebook thread, he called out liberal website Opposition Report for twisting the words of controversial right-wing commentator Milo Yiannopoulos. Palma is no fan of Yiannopoulos, he told BuzzFeed News, but he's firmly against taking comments out of context for the sake of a juicy headline.
Palma's own website is an aggregator with little original reporting, but he said he takes care to accurately represent the story and publish corrections. As he sees it, many liberal websites don't follow those standards.
"You see a lot of false information being published," he said. "What's fascinating is that these websites … kind of exist in this plane where there isn't any accountability."
He said he's had to shift the way he frames and promotes content on his site to keep pace.
"It's forced me to compete on that level," he said. "I also have to chase the stories that are trending — it's forced me to not be creative, as I'm doing well."
Conservative sites and pages saw a similar scenario play out last year, according to one publisher. Cyrus Massoumi runs the Mr. Conservative website and its Facebook page, which has more than 2.2 million fans. In an interview with BuzzFeed News earlier this year, he spoke of how new entrants in conservative hyperpartisan news published false or misleading content — and were rewarded for it with growth and engagement on Facebook. Soon other sites began to stray further into inaccuracy in order to keep up.
"We strayed because of the competitive nature of the algorithm in the News Feed," he said.
As an example, he cited the website Ending the Fed, which made a hoax claiming that the pope had endorsed Donald Trump go viral, and also scored a hit with a false story about Megyn Kelly being fired from Fox News.
"The problem is my competitors operate in an environment where Ending the Fed and these unknowns are going to beat us unless we go from tilted [headlines] to misleading," he said.
Willis said she feels the world of liberal hyperpartisan publishing is quickly losing its political and cause-based roots in a rush for cash and Facebook glory.
"It's all about Facebook and it's all about money," she said. ●
CORRECTION
Roxanne Cooper is the publisher of Raw Story. An earlier version of this post said she is the owner. Also, Leah Farley spoke with a person who leaked Daniel Gouldman's identity. An earlier version of this story incorrectly said Farley shared his identity.