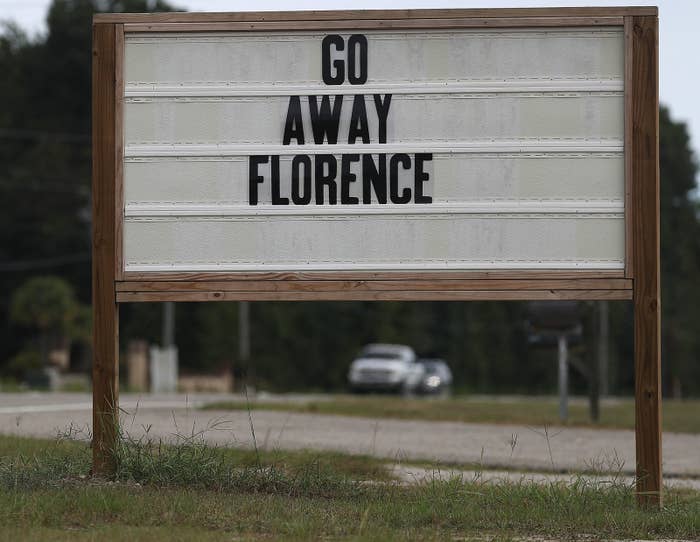 Craig: Hurricane Florence is about to wreak havoc on the East Coast. Jane, please tell me about your hurricane preparations.
Jane: One of the first things I look for during hurricane season are, well, fake sharks. During breaking news situations, we see a lot of recycled hoaxes that people still fall for. To prepare, I set up searches for ones we've seen before.
Craig: We've gotten to the point where some events — usually horrible ones like natural disasters or mass shootings — have a misinformation playbook. We know which fakes and hoaxes will reappear. And we have a sense of which communities they might come from. You've led our breaking news debunks efforts for a while now. Are things getting better?
Jane: Not particularly. Thing is, these events are a chance for old bad actors to get the attention of new audiences. As people are sifting through social media for important legitimate information, they become targets for any account that wants to grow its following or make some ad dollars. So the incentive for them to game social platforms is high. And, as we've seen, companies like Facebook, Twitter, and Google have a hard time nixing the bad actors.
Craig: Give me your top five most common fake or misleading things people can expect to see when Hurricane Florence hits the US.
Jane: OK, here goes:
1. Be careful about false weather reports and maps. NWS is the place to look for updates. Real hurricane maps have a projection of only up to five days — anything that goes over that isn't real.
2. Bad advice will abound. For example, don't store your valuables in a dishwasher. Anything connected to a drain has the potential of flooding.
3. Hotels are not required to accommodate pets. Here's government advice on how to keep animals safe: https://www.ready.gov/animals.
4. Watch out for insurance fakes. Last year, we saw accounts respond to evacuees with fraudulent numbers for claims. Look up your own insurance company's number ahead of time.
5. Fake photos and videos will be everywhere, so steer clear of sharing them unless you're sure of the source. If you want to fact-check something before putting it in your timeline (thank you!!!), do a reverse image search first.
Craig: And watch out for street sharks!
Jane: The street sharks are all fake. And hey, if you see any hoaxes, get in touch: jane.lytvynenko@buzzfeed.com or via DM @janelytv. My thread with Florence debunks is here.
Latest from our team:
Scammer of the week shoutout
This week we tip our hat to the first shark hoax of the hurricane season. Here's to sharks.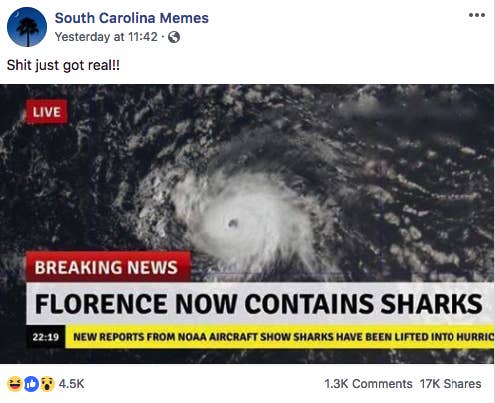 Worth reading:
Jane:
This story about a lawsuit over Facebook trolling is brief but revealing. Parents of a young woman who died were dealing with messages from a 38-year-old man who said he did it "for attention." He's flooded pages of other dead young people, too, but Facebook didn't take any action despite the parents' pleas.

Fact-checkers were harassed online after partnering with Facebook, reports Daniel Funke at Poynter. "In two days, we received 46,000 tweets. We're still getting them," said Cristina Tardáguila, director of Brazilian fact-checking project Agência Lupa.

An unsettling feature from the Guardian shows that algorithms are terrifying and are not to be trusted.
Craig:
An Xiao Mina is one of the more insightful people when it comes to analyzing and understanding viral misinformation. Read her story about how online misinformation fuels the spread of tooth decay, Ebola, and measles.

We rarely read stories about the consequences faced by people engaged in for-profit media manipulation. So please enjoy this report about a nine-month prison sentence for a guy who sold fake reviews on TripAdvisor.

As platforms like Facebook and YouTube continue to crack down on the behavior and content they host, those who get the boot will go elsewhere. In this example, the Myanmar military had moved to Russian social network VK after getting banned on Facebook.