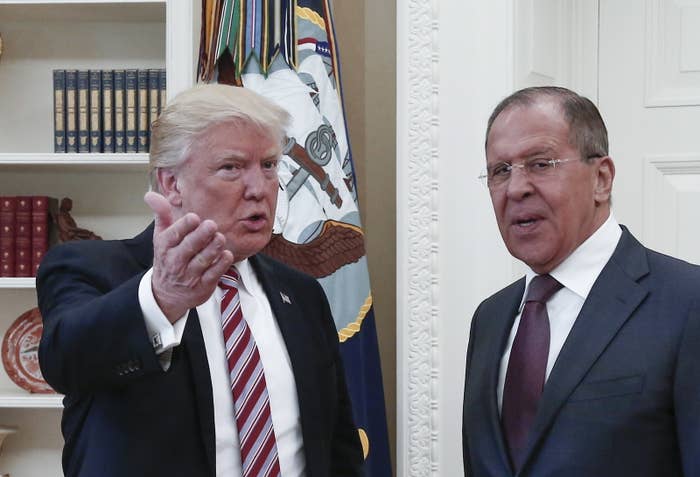 Russian Foreign Minister Sergey Lavrov on Wednesday dismissed a question from a reporter on whether he was happy with the firing of FBI Director James Comey, who had been overseeing an investigation into Moscow's meddling in the 2016 US presidential election.

"I thought we were all adults here," Lavrov responded at the press conference in Washington, DC. "I never thought I'd have to answer questions like this here, especially in the United States of America with your deeply developed democratic system."
Lavrov, who is making his first visit to US capital since 2013, deferred to President Trump's previous statements on Russia's involvement in the election.

"President Trump has publicly said on multiple occasions about what he thinks regarding claims that we're meddling with your internal politics," Lavrov said. "His public statements are enough for me. There's no need here to somehow secretly, whispering in the ear, talk about this.
"We know the position of President Trump and we know the position of those who want to prove the opposite. The problem is that there isn't a single bit of proof provided to anyone," he said.

Lavrov's press conference came after he and Russian Ambassador Sergey Kislyak met with Trump in the Oval Office.
During the media briefing, Lavrov also berated the reporter for not seeking the facts on the Russian meddling story. "If you're informing a national and international audience, ask where these facts are. You're a journalist," he said.
Responding to the reporter's second question, which asked whether Lavrov was happy with Comey's firing, Lavrov wondered what he has to do with it.
"This is not a question for me," he said. "I can give you lots of examples when someone in the Russian Federation, France, or Britain hires or fires someone else. It's your internal business."

When asked about the Russian interference again by a different reporter, Lavrov again leaned on Trump's public statements. "Put one fact on the table," he said. "Guys, this isn't serious."
Lavrov's response was similar to that of President Vladimir Putin's, who was asked about the firing while on the way to play in a hockey game.
Putin told CBS News that Comey's firing won't affect the relationship between Russia and the US, also dismissing the reporter's question.
"Your question looks funny to me. We have nothing to do with this," Putin said. "Trump is acting...in accordance to his laws and constitution. What do we have to do with this? I'm planning to play hockey with fans. And you're invited."