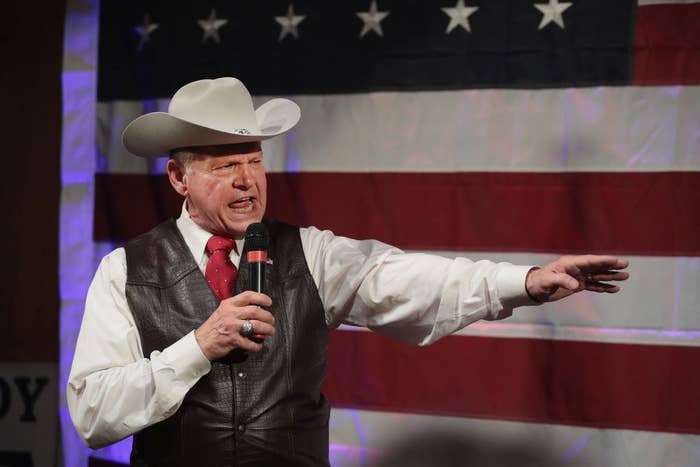 A baseless conspiracy theory then began spreading on social media, starting with a Twitter account that goes by the name "Doug Lewis #MAGA" and making its way to conservative websites. The user later deleted the tweets. The account was then also deleted, but it's not clear why.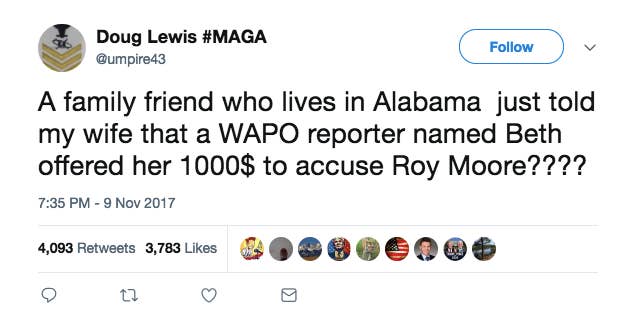 In a tweet Thursday, @umpire43 claimed without evidence that a Washington Post reporter offered to pay a person in Alabama to make accusations against Moore.
The Twitter user then claimed they had contacted an Alabama district attorney, the FBI, and the Secret Service about the claim, but provided no proof. The FBI office in Mobile, Alabama, said it could neither confirm nor deny the existence of an investigation.
A Washington Post spokesperson Shani George told BuzzFeed News there was no truth to the tweet. "The accusation against the Post is categorically false. We have an explicit policy that prohibits paying sources," she said.
The Twitter account has spread misinformation in the past. One example is when it falsely claimed the gunman responsible for killing 26 people in a Texas church was an "antifa" member, or anti-fascist activist.
That false theory was pushed by pro-Trump commentators hours after the shooting took place.
Four days after making the unsubstantiated claim, @umpire43 tweeted, "I just registered to http://DeleteAllTweets.com/ to delete all my Tweets instantly!" and deleted all of his tweets from 2012 onward, including those about Roy Moore, saying that someone had "infiltrated" his account. As of the evening of November 13, the entire account was gone.
The user has also repeatedly tweeted about their military service record, but has miscounted the number of Purple Hearts they allegedly received. One Twitter thread challenged the user's military-related claims in detail.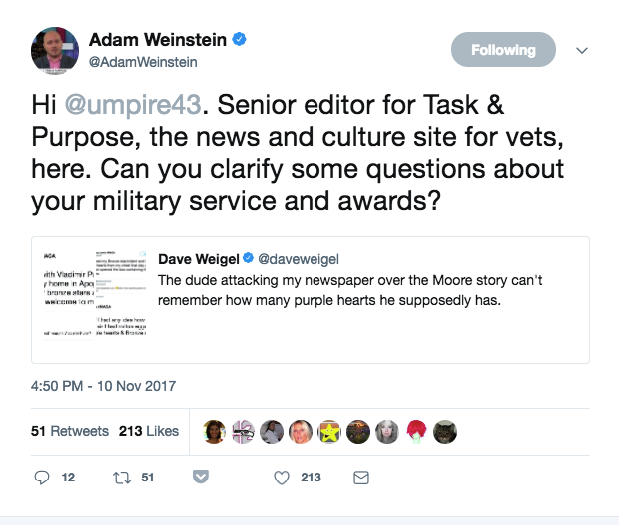 The account also claimed to have "state proof" that former President Obama's birth certificate was faked.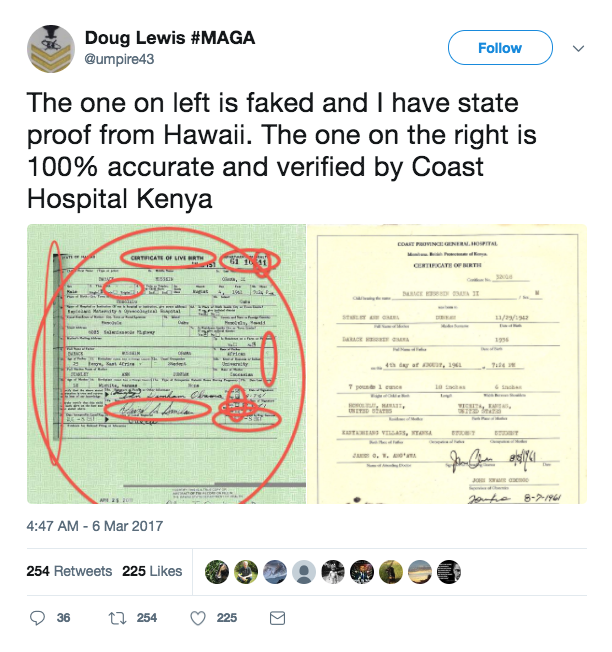 Despite the evidence that @umpire43 was spreading misinformation about the Moore story, pro-Trump websites treated it as a legitimate claim.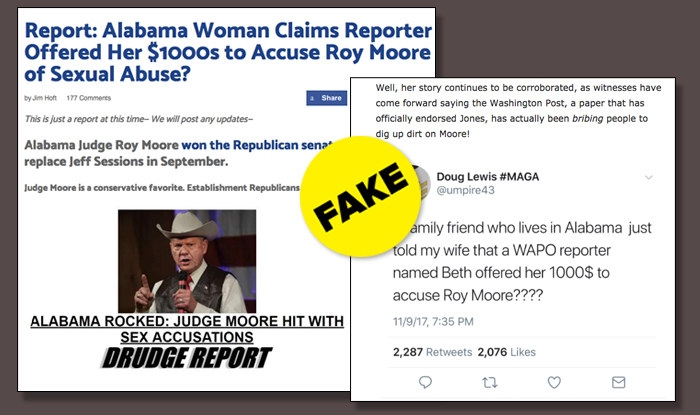 Some pro-Trump commentators also downplayed and twisted the accusations against Moore.
Conspiracy theorist Alex Jones, who heads the website InfoWars, dismissed the allegations on his show, claiming that the women accused Moore of telling them they're "purdy."
Viewers who tuned in to the segment would not have learned that when Corfman was 14 Moore allegedly "took off her shirt and pants and removed his clothes," touching her over her bra and underwear, and guiding "her hand to touch him over his underwear."
InfoWars also published the claim, asking if the accusations against Moore were "already debunked." (They aren't.)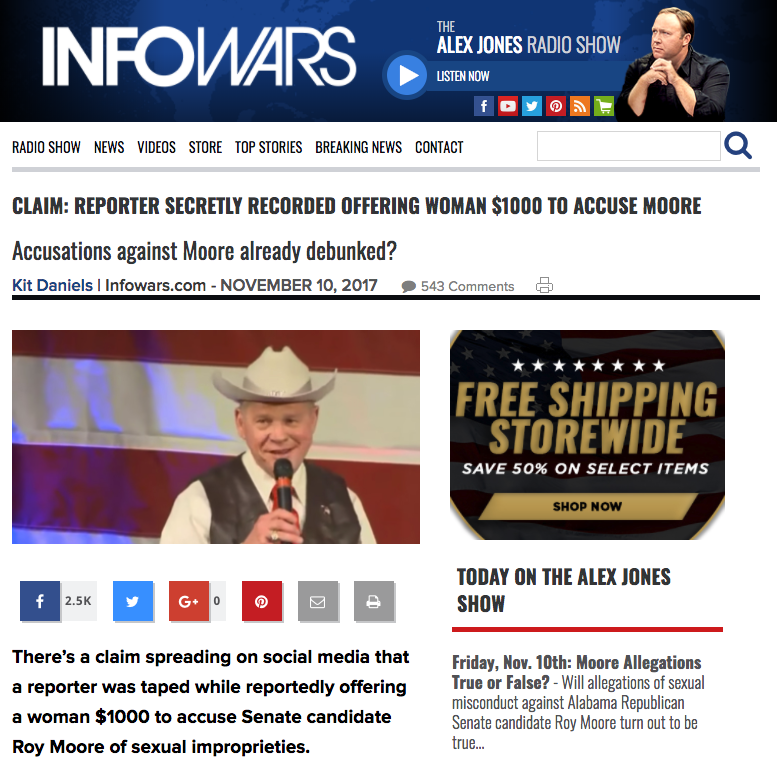 Four days later, Moore's wife, Kayla, said on Facebook that the allegations against her husband were a "witchhunt" and seemed to nod to the unfounded claim. Moore's campaign shared the post.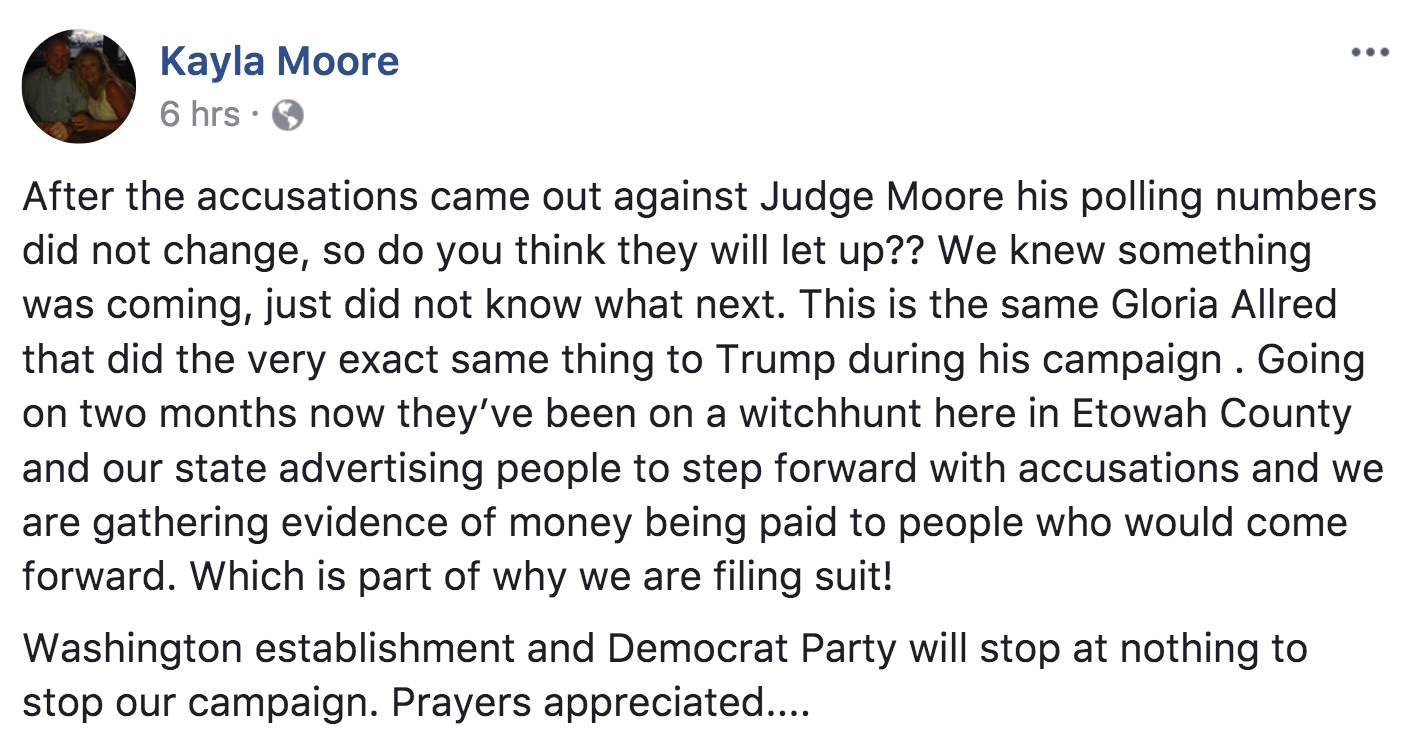 Moore's official Senate campaign Facebook page also shared a Gateway Pundit article that claimed to discredit the Post's reporting as a "complete fabrication," but did not provide any evidence.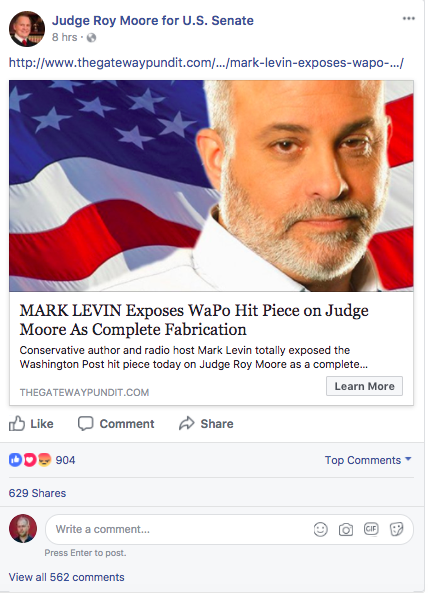 Some pro-Trump commentators have also worked to cast doubt on the Washington Post's reporting on Twitter.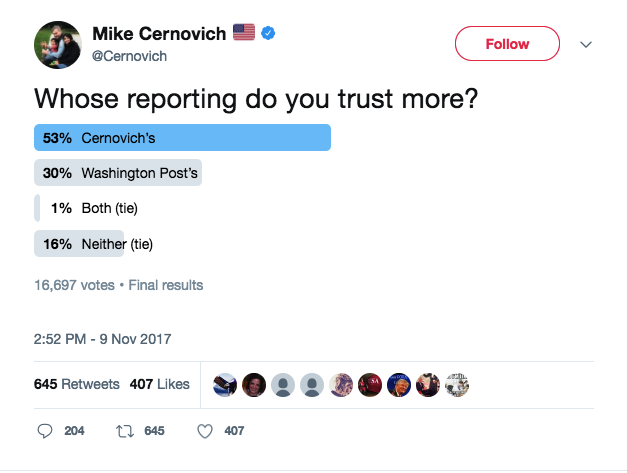 But despite a complete lack of evidence supporting the conspiracy theory, right-wing figures and others are continuing to share it on social media.