After a grueling wait, former vice president Joe Biden won the US presidency on Saturday. While the ballots were being counted, nearly three dozen separate hoaxes, largely about voter fraud, flooded the internet — the majority of them amplified by President Donald Trump's team and family.
Despite the end of the election, new hoaxes are still coming, as the president and his supporters refuse to accept the legitimacy of the democratic process. We're going to be cataloging and debunking those viral pieces of disinformation in this post.
Before sharing an online rumor with your friends and family, take the time to verify it. This can be as easy as checking how recently an account sharing the information was created, comparing the claim to what reputable news outlets are saying, searching online to find another source, or doing a reverse image search. Remember that most false information comes in the form of photos and videos.

BuzzFeed News has journalists around the US bringing you trustworthy stories on the 2020 elections. To help keep this news free, become a member.
How to read this post:
UNVERIFIED: Claims that have no concrete evidence either confirming or refuting them. This type of claim has either no sources or no evidence, and is based on conjecture with no original reporting behind it. Treat this kind of information with healthy skepticism and wait to see how it develops.
MISLEADING: Posts that take a real event out of context, for example: miscaptioning a video or photo. This can also include images that are presented at a deceptive angle or descriptions that cherry-pick facts. Avoid spreading or engaging with this type of post.
FALSE: Reporters or reliable sources with direct knowledge have contradicted this information on the record, or it is refuted by unimpeachable evidence. Examples include images or videos filmed at a different time or location but presented as recent, demonstrably false claims, and websites masquerading as news outlets publishing untrue information.

The Trump campaign tried to score a point against the press by printing a fake Washington Times cover from Nov. 8, 2000, declaring that Al Gore had won the presidency and plastering it on the walls of a campaign office in Virginia.
"Greeting staff at @TeamTrump HQ this morning," tweeted the campaign's director of communications, Tim Murtaugh, who included a picture of the fake newspaper, headlined "PRESIDENT GORE," as "a reminder that the media doesn't select the President."
The Washington Times publicly called them out for it. "Those photos have been doctored. The Washington Times never ran a 'President Gore' headline," the newspaper tweeted on Sunday.
Murtaugh has since deleted his tweet.
2. No, Mitt Romney has not been asked to join Biden's Cabinet.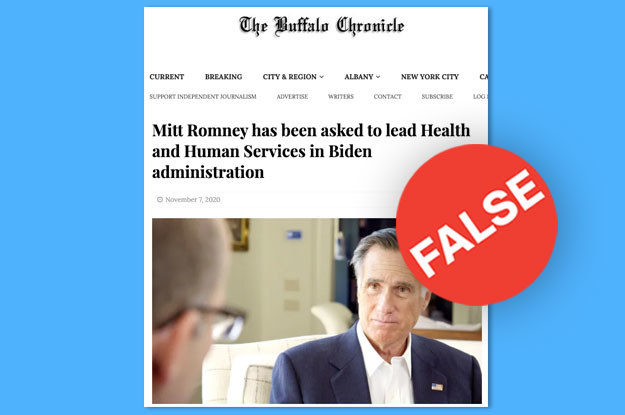 A website with a history of spreading dubious news about politicians published a story on Saturday that falsely claimed Sen. Mitt Romney had been offered a position in the Biden administration.
The Buffalo Chronicle cited unnamed "sources" to claim that Romney was invited to lead the Department of Health and Human Services. The story also claimed Romney was likely to accept. The false report was briefly picked up by the Daily Wire, a right-wing news site, which eventually deleted its story.
The Biden transition team has not made any public offers to prospective Cabinet members, and Arielle Mueller, a spokesperson for Romney, told BuzzFeed News that "there's no truth" to the claim.
The Buffalo Chronicle repeatedly spread false stories about Canadian Prime Minister Justin Trudeau before and during the country's 2019 elections. BuzzFeed News previously reported that the site's publisher, Matthew Ricchiazzi, once told a US politician that he'd publish "negative articles about [their] opponents" for $400 apiece.
3. No, CNN did not report that Dick Cheney would be advising Biden on foreign policy.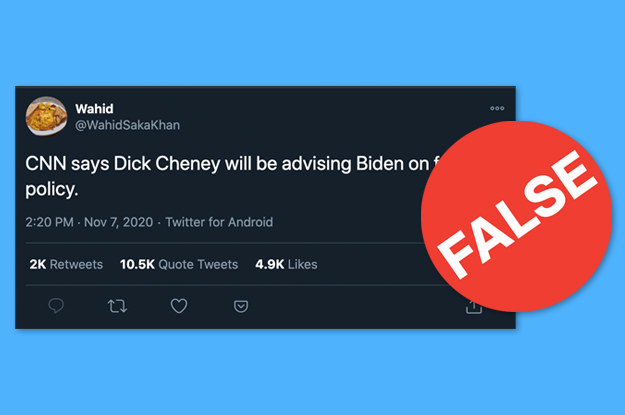 A search of the news organization's website showed that CNN did not report former vice president Dick Cheney was being considered as an adviser to Biden. The tweet was posted by a pro-Trump account unaffiliated with any news organization or the Biden campaign.
"That is a false tweet. We did not report that information," a spokesperson for CNN confirmed.
4. No, secret computer systems called "Hammer" and "Scorecard" are not being used to commit voter fraud.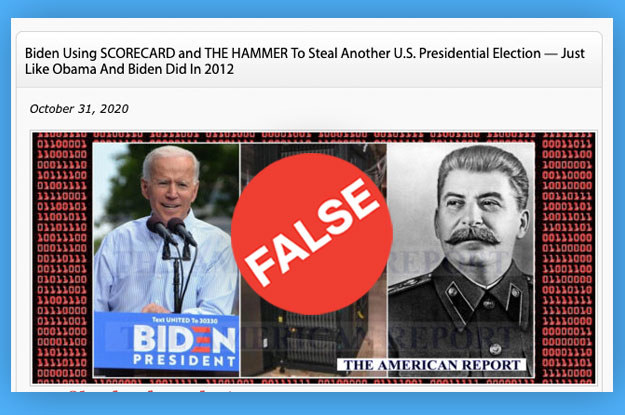 A baseless conspiracy theory claims that secret computer systems called "Hammer" and "Scorecard" have been used to "steal" votes for Biden. This theory relies on false information about voting machines, as well as false claims from a discredited former government contractor.
There is no proof that Hammer and Scorecard exist.
The right-wing news site American Report floated the theory on Oct. 31, claiming that a "supercomputer system" called Hammer was being used in conjunction with software called Scorecard to "steal" votes in multiple swing states. It falsely claimed this same system helped commit voter fraud in 2012. There is zero evidence to back any of this up, but it spread widely, including on Fox News.
Chris Krebs, the head of the US Cybersecurity and Infrastructure Security Agency, said on Nov. 7 that these claims were "nonsense."
"I'm specifically referring to the Hammer and Scorecard nonsense. It's just that - nonsense. This is not a real thing, don't fall for it and think 2x before you share," tweeted Krebs.
The Hammer and Scorecard hoax is based on claims by Dennis Montgomery, a former government contractor who allegedly "conned" the Pentagon into paying millions of dollars for anti-terrorism technology that did not work.
"Montgomery has a long history of making outlandish claims that fail to come true," reported Will Sommer of the Daily Beast. "As an intelligence contractor at the height of the War on Terror, Montgomery was behind what's been called 'one of the most elaborate and dangerous hoaxes in American history,' churning out allegedly fictitious data that once prompted the Bush administration to consider shooting down airplanes."
The story from the American Report also claimed that a voting technology company named VR Systems was part of the conspiracy. It said that "SCORECARD is stealing votes in Florida, Georgia, Texas, Pennsylvania, Wisconsin, Michigan, Nevada and Arizona... In Florida, one of the transfer points is VR Systems Inc, based in Tallahassee."
But as fact-checker Lead Stories reported, VR Systems does not make vote-counting machines, and its software isn't being used in swing states such as Georgia, Pennsylvania, Wisconsin, Michigan, Arizona, or Nevada.

5. Almost everything in the tweet about Michigan's voting machines that Trump retweeted is wrong.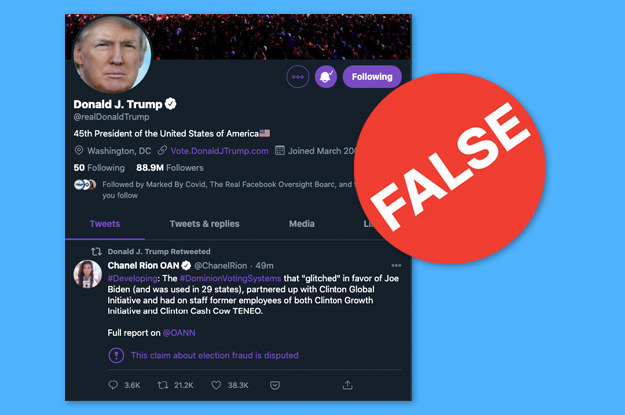 Trump retweeted a false allegation of voter fraud on Monday evening that repeated claims that fact-checkers and authorities debunked last week.
It's true that there was a counting error in Antrim County, Michigan. Local authorities announced it on Nov. 4, after which the inaccurately counted votes were removed, and the votes were counted again.
Laura Cox, the chair of the Michigan Republican Party, held a press conference about the error on Nov. 6, during which she inaccurately implied that other machines made by the same company would make the same error.
Following the press conference, the Michigan secretary of state published a long statement about what had happened.
"The erroneous reporting of unofficial results from Antrim County was a result of accidental error on the part of the Antrim County Clerk," the statement says. "The equipment and software did not malfunction and all ballots were properly tabulated."
This has not stopped the current president and his allies from treating the brief error like a national incident.
On Monday, Trump retweeted a claim from One America News Network about the software error that placed blame on former secretary of state Hillary Clinton and former president Bill Clinton. It falsely implied that the machine manufacturers received funding from the Clinton Global Initiative, a hoax that stems from the QAnon mass delusion, Snopes reported.

6. An out-of-context video falsely claims Biden admitted to voter fraud.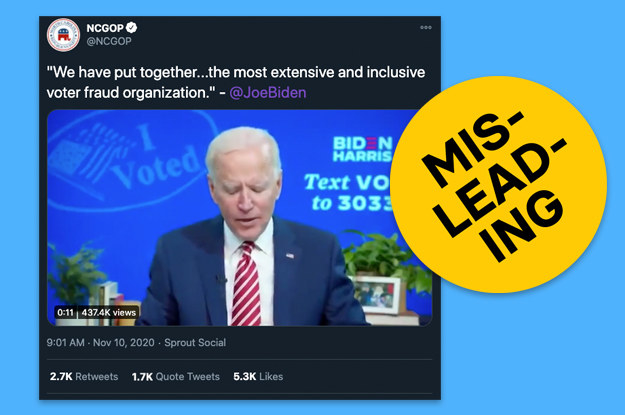 An out-of-context video of Biden's appearance on the podcast Pod Save America is making rounds again after going viral on Oct. 24. The video makes it seem like Biden says, "We have put together the most extensive and inclusive voter fraud operation."
But according to a Snopes debunk at the time, Biden was actually talking about Trump.
The out-of-context video was tweeted by RNC Research, amplified by Eric Trump, and eventually quote-tweeted by the president.
"The President of the United States has already demonstrated he's willing to lie and manipulate our country's democratic process to help himself politically, which is why we have assembled the most robust and sophisticated team in presidential campaign history to confront voter suppression and fight voter fraud however it may present itself," a spokesperson for the Biden campaign told Snopes in October.
7. The video of ballots found in the trash in Oklahoma shows spoiled ballots, not votes for Trump that were improperly discarded.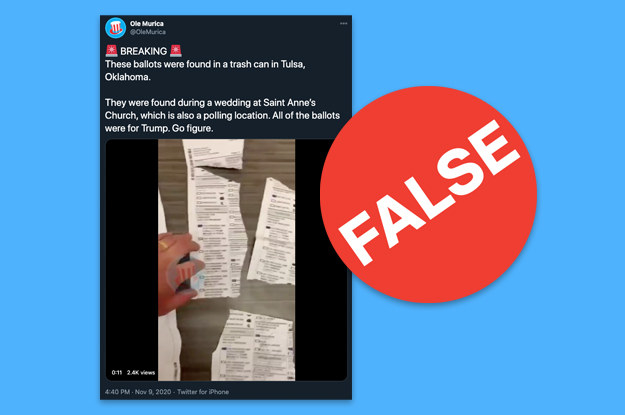 A video purporting to show a bag full of ballots for Trump thrown away in Oklahoma is deeply misleading, state officials confirm. The video implies that the ripped-up ballots were discarded for nefarious means. In reality, that's just not true.
Oklahoma officials clarified that the ballots were spoiled — meaning the voters made mistakes while filling them out. Election officials in the state went so far as to tweet screenshots from the video, proving their point.
8. A viral TikTok does not show an election worker tearing up a vote for Trump. It's a joke.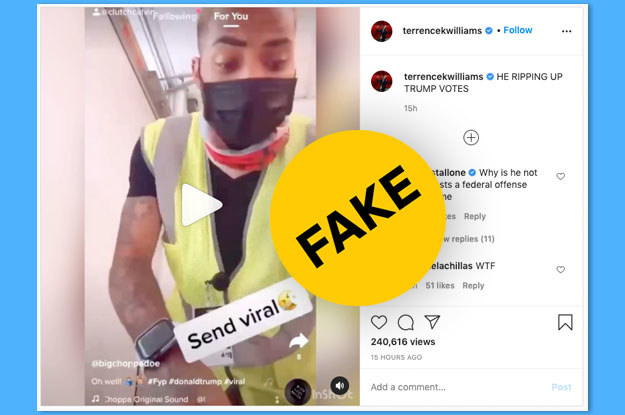 Trump supporters are spreading a TikTok that shows a man in a yellow safety vest tearing up what he claims to be a vote for Trump. The TikTok was made by @BigChoppaDoe, and the man behind the account has said it was just a joke.
The video shows him tearing up a sample ballot, not a real one, and he is clearly wearing an Amazon worker uniform.
"Sooo I did this video in my Amazon outfit cause y'all know I'm always joking! And it's getting crazyyyy views!" wrote Dale Harrison, who runs the @BigChoppaDoe account, on Facebook.
Harrison later deleted the video, but it's still spreading. On Nov. 10, Trump supporter Terrence K. Williams shared it with his more than 600,000 Instagram followers, attracting more than 240,000 views.

9. RealClearPolitics didn't take the state of Pennsylvania away from Biden.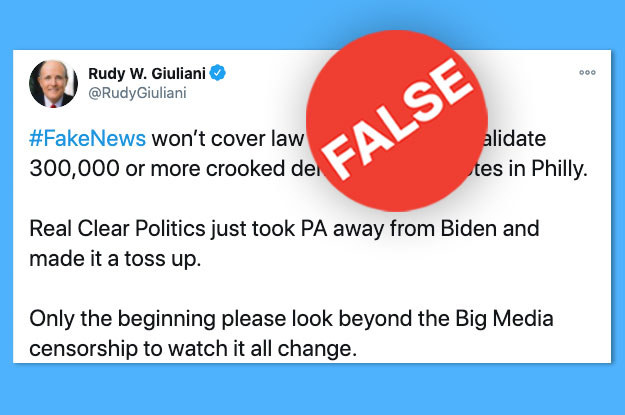 Rudy Giuliani, the president's lawyer, spread the false claim that RealClearPolitics retracted its call awarding Pennsylvania to Joe Biden. The site, which aggregates political news and polling data, never awarded the state to Biden and has not projected a winner of the presidential election.
RCP's cofounder, Tom Bevan, tweeted to correct the record and debunk Giuliani's claim: