Twitter Lost Its Mind Over This Trump Gorilla Channel Parody
It has come to this.
In case you haven't heard, there's a book called Fire and Fury: Inside the Trump White House about President Trump that has Twitter abuzz. There are some pretty explosive allegations in it.
And this is @PixelatedBoat, a popular comedic account most famous for creating the Milkshake Duck meme.
Pixelated Boat — or "the gorilla channel this is a joke" as he's now known — posted a joke on Twitter Thursday night. It was a fake excerpt from Fire and Fury, featuring "the gorilla channel."
People fell for the joke pretty quickly, even though Pixelated Boat tweeted that it's a parody less than two hours later.
High-profile personalities, like author Eric Garland, tweeted about the gorilla channel like it was real.
He later admitted he fell for the prank.
He wasn't the only one, though. CBC White House reporter Keith Boag went on the Canadian broadcaster's popular morning show and talked about the fake excerpt.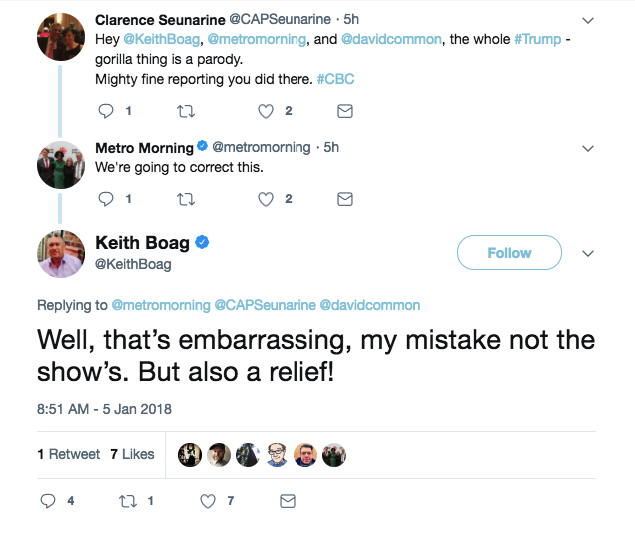 Even the day after Pixelated Boat's tweet, people were wondering what is going on.
Apparently, the first part of the parody was too believable for some.
Others said the White House's previous behavior is what made them doubt the excerpt was a joke.
But mostly, people just wanted the gorilla channel to be real.
And began willing it into existence.
It wasn't long before the gorilla channel became a meme of its own.
Some threw it back to Benghazi.
And of course no gorilla joke is complete without a solemn, respectful nod to Harambe.
It was all hypnotizing to watch.
But maybe next time a search of the subject matter and a sober second thought would help.