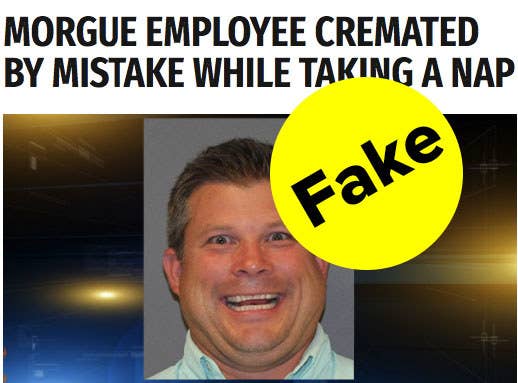 It's probably still safe to nap in the morgue.

A hoax about an accidental death of a morgue employee is getting shared across social media. According to the latest fake story, the employee took a nap at work and was accidentally cremated after being mistaken for a dead body.
The hoax originated on World News Daily Report, a website that only publishes completely fake news. The image of the "dead" employee was taken from an unrelated 2015 story in about a police constable in Missouri. The second picture in the article was pulled from a profile of a woman who works at Jefferson County Morgue, the real morgue that's mentioned in the fake story.
When asked by BuzzFeed News whether someone was accidentally burned alive, an employee at the morgue confirmed the story wasn't true. "We don't have a crematorium," they said.

Data from social shares tracking app BuzzSumo says the article received just over 190,000 likes, shares, and comments on Facebook. Other websites have picked it up, including a Bulgarian misinformation site. This isn't the first morgue-related hit for World News Daily Report. In 2016, they wrote a fake story titled, "Morgue Worker Arrested After Giving Birth To A Dead Man's Baby," which also went viral.
Janick Murray-Hall of Montreal is one of two people who runs World News Daily Report and six other websites. He doesn't hide the fact that the articles on his website are false.
"Usually when we (our team) start laughing at a post title by itself, it's usually a good sign it's going to be a hit," he told BuzzFeed News. "I read a lot about humor and satire and its origins, and try to understand what makes people laugh, but it's always a mystery."
Murray-Hall previously told BuzzFeed News that business was booming in the lead-up to the election, but since Google AdSense stopped working with them, their profits dipped.
"We've tried other companies and make 50 times less money," Murray-Hall said. "Presently we aren't making any money at all, which is a real bummer so we don't know where WNDR is going to go from here. It's just a shame because WNDR is a monster, it can create major traffic like most sites could only dream of with only one post. So Google AdSense's move against fake news definitely worked on our part."
One of his other websites is Journal de Mourréal, which is currently at the center of legal action in Quebec.

The owners say it satirizes Le Journal de Montreal, a real newspaper. But the paper's owner, Quebecor Media, filed two injunctions against the website and demanded the owners turn over all of their profits. The company claims the design of the fake is too similar to the original.
"I think it's a noble battle and my goal here is to make an important legal case with this, as we will be the first in Canada's history to plead this law in court," Murray-Hall said. "So, legally, the law is on our side, but you never know what might happen. My dream is that we bring this to the Supreme Court of Canada, that would be awesome."