Morning Update: How To Close The Book On Fake News Fairy Tales
Here's how fake news and other online trash spreads — and what you can do about it. Your BuzzFeed News newsletter, Sept. 11.
Evil online fairy tales

Good morning, fellow newsletter lovers,
My name is Jane Lytvynenko. I'm a reporter on our digital deception team and I'm here to replace Elamin's sunny demeanor with a grim peek into our dystopian future. That's right: We're going to talk about fake news and other online trash.
First, a definition: When people who cover disinformation talk about fake news, we mean completely fabricated stories on websites created to mimic news outlets. Think evil online fairy tales. Enjoy this lighthearted example: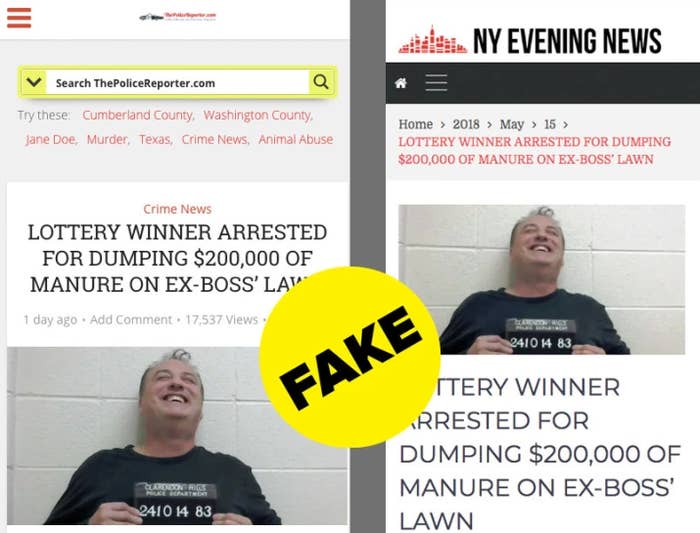 Usually, these types of hoaxes are created to rake in some cash. Remember when the pope "endorsed" Donald Trump? Like that. They tend to spread through social media, primarily Facebook. Propagators will drop them into Facebook groups or publish them on their own pages to get traction. Sometimes they'll use dishonest memes and videos to grow their following.

Then, when an unsuspecting reader clicks on an enticing headline, they will be led to a website crammed with advertisements. That's how the fake news dollars are made (and why you should be careful about what you share!). Here's a checklist to help you spot a fake news story.

Making money for online sleazeballs isn't the only issue with hoaxes, nor are websites their only incarnation. The people who create hyperpartisan news take reality out of context for the sake of emotional manipulation by writing stories aimed at only the left or only the right. Hateful memes and videos stir up animosity. When working in tandem, the ecosystem is capable of inciting violence and causing death.

That isn't an exaggeration. Recent reports are pointing to misinformation on Facebook helping facilitate violence and political unrest in India, Germany, the Philippines, Myanmar, and Libya. People are losing their lives and livelihoods because of lies and hate spread online.

Reporting shows social media companies have been aware for years that their platforms can be weaponized by bad actors. Activists in Myanmar talked to Facebook about it in 2013. The Ukrainian government asked the company for help with Russian interference a year later. Only now, when Facebook's feet have been put to the proverbial fire by reporters and governments, has it begun to take action.

So what can I do about it?

Start with yourself. Research by Pew shows people are spectacularly inept at distinguishing real news outlets from their manipulated doppelgängers. Cultivate go-to sources for your local, national, and international news and follow reporters whose work you respect. If you see something amiss in your timeline, message the person who posted it and ask them to take it down. You can alway send me a tip at jane.lytvynenko@buzzfeed.com. And hey, if you want to take a deeper dive into the world of fake news, sign up for the Fake Newsletter.
SNAPSHOTS
North Carolina and South Carolina are bracing for Hurricane Florence, which is now a Category 4 storm with 140 mph winds. The storm is expected to become an extremely dangerous major hurricane through Thursday, when it could make landfall, as it continues westward across the Atlantic, the National Hurricane Center said.

Miss Michigan called out the Flint water crisis during the Miss America pageant. She introduced herself by saying, "From the state with 84% of the US fresh water but none for its residents to drink, I am Miss Michigan, Emily Sioma." Sioma told BuzzFeed News the idea to use her seconds of airtime to address the crisis in her home state came to her a few days before the pageant.

A cartoonist's depiction of tennis star Serena Williams after the controversial US Open final is being labeled "racist" and "sexist." The image shows the 23-time Grand Slam winner with enlarged lips, a larger figure, and a broken racket and a pacifier on the ground, suggesting her conduct at Sunday's match was childlike. Australian cartoonist Mark Knight has defended his cartoon, claiming that it was a true reflection of the events of the US Open women's final.

Nuns could face murder charges following a BuzzFeed News investigation that detailed years of alleged torture at an orphanage. Officials suggested that the charges could be possible in connection with at least three reported child killings at St. Joseph's Orphanage in Burlington, Vermont. Read the original BuzzFeed News report here.

A white man pulled a gun on black college students who were trying to get into an apartment building. Four juniors from Florida A&M University were trying to go to their friend's apartment for a party when a man claiming to live in the building accosted them before pulling out a gun, according to police and a now-viral social media video.

A guy emailed 246 Nicoles trying to find the one he met at a bar, and now they're all friends. Carlos Zetina met a woman named Nicole who gave him her number but, alas, it turned out to be wrong. So he tried to find her — by emailing every single Nicole in the University of Calgary's directory. Quickly, the Nicoles decided to get together, and a bunch of them met up at a bar that night. They now also have a "Nicole From Last Night" Facebook group.
This letter was edited and brought to you by Jane Lytvynenko and BuzzFeed News. You can always reach us here.
For the latest news and updates, download the BuzzFeed News app for iOS and Android (available in Canadian, UK, Australian, and US app stores).