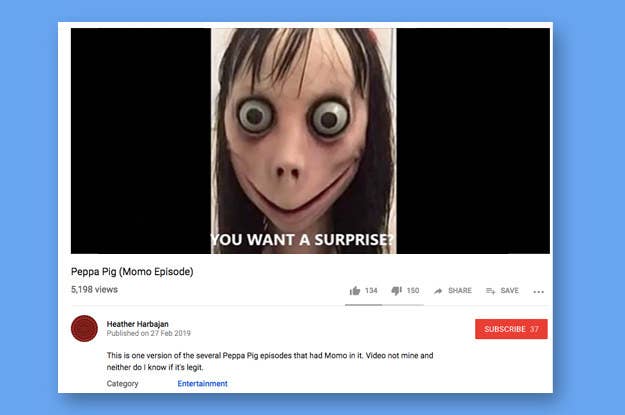 A YouTube video of Peppa Pig going on a picnic with her family begins like any other episode of the popular kids show. But three minutes into the bright, chipper video, a distorted face with bulging eyes appears and a creepy robotic voice begins speaking.
"Slice your leg and you'll never meet me," the voice says. "Slice your wrists and your parents will never see me."
Another similarly creepy video depicts a slow zoom-in on the character as it sings "Momo is going to kill you."
Those videos — combined with a wave of reactive media coverage and alarming Facebook posts — have panicked parents and made them concerned that a so-called Momo Challenge could cause their kids to hurt or even kill themselves. Both parents on social media and news coverage of the story say the videos have emotionally traumatized some children.
But despite the flurry of reporting and warnings, it remains unclear how many Momo videos actually exist, whether they have actually caused kids to harm themselves, and just how widespread a phenomenon it is. It's also possible that media coverage has helped amplify the Momo Challenge into existence, creating a vicious cycle that encouraged people to post more Momo videos, sparked panic, and even caused police departments to issue warnings both about the challenge itself and the media's promotion of it.
As of now, it's nearly impossible to find out just how many of those videos were uploaded on YouTube, since the company has taken them down, making it difficult to search for them on the public-facing internet. YouTube told BuzzFeed News it has not seen any evidence of a widespread campaign.
"Contrary to press reports, we've not received any recent evidence of videos showing or promoting the Momo challenge on YouTube," YouTube said. "Content of this kind would be in violation of our policies and removed immediately."
No Momo content was found on the YouTube Kids app, which curates and filters age-appropriate content, according to the company. YouTube also said that the content on its main platform is largely explaining the Momo Challenge. As reports about the phenomenon kept going viral, the company said it's demonetizing all videos about the Momo Challenge, including ones from respected news outlets.
"We're at an inflection point right now where people understand that they can place content on YouTube and generate a media spectacle from doing something controversial," Joan Donovan, who conducts media manipulation research at Harvard's Shorenstein Center, told BuzzFeed News.
The idea of the Momo Challenge first went viral last year, but it made a return this week when social media posts on Facebook and Twitter, as well as media articles, claimed it's causing children to self-harm and could lead to suicide. The "challenge" centers around the character Momo — a spindly figure with large dark eyes and a freakishly long grin — that was originally created by a Japanese art studio but took on a new life online.
The posts say the Momo Challenge asks children to engage in a series of increasingly extreme tasks that encourage self-harm and suicide. Some posts say it's just a few seconds of unsettling video inserted into children's shows, while others warn that kids are asked to engage with Momo on a messaging service like WhatsApp, where the tasks that the character tells children to do get more extreme.
Although many parents have commented online to say the their kids were frightened by Momo, reports of children actually physically hurting themselves as a result of the videos are difficult to come by.
The Momo Challenge originally went viral in the summer of 2018, when a 12-year-old girl in Argentina killed herself. Investigators initially thought the challenge was in part to blame for her death — and Fox News and other outlets picked up that theory. But a definitive link has not been established. (Researchers have also long noted that many suicide attempts do not happen suddenly, and the Suicide Prevention Lifeline publishes a list of warning signs to look for.)
What's clear, however, is that news and social media reports warning about the phenomenon far outpaced the popularity of any actual Momo videos. Viral posts of parents saying their children were terrified by Momo spread across Facebook and got hundreds of thousands of shares. One early post about the challenge came from a police department in the UK on Facebook, which said Momo instructs viewers to harm themselves but could also be hackers looking for personal information. A spokesperson for the department said, "no official reports have been made to PSNI."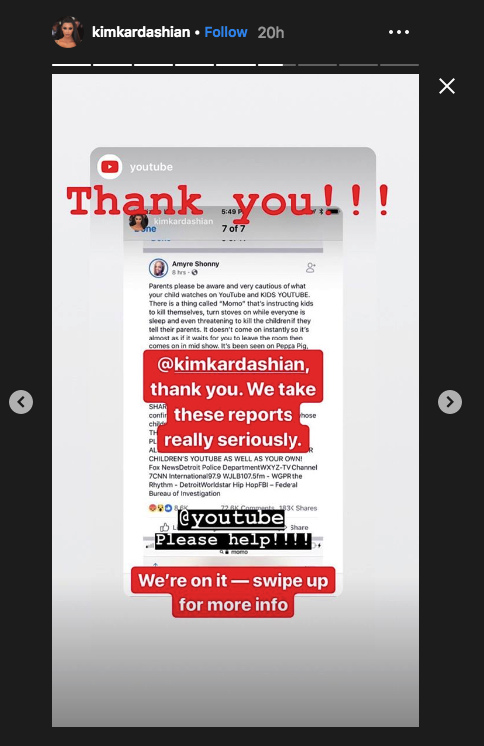 The most popular article on the topic, published Feb. 26 by the Daily Mirror, has over 700,000 likes, shares, and comments, according to social measurement tool BuzzSumo. But the Mirror wasn't an outlier. Other media outlets, like the BBC and CBS, also published stories on the challenge. Even Kim Kardashian West used her Instagram account to ask YouTube to intervene.
Some of the reports have veered from accepted guidelines on reporting on suicide, and their overall accuracy is questionable. The Mirror characterized the video manipulation as "hacking," which it isn't. The BBC appears to have updated its Momo story, which it first presented as a real threat, to instead refer to it as a hoax. The Daily Mirror also seems to have altered the date on an old story from last August to make it look like it was published recently.
Inaccurate coverage of the phenomenon creates a feedback loop among officials, social media users, and content creators. It also plays into parental moral panic, according to Donovan.
"We cannot know the motivations of people who are doing it," Donovan said, "but we do know that unsupervised uploading of content that's tagged by users and sorted by the algorithm based on those tags means if parents don't watch content before their children do, there could be something inserted into videos."
She said that once a concept like the Momo Challenge is implanted in the media and minds of parents, others will come along and mimic the tactic, causing further confusion.
"What parents do need to realize is that content is often packaged with a fair amount of advertising, and as a result you do have to pay attention," Donovan said. "That could mean that parents should go to the official website to watch Sesame Street instead of YouTube."

Although the Momo Challenge amassed a huge amount of attention, it's just one example of disturbing content being targeted at kids on YouTube. One person who posted about Momo on Facebook also sent BuzzFeed News screenshots of videos on the platform that show My Little Pony characters being tortured and Peppa Pig killing her family members.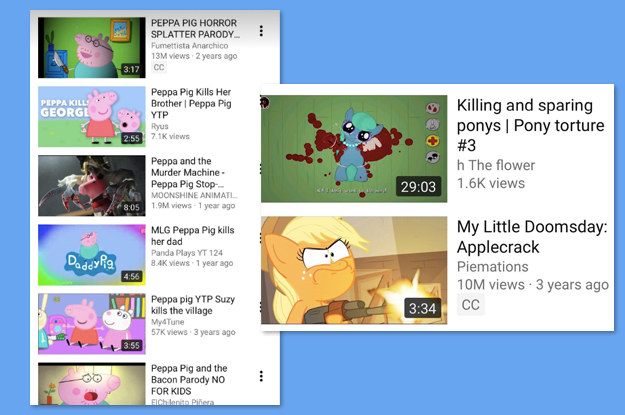 UPDATE
Updated to include YouTube's announcement that it's demonetizing all videos about the Momo Challenge and statement from the Police Service of Northern Ireland.