The Internet Research Agency, now commonly known as the Russian troll factory, has gained international fame for its work during the 2016 US election, and the resulting indictments of 13 people announced by the Department of Justice last week.
Job ads from the IRA posted before the election give a sense of the kind of person the agency was looking for and how it helped weed out candidates. The ads were posted on Russian employment websites in 2014 and 2015 and the address listed in them matches the known location of the IRA's headquarters. The blog Shooting the Messenger first posted some of the job ads.
One ad posting was for a social media specialist, offering a monthly salary of 40,000 rubles, or about $700.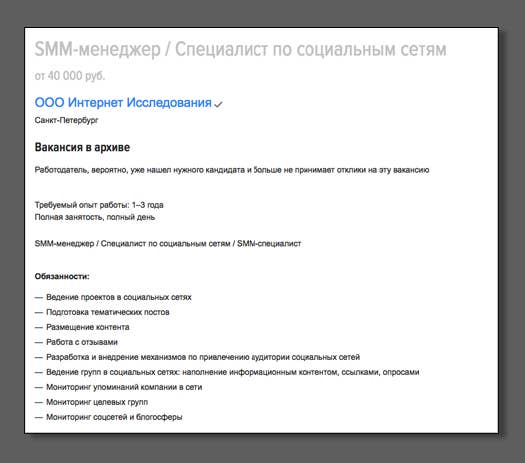 The responsibilities included preparing "thematic posts," publishing content, growing social audiences, and monitoring social media, blogs, and groups.
When it came to skills, the IRA wanted candidates who knew how to write "informational texts" and create an online community. It also asked for applicants with a sense of responsibility, initiative, and an "active life position."
Another ad for a web programmer offered 60,000 rubles per month, or about $1060.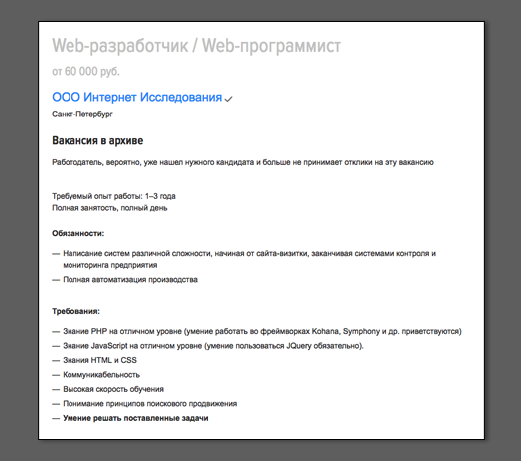 It sought candidates with proficiency in coding languages HTML, CSS, JavaScript, and PHP. The ad promised the successful candidate that they'd be part of a "friendly team" and would work on "interesting projects."
A third job posting was for a content manager, with a starting salary of 40,000 rubles per month ($700).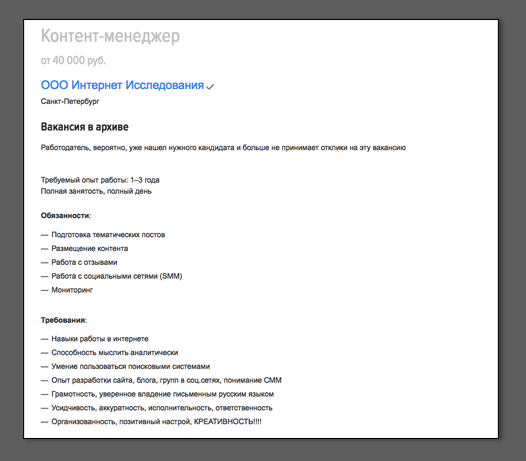 The content manager was required to prepare and publish "thematic posts," and to work with social media, "monitoring" and "reviews." It's not clear exactly what kind of monitoring and reviews this person would perform.
The job required analytical thinking, knowledge of how to work with online search systems, and a strong grasp of Russian. The posting also asked for "consistency, accuracy, diligence, responsibility."
One 2015 ad for a content manager also asked for English speakers.
The IRA officially changed its name in 2014, according to reporting by Russian business magazine RBK. One of the new names is "ГлавСеть," which also has plenty of old job postings.
In 2015 the company had openings for content creators, web developers, copywriters, and managers.
One uniting factor for all of these ads is a desire for energetic applicants. The ads also sought out people with "active life position," "vigor," "perseverance," "ambition," and the "ability to clearly and structurally express their thoughts."
But with job postings come job reviews, and one reviewed by BuzzFeed News was not positive about work at the troll factory.
The review, from 2014, complained about being asked to do unpaid work for two days before being hired.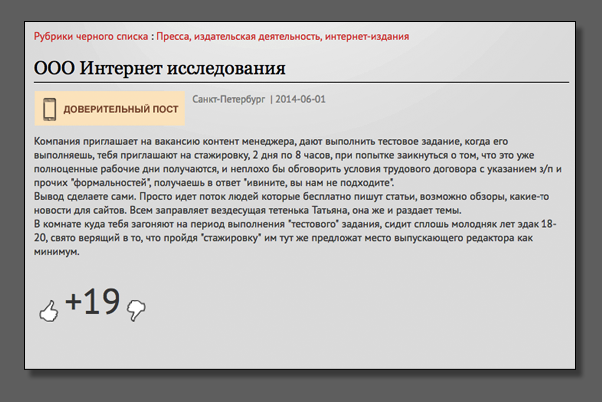 "The company invites you for the content manager for a vacancy, they give you a test task, when you do it, they invite you to an internship, 2 days for 8 hours. When you try to hint that it's already full-time work and it would be nice to negotiate the terms of the employment contract, you hear 'I'm sorry, you're not a good fit' in return," the reviewer wrote said.
They wrote that the other candidates doing the "internship" were largely between 18 and 20 years.
Many Russian media outlets reported on the troll factory in 2014 and 2015, including the website MR7.ru. Their report included a video of IRA workers jogging in to work at 8:55 a.m., ostensibly because being late carried a fine of 500 rubles.