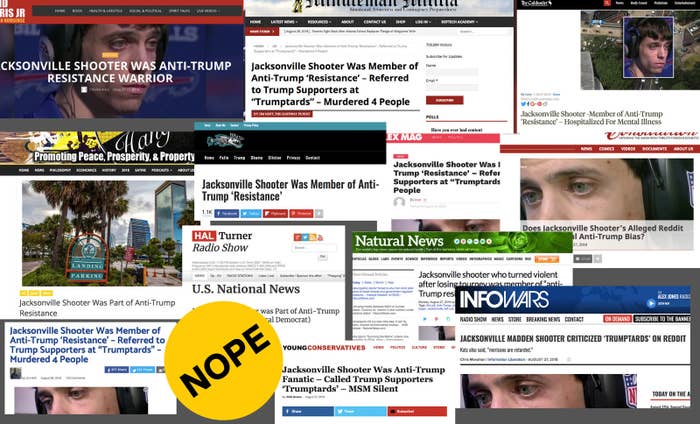 Immediately after Sunday's shooting in Jacksonville, Florida, that left 11 people injured and three dead, including the attacker, people began searching online for any information about suspect David Katz.
The search intensified after police announced Katz was a Madden NFL player who used the names ravens2012champs and Bread_and_Butter online. Would-be internet sleuths stumbled on a Reddit account called RavenChamps, which was slightly similar to Katz's "ravens2012champs" handle. With no evidence, hyperpartisan right-wing outlets claimed that the account belonged to Katz, and churned out headlines like "Jacksonville Madden Shooter Criticized 'Trumptards' On Reddit" and "Jacksonville Shooter Was Member of Anti-Trump 'Resistance' – Referred to Trump Supporters at [sic] 'Trumptards' – Murdered 4 People."
They were wrong.
The person who owns the account, a 23-year-old Minnesota resident named Pavel, later set the record straight in a Reddit "Ask Me Anything" thread. "I'm apparently the madden shooter what's up," he wrote hours after the suspect was declared dead by officials.
In an interview with BuzzFeed News, Pavel said he decided to do the AMA when he realized he wasn't just getting harassed by one person with lots of Reddit accounts but had been implicated in the shooting itself.
"For about two hours I was going through comments, replying to people, trying to figure out what's going on 'cuz I had no idea what exactly happened," Pavel said. (He has asked for his last name to be withheld for privacy reasons.)

This isn't the first time far-right blogs and commentators have mislabeled the affiliation of a suspect in a way that's politically convenient.

During the Texas church shooting last November, a fake Facebook profile spurred claims that the suspect was a member of the anti-fascist organization "antifa." During the Toronto van attack, one tweet that provided no evidence spurred baseless stories about the suspect being Middle Eastern. The students who survived the Parkland shooting and now lobby for gun control continue to be targeted with posts that baselessly describe them as Nazi sympathizers and communists.
Pavel said his RavenChamps Reddit account received roughly 90 messages from strangers that ranged from verbal harassment to people genuinely asking if the account really belonged to the suspected shooter. Pavel said he didn't receive messages from any news outlets before the before articles with his comments were published.
"Nobody contacted me at all, they just published away," he said.
Some websites, like Infowars, the Gateway Pundit, and YourNewsWire, updated or deleted their stories since Pavel's AMA went up, but others did not. Dozens of copycat articles remain online that falsely claim the shooter was a "member of the anti-Trump resistance."

Pavel said he emailed Infowars and Gateway Pundit to get in touch, but nobody has gotten back to him so far. "Maybe they just don't want to admit being wrong," he said.
"I'm not mad or anything, I find this whole situation hilarious," said Pavel. "I'm not really going after them, I just want to call them out, really."

Before getting deleted or updated, the articles had amassed thousands of Facebook likes, shares, and comments and some were shared on Twitter as well.
Mike Cernovich, a conservative commentator, was among the first to post about the false affiliation, later tweeting an apology.
"I never identified the Reddit user by name or username. Played it pretty safe actually and kept it vague. Thought it was the same username and the guy was dead," Cernovich told BuzzFeed News via Twitter messages. "It was however an error on my part which is why I apologized."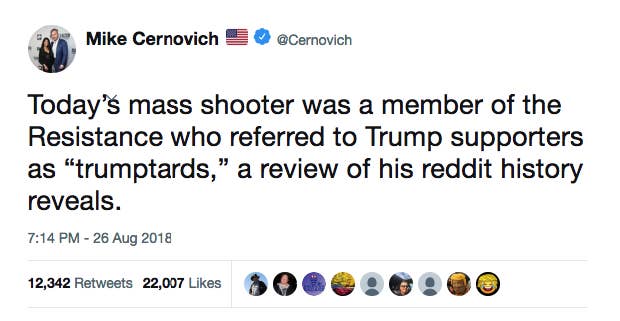 Pavel said anyone who becomes a target in the future like him should approach the situation lightheartedly.

"Just stay positive about it. I just laughed the whole thing off, grabbed a bottle of vodka and started commenting away. My mindset is this whole thing is funny," he said.
"Just gotta be fun with it, just call out the idiots."