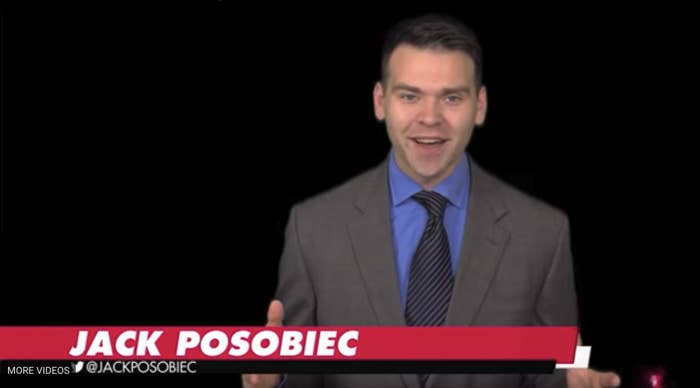 Less than two months after joining The Rebel as its Washington bureau chief, pro-Trump media figure Jack Posobiec has parted ways with the right-wing Canadian media organization.
News of his departure began spreading online Sunday thanks in large part to a story on animeright.news that claimed Posobiec was let go due to his coverage of the murder of Seth Rich, a conspiracy theory fanned by right-wing outlets. An earlier post on the 8chan message board also made the same claim. Neither post offered evidence to back up the rumor.
Ezra Levant, founder of The Rebel, confirmed to BuzzFeed News that Posobiec was dropped from the outlet. Asked if he was fired over his coverage of Seth Rich, Levant replied, "No."
Levant has also posted on Twitter to call the claim "#FakeNews."
When asked why Posobiec no longer works for him, Levant said, "Like BuzzFeed, our HR matters are private."

After this story was published, Posobiec commented on the departure. "Was great to have the chance to work at The Rebel and looking forward to my next adventure," he told BuzzFeed News.
"We are grateful to Jack for his work as our groundbreaking Washington bureau chief," Levant said. "We admire his high energy and can hardly wait to see what he does next."
Hired by The Rebel on April 3, Posobiec is known for being a staunch Trump supporter and a peddler of conspiracy theories. Over the past two weeks, he has tweeted and made videos about Seth Rich, a DNC staffer whose murder jumped back into the news due to a discredited and retracted report that he was in contact with Wikileaks prior to his death.
This report fueled an existing conspiracy theory that claimed Rich was the person who leaked emails from the DNC to Wikileaks. US intelligence and independent security experts have concluded that Russia was behind the DNC hack and subsequent leak. There is no evidence linking Rich to Wikileaks, and police consider his murder to be the result of a botched robbery.
Fox News retracted their initial report about evidence of a Seth Rich-Wikileaks connection. Posobiec has continued pushing the issue.
Posobiec has pushed several other conspiracy theories, and as BuzzFeed News previously reported, was the brainchild behind a "rape Melania" sign that appeared at an anti-Trump rally in an effort to make the protesters look bad.

He's also pushed the Pizzagate conspiracy theory, which falsely said Hillary Clinton was running a child sex ring out of a Washington, DC pizza shop — causing one North Carolina man to go there and open fire. (No one was injured.)
Posobiec has recently become known for promoting emails and files leaked to 4chan of then-candidate Emmanuel Macron, now the president of France. After the hashtag he used, #MacronLeaks, began trending, the New York Times cited Posobiec in their report. He's also recently obtained passes to attend White House daily media briefings.
Though it was true Posobiec surfaced potentially consequential information regarding the Macron files, he's also used the leaks to say Macron is being mind-controlled by global elites.

Before joining The Rebel, Posobiec worked as a special projects director at Citizens for Trump, which, according to his introduction on The Rebel, is "the largest Trump grassroots organization in the US."

The Rebel itself has been known to spread misinformation. When Canadian Parliament put forward a motion to study Islamophobia, The Rebel falsely claimed "The Canadian government is preparing to silence anyone who criticizes Islam." In the aftermath of the Quebec Mosque shooting, The Rebel continued to question the involvement of a Muslim man after he was cleared by police. The Rebel initially launched with a focus on Canadian politics and issues, but recently shifted to more of a global focus.

Levant did not say whether The Rebel will be hiring a new Washington bureau chief. "I'll show you our editorial plans if you show me Buzzfeed's editorial plans," he said.