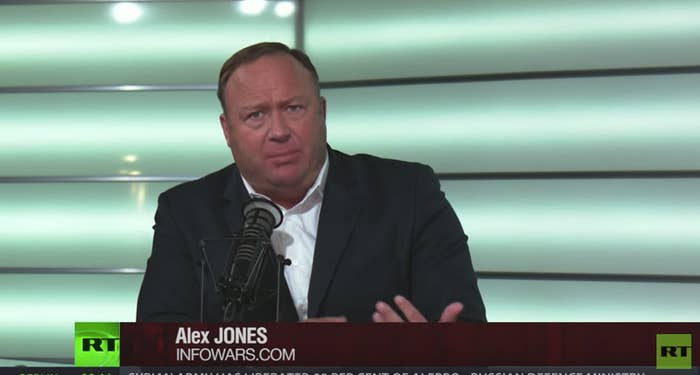 Over the past three years, conspiracy site InfoWars has copied more than 1,000 articles produced by Russian state-sponsored broadcaster RT to its website — all without the permission of RT.
According to data from social sharing tracking website BuzzSumo, there were at least 1,014 RT articles republished on InfoWars since May of 2014. The articles appeared on InfoWars with a byline credit to RT, but a spokesperson for the Russian broadcaster told BuzzFeed News that InfoWars did not have permission to re-publish its content.
RT is not the only outlet InfoWars copied content from. A search on BuzzSumo shows there are articles copied from CNN, Sputnik, Breitbart, CNS News, the Blaze, CBC, BBC, Vice, The Guardian, The Washington Post, The New York Times, The New York Post, LA Times, BuzzFeed, and others. RT's articles, however, seem to be the most numerous.
After being informed of InfoWars's rampant reprinting of RT stories, Anna Belkina, the head of communications for RT, wouldn't say whether her employer will take action against InfoWars.
"We take under consideration any use of our content without authorisation, and proceed with any action we deem appropriate. We do this on a case-by-case basis, dependent on the resources we have available at the time," she said.
The subjects of the copied stories range from global politics to terror attacks to news hits about e-cigarettes and fake Canadian gold bars. Many deal with US politics.
InfoWars is headed by radio host Alex Jones who propagated the false Pizzagate conspiracy theory, fueled hate against migrants, and pushed the unfounded theory that former president Barack Obama is not an American citizen.
Jones and his outlet have also faced accusations that their work often aligns with Kremlin-funded outlets such as RT, and that they have at times benefitted from amplification from Twitter bots and other Russian information operations. McClatchy reported in March that federal investigators are looking at whether far-right media such as InfoWars and Breitbart played a role in boosting Russian misinformation. In this case, there's no question that InfoWars has been copying and pasting Kremlin-funded news articles and promoting them to its audience.
Multiple emails sent to InfoWars requesting comment on why the outlet has been mass-copying RT content were opened but not replied to.
According to BuzzSumo, the majority of RT articles reprinted on InfoWars were not especially popular. The overwhelming majority got under 1,000 Facebook likes, comments, and shares, and even less engagement on Twitter.
The most popular article by far was about a list of "fake news" journalists published by former congressman Ron Paul, with just over 7,200 comments, likes, and shared across Facebook, Twitter, LinkedIn, and Pinterest. BuzzSumo doesn't include websites like Reddit and 4Chan in its data.
The second-most popular article was headlined, by InfoWars, as "Pope Francis Compares Donald Trump To Hitler." It gathered just under 3,000 engagements. Notably, the headline of the article is misleading. Pope Francis did talk about Hitler's rise to power in an interview with Spanish newspaper El Pais, but he didn't directly compare Trump to the Nazi leader. Instead, Pope Francis said he'll wait to see how the new president acts before coming to conclusions. RT's headline was, "Pope warns against Hitler-like leaders coming to power on wave of populism."
Both of the top articles, along with many others reviewed by BuzzFeed News, include embedded YouTube videos from InfoWars, and the web pages also featured ads for InfoWars products.
RT has come under scrutiny after the 2016 US election for its role in spreading misinformation. Twitter recently said it will no longer allow RT to purchase advertisements. The Senate Intelligence Committee investigating Russia's interference asked Facebook and Google pointed questions about why content and advertisements from the outlet is allowed on their platforms.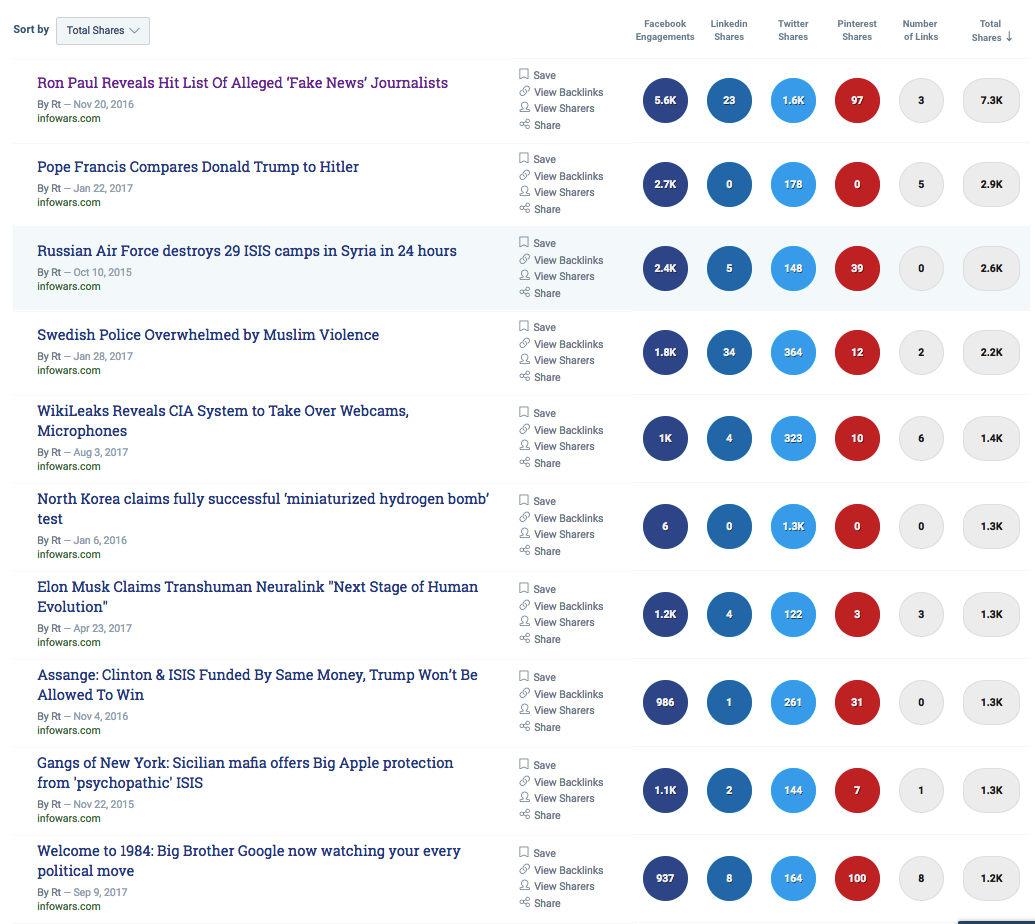 After noticing RT articles on InfoWars, BuzzFeed News contacted RT to ask whether it runs a newswire that enables other outlets to republish its content. "RT doesn't have wire services," Belkina said.
She sent a link to RT's official copyright policy. The policy says RT has to give explicit permission for its work to be re-printed. She also said InfoWars doesn't have such permission.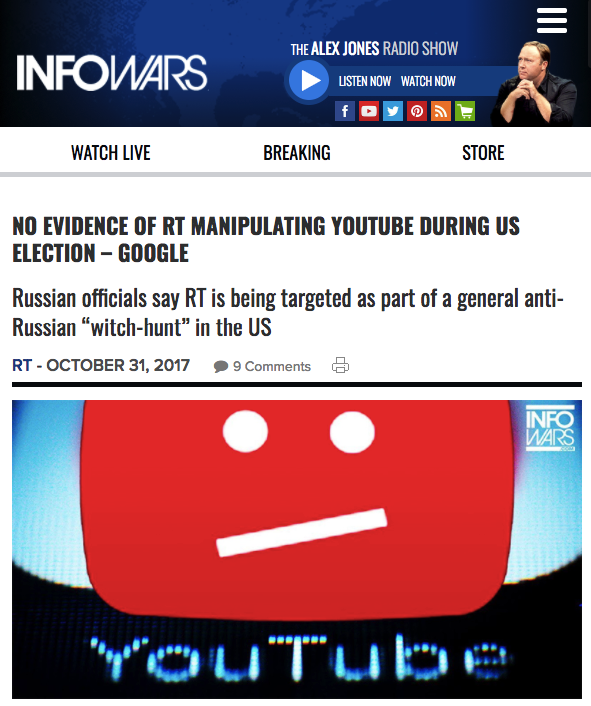 RT is known for being selective with facts and it's not clear how popular it is in the US, but right-wing conspiracy theorists and Trump supporters often share links to the outlet. The InfoWars site is well-known, and could be giving the Russian broadcaster another boost and credibility among the audience.
Alex Jones is also no stranger to Russian media. He's appeared on RT and even been aired in Russia by a state broadcaster. RT is also often cited as a source by pro-Trump commentators and websites. Far-right website Gateway Pundit lists it under its "GP favorite media" section, for example, and InfoWars editor Paul Joseph Watson often tweets stories from the broadcaster.
However, Jones flew into a profanity-filled, homophobic rage earlier this year in response to a suggestion by Rep. Adam Schiff that he and InfoWars are sources of Russian propaganda.
"You want to sit here and say that I'm a goddamn, fucking Russian. You get in my face with that I'll beat your goddamn ass, you son of a bitch. You piece of shit. You fucking goddamn fucker. Listen fuckhead, you have fucking crossed a line. Get that through your goddamn fucking head. Stop pushing your shit," Jones said, in part.
In the video, Jones made no mention of the fact that his site had been copying and pasting articles from a Kremlin-funded broadcaster for years.