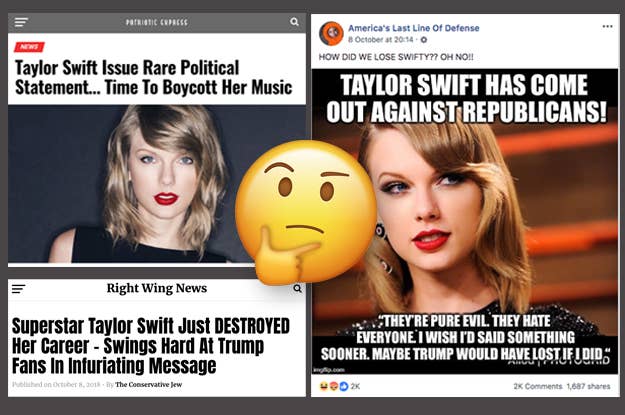 Taylor Swift has become the focus of partisan memes and fake news after she endorsed a Democratic candidate in Tennessee in an Instagram post, and encouraged her fans to register to vote.
Swift's post caused partisan news sites and Facebook pages, as well as at least one hoax creator, to kick into high gear in an attempt to generate engagement and revenue through posts and memes. Here's how it played out.
One of the most shared partisan posts about Swift came from a large left-wing page, Occupy Democrats. It's image featured a real statistic from vote.org about voter registrations, and invited fans to share the post as a thank you to the singer.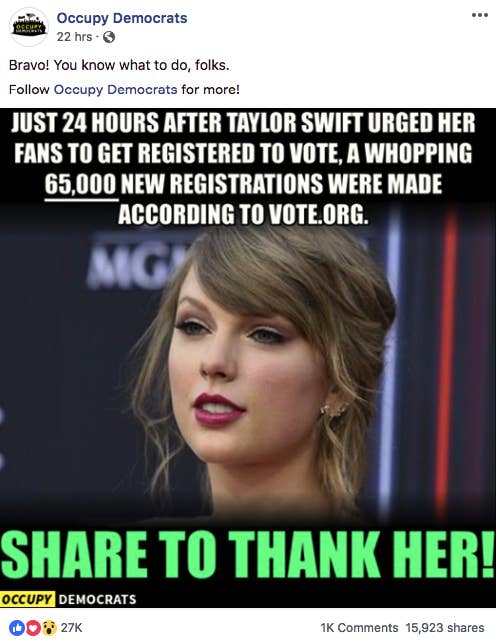 The post received tens of thousands of likes and nearly 16,000 shares, and spread to other social networks.
There were also some anti-Swift memes created by a well-known fake news publisher.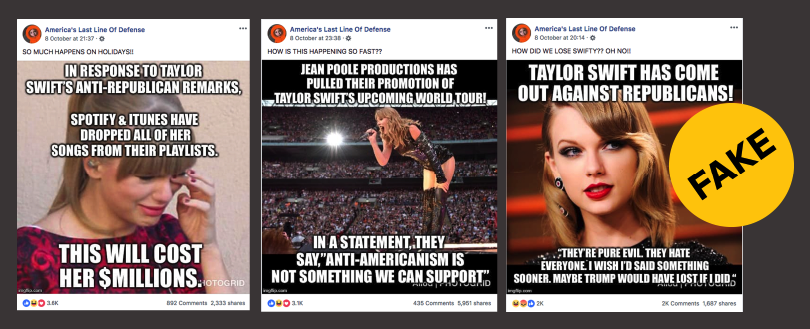 The memes were shared on a page called America's Last Line of Defense, which is run by Christopher Blair. He goes by the monicker Busta Troll and labels himself as a liberal satirist. Blair runs a network of Facebook pages and websites that spread hoaxes he says are aimed at fooling conservatives.
The Taylor Swift memes he posted garnered thousands of engagements. Blair's website also published fake news stories about Swift. Two of the articles, which are labeled as satire on the website, generated over 10,000 likes, shares, and comments on Facebook, according to social media tracking app BuzzSumo.
"It's pretty standard stuff," said Maarten Schenk, who runs the fact-checking website leadstories.com. "It's a story that's very controversial, and anything that's controversial attracts satire writers."
A person who runs the Last Line of Defense page told BuzzFeed News via Facebook Messenger that he created the fakes because "conservatives are currently piling irrational hatred on Taylor Swift."
"Are they really hoaxes if we tell people multiple times not to believe it?" they said, adding that they're poking fun at people who use memes as a source of news.

Although the articles on his website are labeled as satire, someone who sees a meme from one of his pages would have to click through to the Facebook page and then to the "about" section to see the same disclaimer.
"We prefer articles because it's easier to see that we're full of shit though," they said. They also said he's increasingly posting memes because Facebook reduces the reach of his articles.
Right-wing Facebook pages have also been targeting the singer.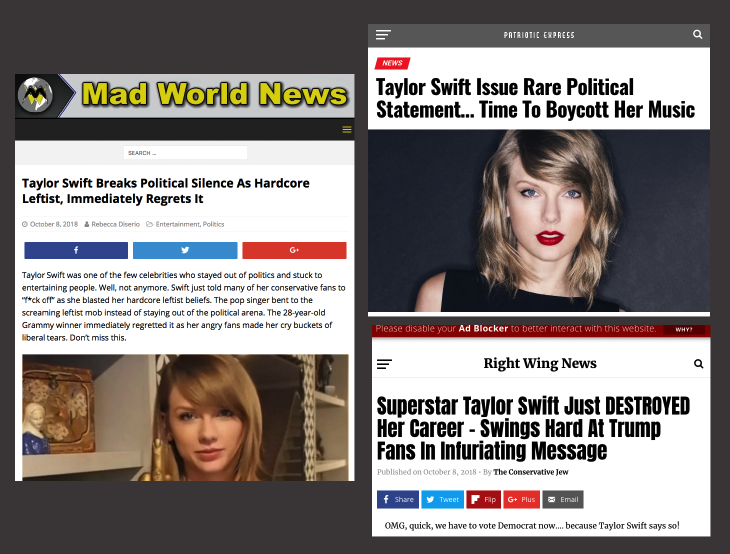 A popular post by the website Patriotic Express called for a Taylor Swift boycott. It generated more than 18,000 engagements, according to BuzzSumo. Other headlines, which also received thousands of engagements, claimed the singer "DESTROYED her career" or that she "immediately regrets it." (There is no evidence to suggest either is true).

The battle over Swift is just another example of how news events are used to generate partisan outrage and attention. During the Justice Brett Kavanaugh confirmation process, hyperpartisan publishers told BuzzFeed News they were seeing some of the best engagement since the 2016 election.
It's less the case with Swift. The most engaged stories on Facebook were more measured and came from mainstream news outlets. On YouTube, which often promotes conspiracy theories during news events, searches for Taylor Swift brought up the singer's videos in the top search results. It seems her music is popular enough to defeat the internet's junk information machine.
CORRECTION
The quotes from the Last Line of Defense Facebook page were from an unnamed administrator. This article incorrectly attributed them to Christoper Blair, the founder of the page.