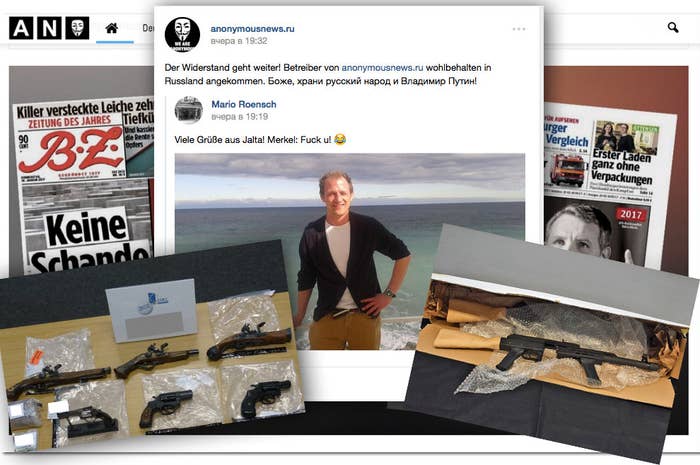 In the early hours of Jan. 24, German customs officers raided 29 houses in search of illegal weapons bought from a Hungary-based online store. The officers collected guns, armor, and computers from locations scattered across 11 of Germany's 16 states.

But while they managed to capture the weapons, the man who ran the store continues to elude police. His name is Mario Rönsch and he's been on the run for months from both customs officials and police in the picturesque German town of Erfurt, where he's wanted for questioning in connection to "incitement of the people" and spreading disinformation, which are both crimes in Germany. Those accusations relate to a Facebook page and website Rönsch, 33, ran that trafficked heavily in fake news, pro-Kremlin propaganda, and anti-migrant content.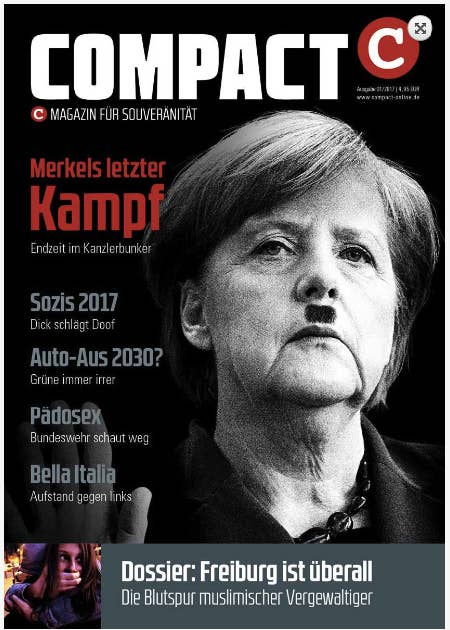 Rönsch's views and actions are radical enough that even the far-right German magazine Compact — which recently published a cover of Angela Merkel with a Hitler mustache — has publicly disassociated itself from him.
"We fired him at the beginning of summer 2016 in response to Rönsch's gun business," said the online article. "We at Compact have warned about Rönsch multiple times; he and his gun shop are dangerous."
A BuzzFeed News investigation reveals how Rönsch has used social media, the web, and a false association with the hacking group Anonymous to spread fake news, sell illegal weapons, and escape questioning by German authorities. As Germany grapples with how to respond to an increase in fake news hate speech and disinformation ahead of its September elections, Rönsch's case shows just how difficult it can be for authorities to shut down fake news providers, even in a country with restrictive hate speech laws.
German police told BuzzFeed News they suspect Rönsch is in Hungary. But in a now-deleted post on Russian social network VKontakte (VK), Rönsch recently said he is in Crimea — and that he could care less about the German authorities.
The photo shows Rönsch standing in front of a body of turquoise water with a big smile on his face. "Greetings from Yalta!" reads the caption. "Merkel: Fuck u!"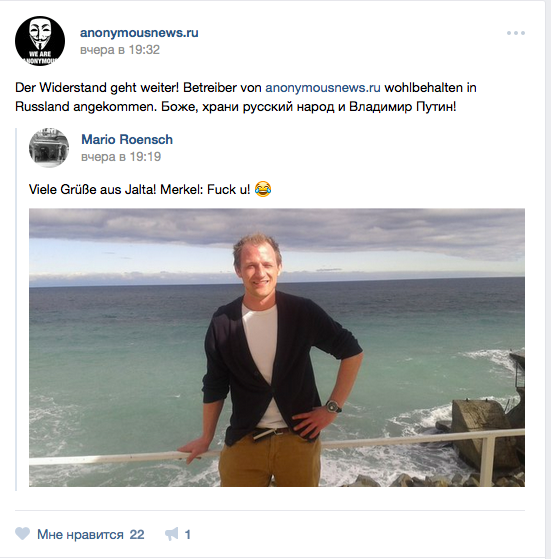 Mario Rönsch first came to public attention in 2014 by organizing rallies in Erfurt, a town in the German province of Thuringia with a population of 200,000. YouTube videos show Rönsch holding a microphone and leading the crowd in chants. "Go home or join us in the streets, dear journalists. But just stop spreading stupid lies!" he says in one.
Although many of the videos are brief and the purpose of the gatherings is not always clear, the rallies were frequent. Erfurt city authorities told BuzzFeed News there were eight rallies in 2014 registered by Rönsch. The topic of all events, they said, was "peace."
The website and associated Facebook page that Rönsch appears to have run at the time, Anonymous.Kollektiv, present a very different message. (The page and Rönsch have no actual affiliation with the hacking group Anonymous.)
Anonymous.Kollektiv was as popular as it was misleading. It was run by Rönsch and a man named Kai Homilius, according to a widely circulated screenshot obtained by Motherboard Germany. Homilius is a publisher of books about chemtrails and about 9/11 conspiracy theories. He did not respond to BuzzFeed News's requests for comment.
The page openly promoted hate, violence, and vigilantism against refugees, according to reports. Posts on Anonymous.Kollektiv often demonized German Chancellor Angela Merkel and praised Russian President Vladimir Putin. Merkel was likened to Hitler, and fake news stories about refugees raping and attacking other Germans made frequent appearances. Before Facebook shut it down in May, the page had over a million likes.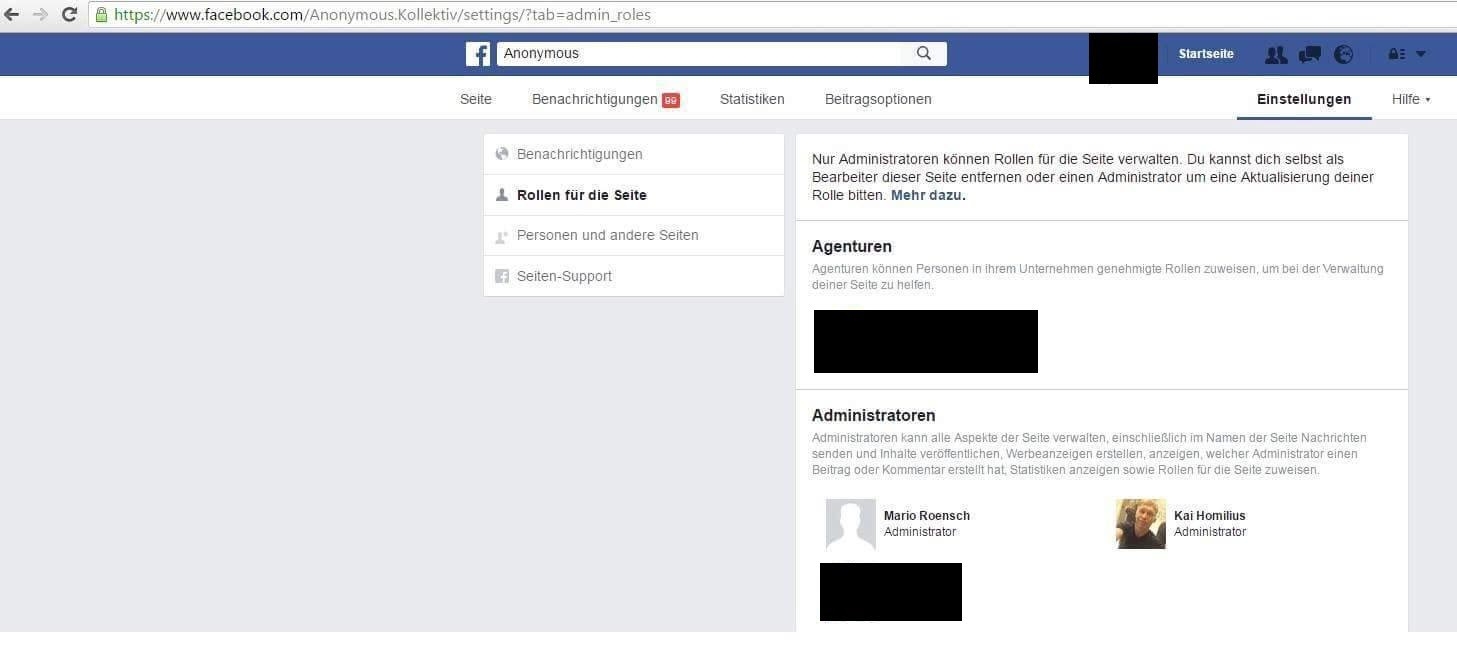 Prior to deactivating his Facebook account, Rönsch threatened to sue anyone who said he was affiliated with the page. Then, after the page was shut down on May 19, Rönsch could no longer be located.
Chan-jo Jun, a lawyer representing a Syrian refugee taking Facebook to court for not removing images that falsely depict him as a terrorist, said the Anonymous page has been on his radar for a while.
"In Germany, when a fact is false there's no protection for it," Jun said. "There's no reason for libel to be conveyed to the public."
Jun focuses his practice on hate speech and disinformation, and said he had reported Anonymous.Kollektiv and the stories on it many times. Ultimately, it required a complaint from a German politician to shut the page down.
Facebook confirmed to BuzzFeed News they took down Anonymous.Kollectiv because of hate speech. Spokesperson Richard Allan told the German government in September the company deleted about 100,000 pieces of hate speech content, but didn't specify a timeline of when everything was removed.
Though Rönsch was in hiding, he didn't stay offline for long. Less than two weeks after Anonymous.Kollektiv shut down, a new website called AnonymousNews.ru was registered with a Russian domain-hosting company. Online records connected Rönsch to the new site. The messaging was similar to Anonymous.Kollektiv and it linked to the previous YouTube and VK accounts.
As with the previous site, the German-language articles on Anonymous News are a mix of conspiracy theories, fake news about refugees, and disinformation about liberal politicians like Merkel and Barack Obama.
Though the site bills itself as being affiliated with the hacking group Anonymous, it has been actively denounced by the group. Facebook pages dedicated to busting fake Anonymous operations routinely mention Rönsch and his associates, and there's even an Anonymous board thread from 2015 that discusses disrupting his social media and website.
"I am proposing an operation to hack nazi members/nazi war criminals," reads one message. "I have also been informed about a fake annonymous [sic] account, owned by a German nazi."
Anonymous News has generated significant Facebook engagement for its content. Within the last six months, completely false articles about asylum-seekers raping women in Cologne, a German general opposing Merkel, and a "forgotten" genocide of Germans have each generated over 20,000 shares, reactions, and comments on Facebook, according to BuzzSumo, a tool that measures social engagement. These articles have also been cited as sources by other far-right and conspiracy outlets across Europe.

In just about every way, the new fake Anonymous site mimicked the previous site Rönsch was linked to. There was, however, one frightening exception: The site was littered with ads for an online store called Migrantenschreck.ru, or "Migrant Fright." It offered to sell guns to anyone who wanted to protect themselves against the supposed threat of migrants.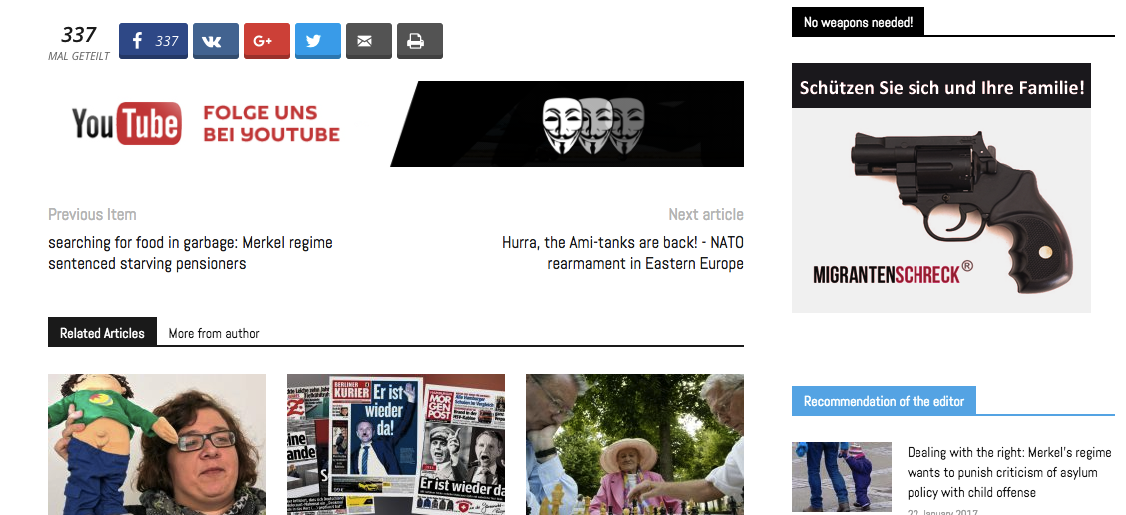 The VK account for Anonymous.Kollektiv goes back to 2011, but the weapons store was only registered in May 2016. Migrant Fright itself doesn't try to hide what the guns are for: protecting loved ones from migrants, according to descriptions of the weapons. A blog on the website, though not popular, also spreads fake news about refugees.
There's no way of telling how many customers Migrant Fright has, but in the wake of the raids by German customs officials, Zeit reported that 198 people bought weapons. Authorities would not comment on an ongoing investigation, but provided BuzzFeed News photos of guns they've seized. The guns don't use lethal bullets, but can still seriously harm or kill a person.
BuzzFeed News was able to confirm Rönsch's connection to Migrant Fright using domain registration information and Hungarian business records. His name and an address in Hungary appear on the website's imprint (sites in Europe are required to display the business address and the owner) along with a Hungarian tax number. Domain registration information for Migrantenschreck.ru website is hidden, but the registration for Migrantenschreck.net is under Rönsch and provides an address in Erfurt.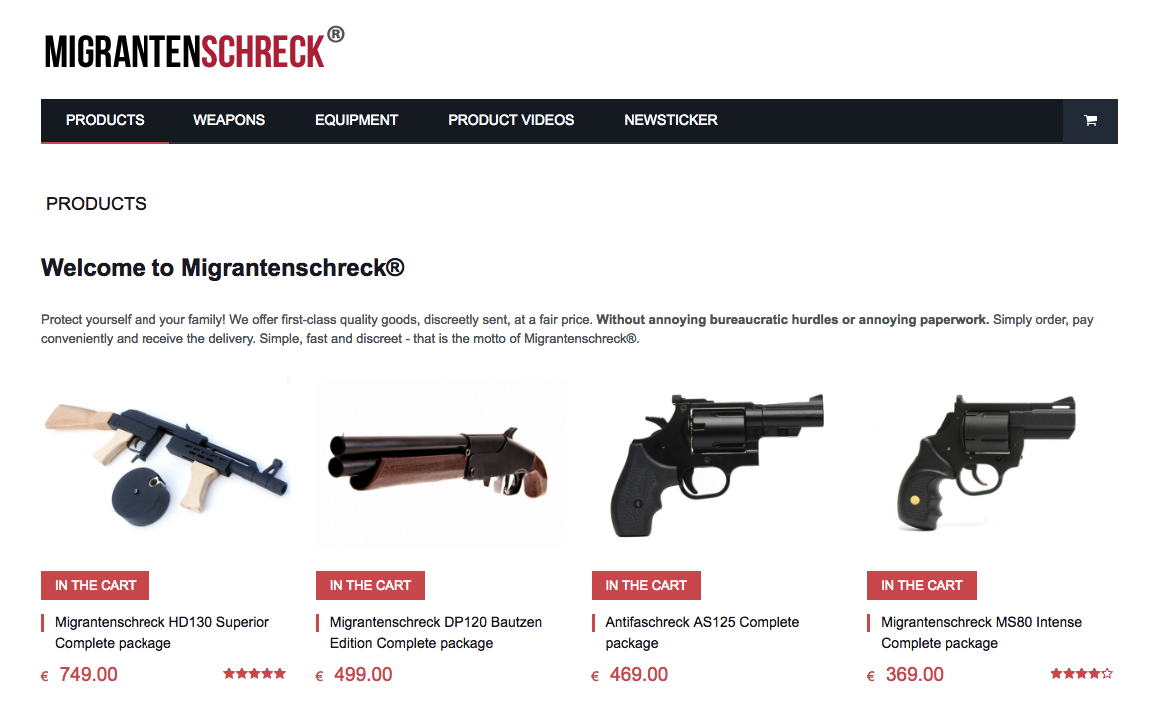 AnonymousNews.ru's imprint also has a Hungarian address, but information for anonymous-news.de, which has the same IP, reveals a different owner and registration address: Dana Kamrad in Erfurt. There's no evidence linking Kamrad to Migrant Fright, and BuzzFeed's repeated attempts to find and question her were fruitless. Both Rönsch's and Kamrad's emails are registered under Yandex.com, a Russian provider, though neither is active.

By cross-referencing the tax number on Migrant Fright with a public Hungarian business database, BuzzFeed News was able to confirm that the gun shop is a registered business. Established last September, the documents say it provides security systems services, machinery, equipment, and supplies and conducts publishing activities, among other functions. Curiously, real estate is also declared as one of the business activities.
The address listed for Kamrad in Erfurt is on a cobblestone street in a historic part of town. When BuzzFeed News visited last week, Kamrad was nowhere to be found. Her neighbors, who asked to stay anonymous, said she had been evicted in March and they did not recognize a photo of Rönsch. They did say it's possible he had been there as Kamrad had had a lot of visitors. BuzzFeed News was not able to find a new address for her, or any other online presence.
Not far away is the four-story apartment building Rönsch used to call home. The building is in the center of Erfurt's traditional old town, between shops, bakeries, and restaurants. His name is long gone from the doorbell sign on what was his apartment and the building has a freshly painted coat of white. Multiple neighbors who spoke to BuzzFeed News said they think the paint job is because there had been "paint attacks" on the building.
Neighbors said they had no idea where Rönsch was. Migrant Fear and social media accounts, which remained up after the raids, abruptly disappeared sometime between Wednesday and Thursday of this week.
The illegal weapons aspect of Rönsch's case is unique, but in many ways his story echoes the challenges that governments and social platforms have in dealing with fake news and other forms of online misinformation. When one of his outlets was shut down, two more took its place. Instead of using Facebook, Rönsch utilized YouTube and VK. Even without his popular Facebook page, he was able to find an audience. And now, police and customs officers are looking to question him.
The latest clue of Rönsch's location was the post on his personal VK that said he was in Crimea. After he uploaded the photo, the post was soon reshared by AnonymousNews.ru's page on the same social network.
"Resistance will go on! The head behind anonymousnews.ru is landed safely in Russia," the post said in German. And then, in broken Russian, it added, "God, save the Russian people and Vladimir Putin."