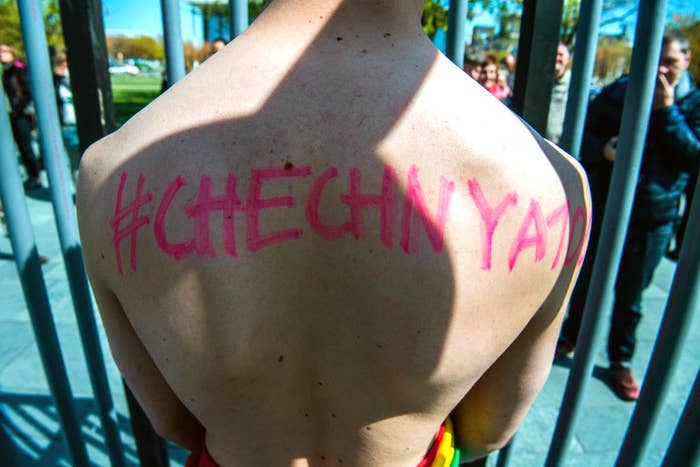 Gay men fleeing violence and repression in Chechnya are finally beginning to get the visas they need to escape to other countries, but the threat remains for those who are still inside the country.
Linas Linkevicius, Lithuania's minister of foreign affairs, told the Baltic News Service that two visas were issued by the country to Chechen men fleeing a wave of persecution at home. "We are just one of many countries [involved]," he told the EUObserver.
Kimahli Powell, the executive director of Canadian organization Rainbow Railroad, said his group helped resettle seven men, but he wouldn't confirm whether they found homes in Canada or elsewhere, because of safety reasons. Powell just came back from Moscow, where he was working with the Russian LGBT Network, a local nonprofit.

"Most individuals just want to go home but this is impossible," Powell told BuzzFeed News about his conversations with the survivors of torture and abduction by the Chechen authorities last month. "They're so young, they're individuals who if they were in Canada they would be thinking about the next stages of their adult lives."

"This is a complete shell-shocking experience," he added.
Powell said Rainbow Railroad is in talks with the Canadian government, which has been open to the discussion. A spokesperson for Immigration, Refugees and Citizenship Canada declined to comment on specific measures being considered.
Russia's Novaya Gazeta first broke the news that the Chechen government was capturing, beating, and killing men because of their sexual orientation in an investigation published in April. Since then, the Russian LGBT Network has been working with about 40 men, trying to find homes for them in other countries. Russian LGBT network believes US visas are currently out of reach for fleeing Chechens, but a spokesperson for the organization said they have been working with five countries to bring the men to safety.
"We as a team are hopeful that this will be resolved soon," the spokesperson said.
Inside Russia, however, the atmosphere is increasingly fraught for those attempting to help gay Chechens escape. The Russian LGBT Network said in a Facebook post that their offices were recently visited by a man who claimed he was from Russia's Investigation Committee. The man said he was looking for a specific person, but he did not say who or give his own name. The building's security did not allow him to enter the office, which caused the man to threaten to return with the Russian equivalent SWAT team, the spokesperson said. "It is expected," she added.
Previously, Novaya Gazeta received threats from officials and members of the church for its reporting on the violence.
"We need to move quickly," Rainbow Road's Powell told BuzzFeed News. But even in the face of danger, the men they're trying to assist are "resilient, they're very brave."