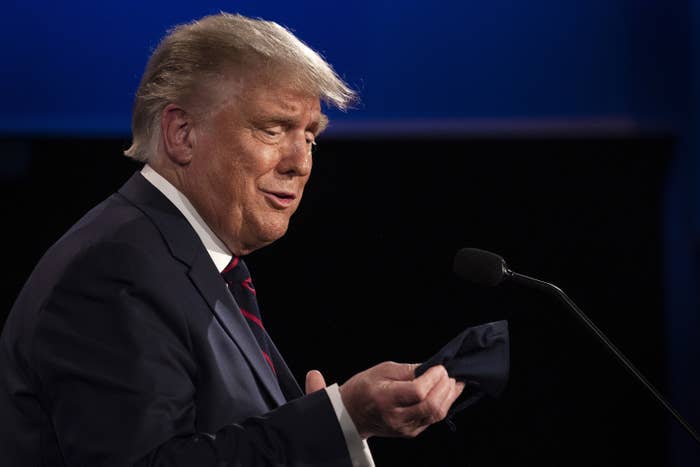 President Donald Trump and first lady Melania Trump have tested positive for the coronavirus, they announced early Friday morning.
In light of the diagnosis, false information, fake screenshots, and deceptively edited videos have been circulating online. We're keeping a running list.
Before passing on any online rumor to your friends and family, take the time to verify it. This can be done by checking how recently an account has been created, keeping a close eye on information from news outlets, or searching online to find another source.
How to read this post:
UNVERIFIED: Claims that have no concrete evidence either confirming or refuting them. This type of claim has either no sources or no evidence, and is based on conjecture with no original reporting behind it. Treat this kind of information with healthy skepticism and wait to see how it develops.
MISLEADING: Posts that take a real event out of context, for example: miscaptioning a video or photo from the protests. This can also include images that are presented at a deceptive angle or descriptions that cherry-pick facts. Avoid spreading or engaging with this type of post.
FALSE: Reporters or reliable sources with direct knowledge have contradicted this information on the record, or it is refuted by unimpeachable evidence. Examples include images or videos filmed at a different time or location but presented as recent, demonstrably false claims, and websites masquerading as news outlets publishing untrue information.
1. The deployment of "doomsday planes" had nothing to do with Trump's diagnosis.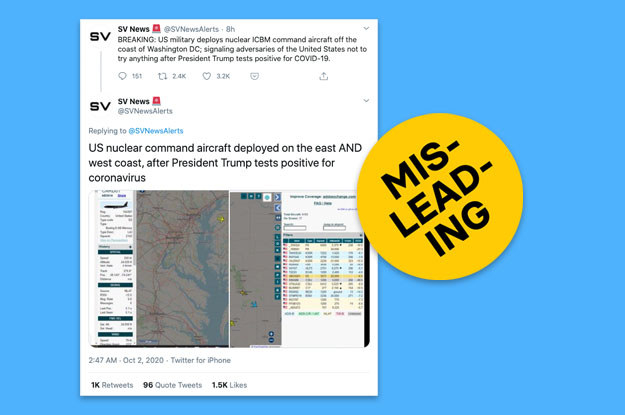 According to the US Strategic Command, it was part of a preplanned mission.
2. There is no evidence that the diagnosis is inaccurate or fake. Here's more on what we know about the transmission and diagnosis.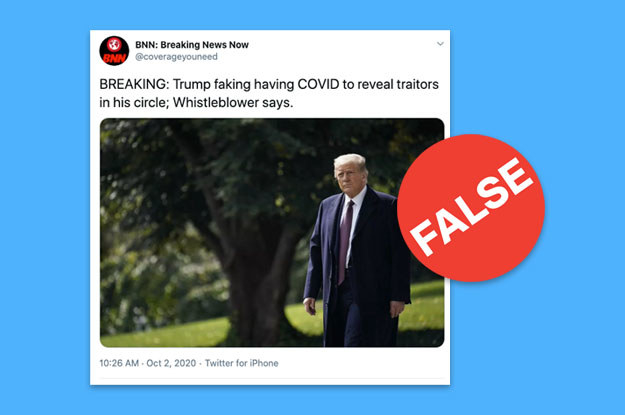 3. A misleadingly edited video implies Democratic presidential nominee Joe Biden had a positive diagnosis before Trump did. Biden has tested negative for COVID-19. The video is taken from a Sept. 30 rally appearance.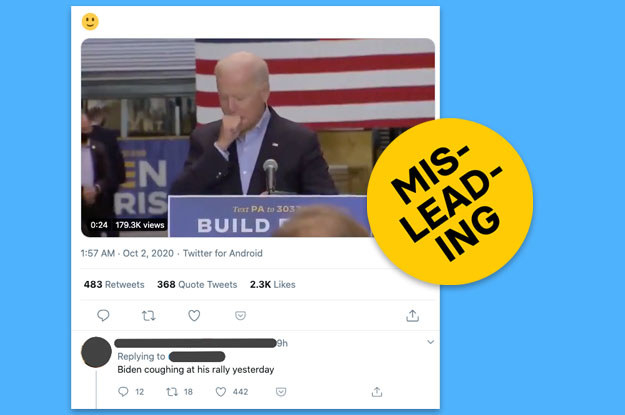 5. A fake email from the Trump reelection campaign is circulating online. The $421 million number in the screenshot is a reference to a New York Times report on the president's taxes.
6. Beware of accounts impersonating news organizations and spreading false information.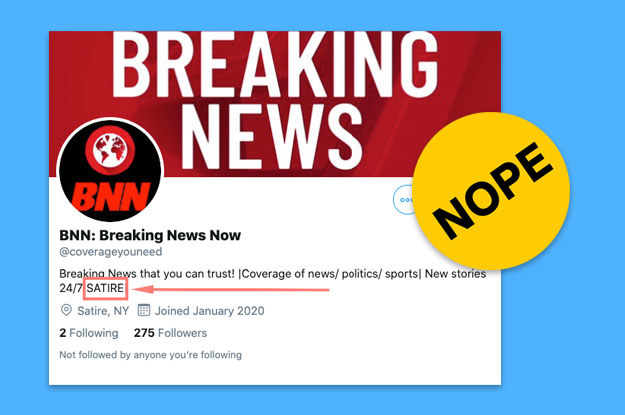 7. While treatments for the coronavirus have improved, there's no evidence that the virus has evolved to have milder effects. Thousands of people are still dying every day.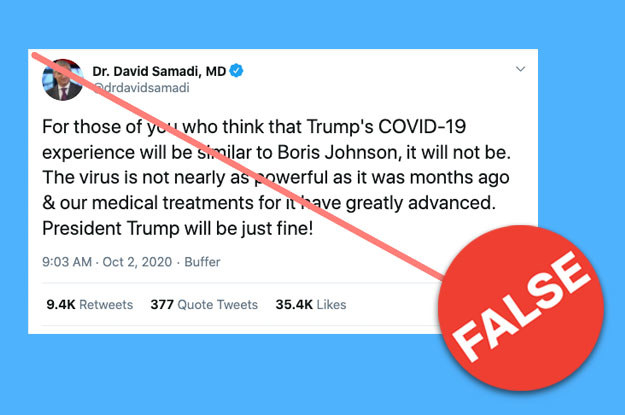 8. Trump didn't tweet that he would "never contract COVID-19." Several versions of the fake tweet are circulating.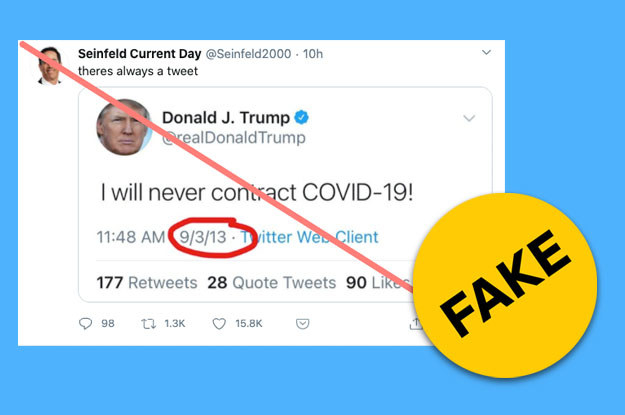 9. No, The Simpsons did not predict Trump's death in office. This hoax has been around since at least 2017.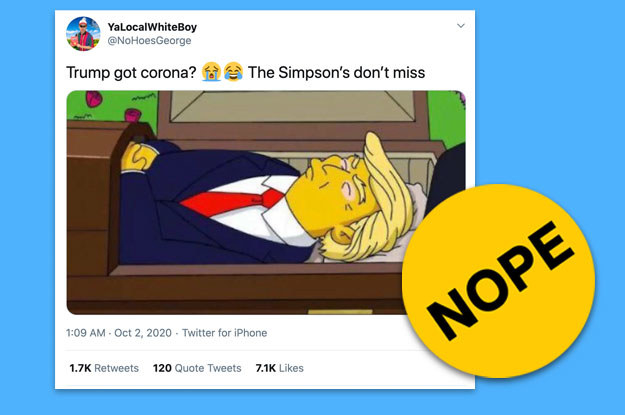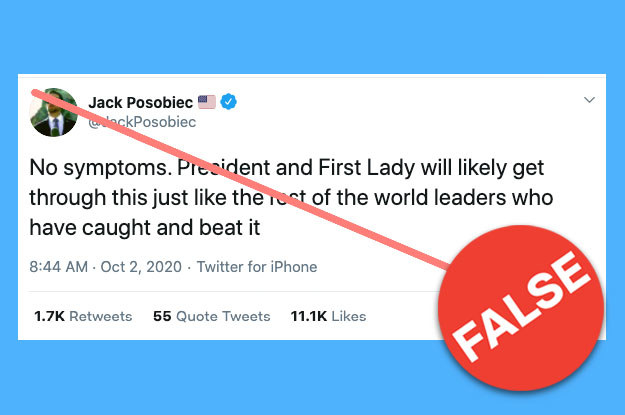 11. Yes, the Sept. 18 tweet saying Trump would get the coronavirus in October is real. Speculation about the president getting sick has been widespread throughout the pandemic. There's also no evidence to suggest his results are fake or inaccurate.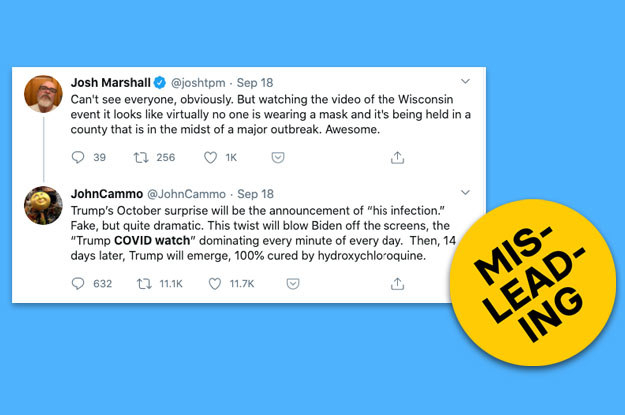 12. This tweet, which began recirculating Friday afternoon, is real.
13. No, House Speaker Nancy Pelosi has not been contacted by the White House about the protocols of continuity of government. An erroneous tweet claiming the opposite went viral, but the person who wrote it misheard what Pelosi had said during an interview with MSNBC this morning. Asked if the White House had "contacted [her] about the continuity of government," Pelosi said, "No, they haven't."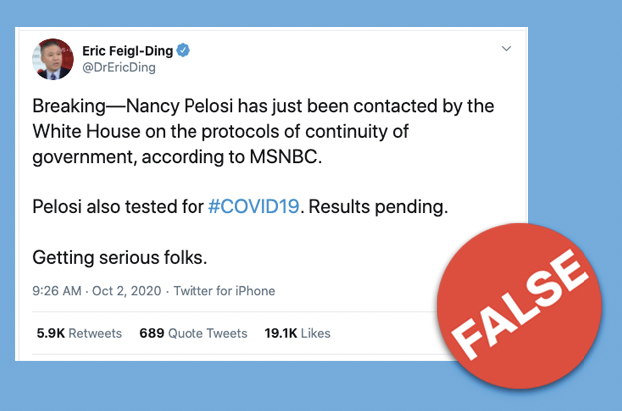 14. No, Trump wasn't wearing a hidden oxygen tank as he boarded the helicopter taking him to Walter Reed hospital. The conspiracy theory has received over 10,000 retweets and was amplified by a former NBCUniversal executive.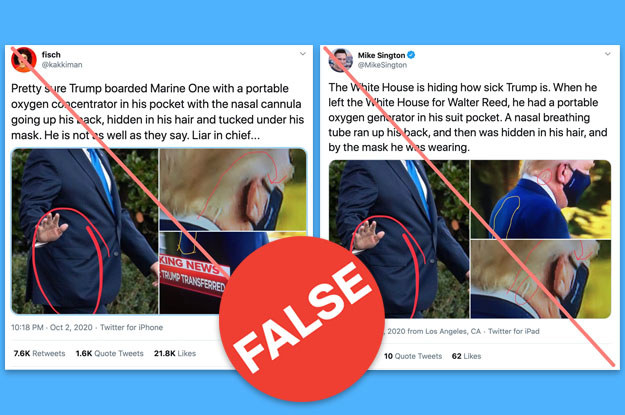 15. There have also been rumors baselessly claiming Trump was using a body double. Other videos and photos from that day clearly show it was the president himself.
16. Six different forensic experts said there were no conclusive signs of editing in the Trump video posted Saturday.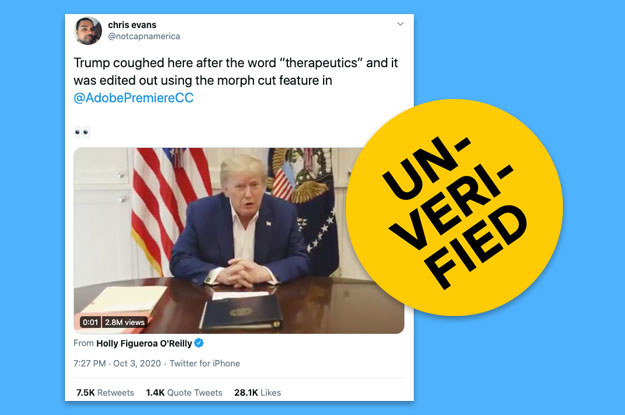 At about 1:05 minutes into a video of President Donald Trump posted on Oct. 3, the president seemed to have hiccuped. Many people online speculated that this was a sign that the video had been edited.
BuzzFeed News spoke with six different video analysis experts who all said that without a high-quality version of the video or access to its metadata, it's impossible to make definitive conclusions, but each of them said that they saw no evidence of manipulation.
Logan Williams, a data scientist with investigative outlet Bellingcat, said he "didn't see any indication that the video has been edited." Williams analyzed both the audio and the camerawork.
"You can tell that it's handheld and stabilized, because there's some camera drift throughout. I analyzed the amount of camera drift over time, but didn't see any indication that it wasn't a single take," Williams said.
What the experts did see was likely a hiccup. Grant Fredericks, a certified forensic video analyst, said the moment is "consistent with a hiccup, perhaps a very brief reflux response. A short audio 'gasp' can be heard."
Part of the difficulty, the experts said, is the low quality of the video, which was likely compressed by the social media networks after being posted.
Catalin Grigoras, the director of the National Center for Media Forensics at the University of Colorado, said, "I couldn't find any unexplainable artifact on the entire recording." Grigoras qualified his analysis, saying that the social media "recompressions mask most of the editing traces."
For Hany Farid, a professor at the University of California, Berkeley, who focuses on digital forensics and image analysis, there's no way of knowing whether anything had been edited out of the video.
"No, I am not confident that this is a sign of an edit," he said. "This could have been something as simple as a hiccup, or if it was an edit, it was an edit to splice out a misspoken word."
Some online said the video was edited using an Adobe tool called fluid morph, which smoothes out edits, but Farid called that theory "speculation, at best."
Max Rizzuto, a research assistant at DFRLab who focuses on manipulated video, said that although he was sure the video was stabilized using software after it was recorded, "my attempt at a closer look turns up inconclusive results."
Steve Hoeg, a former director of engineering at Adobe who managed the team that developed Adobe's Morph Cut tool, said it's not possible to know for sure whether or not there was an edit to the video because Twitter compresses the quality of the video and removes metadata — but he doubted it.
"My best guess is this video was not manipulated," Hoeg said. "If it was edited, it wasn't terribly well done, which makes me think it probably wasn't. There is clearly a suppressed cough or hiccup, but if that was followed by an actually removed cough why not remove the suppressed one as well?"
To illustrate his point, Hoeg himself applied that Adobe tool to Trump's video. In the version that Hoeg sent, Trump's hiccup is seamlessly edited out.
17. A video of bikers supposedly praying for the president's recovery and retweeted by Trump's reelection campaign, was not filmed while he was at Walter Reed Hospital. A TikTok user previously posted this video in September.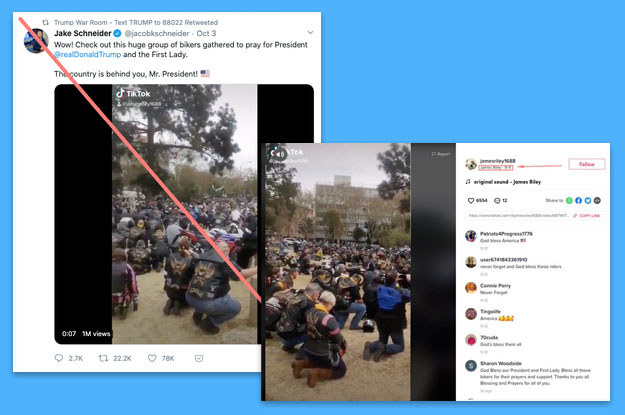 18. Yes, metadata really does show these two photos of Trump being taken minutes apart. (The date relies on the camera's internal clock, which may be out of date or inaccurate.)