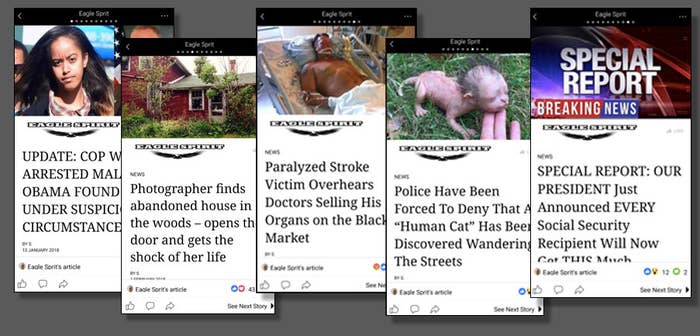 While some mainstream publishers are abandoning Facebook's Instant Articles, fake news sites based overseas are taking advantage of the format — and in some cases Facebook itself is earning revenue from their false stories.
BuzzFeed News found 29 Facebook pages, and associated websites, that are using Instant Articles to help their completely false stories load faster on Facebook. At least 24 of these pages are also signed up with Facebook Audience Network, meaning Facebook itself earns a share of revenue from the fake news being read on its platform.
Launched in 2015, Instant Articles offer a way for publishers to have their articles load quickly and natively within the Facebook mobile app. Publishers can insert their own ads or use Facebook's ad network, Audience Network, to automatically place advertisements into their articles. Facebook takes a cut of the revenue when sites monetize with Audience Network.
"We're against false news and want no part of it on our platform; including in Instant Articles," said an email statement from a Facebook spokesperson. "We've launched a comprehensive effort across all products to take on these scammers, and we're currently hosting third-party fact checkers from around the world to understand how we can more effectively solve the problem."
The spokesperson did not respond to questions about the use of Instant Articles by spammers and fake news publishers, or about the fact that Facebook's ad network was also being used for monetization. The articles sent to Facebook by BuzzFeed News were later removed from the platform. The company also removes publishers from Instant Articles if they've been flagged by third-party fact-checkers.
BuzzFeed News was quickly able to locate false stories that use Instant Articles by searching Facebook for keywords related to fake stories, such as, "Update: Cop Who Arrested Malia Obama Found Dead Under Suspicious Circumstances." The Facebook search results showed multiple versions of that same hoax, and many of the stories had the lighting bolt icon indicating they were Instant Articles.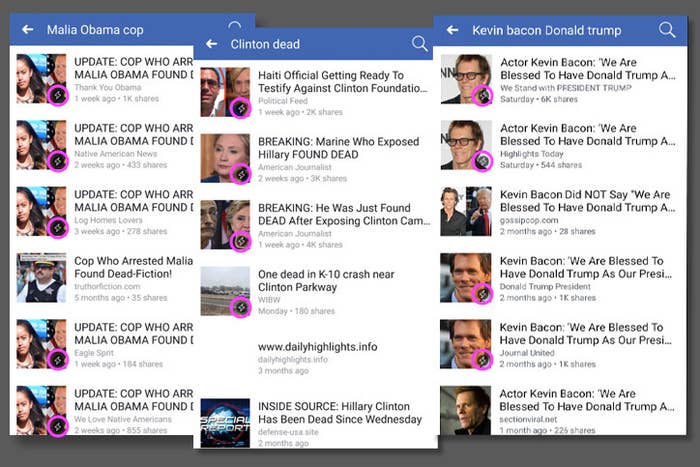 Of the 16 posts using Instant Articles, all but one had at least one ad delivered by Facebook's own advertising network. Many had two or three. This means Facebook made money from the hoaxes being spread on its platform.
Some of the websites using Instant Articles for fake news are owned by a man named Ergyn Gashi in Serbia. He did not respond to requests for an interview. Domain registration records show that he owns 33 English-language news domains with names like lovenative.us and thebestnews.us.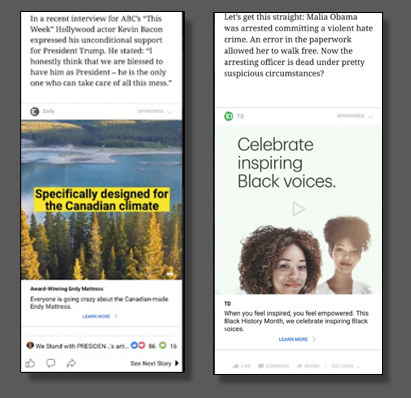 The design of Instant Articles has the effect of obscuring information about a news source that could be used to help evaluate the content, such as the original URL. Once an Instant Article is loaded by a user, they are also invited to read additional stories from the same publisher. This means additional false stories are promoted to a reader once they load a single Instant Article from a fake news site.
At the same time fake news publishers are monetizing Instant Articles, legitimate publishers that Facebook initially partnered with are abandoning the feature, according to recent research from the Tow Center for Digital Journalism at Columbia University.
When the feature was launched in May 2015, it was touted as way to help publishers perform better on Facebook and allow them to bring in extra ad dollars. But use of Instant Articles has fallen among the news organizations Facebook initially partnered with, according to the Tow Center. Researchers analyzed 2,308 posts in a 24-hour period and found that 38 of 72 partner publishers did not publish a single story as an Instant Article.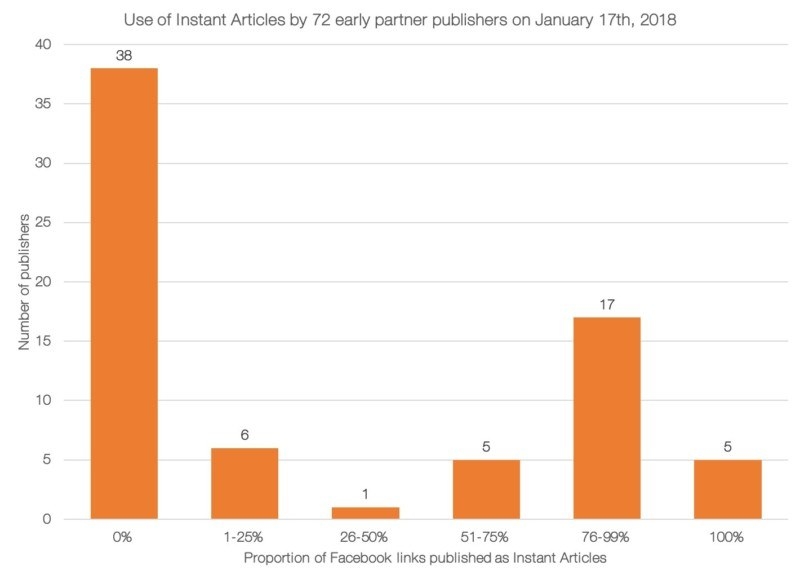 That doesn't mean the feature is being abandoned. In June of last year, Facebook said it has 10,000 publishers worldwide using Instant Articles, up from 9,000 in April.
To register for the Instant Articles feature, publishers must submit 10 articles for manual review by Facebook, and the content must adhere to the platform's community standards. The company also specifically forbids publishers of fake news from using Instant Articles. The guidelines for putting ads in Instant Articles are even more stringent. The company says it declines an application to place ads in Instant Articles if it finds "content that features or promotes attacks on people or groups."
The company did not comment on how the publishers and articles identified by BuzzFeed News slipped through the approval process, but said it works constantly to improve its systems.