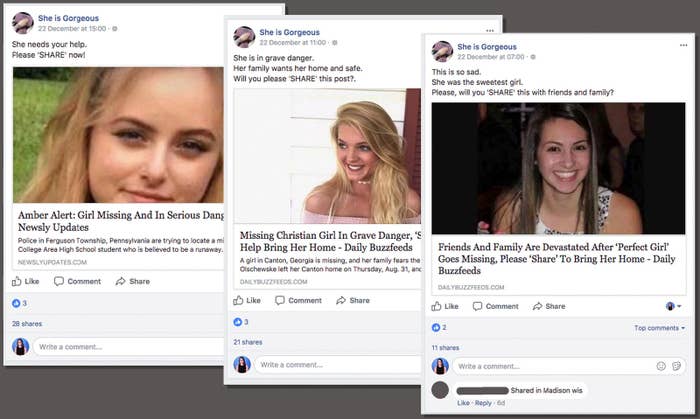 A Facebook video titled "UPDATE: Cop Who Arrested Malia Obama Found Dead Under Suspicious Circumstances" began spreading last month from one Facebook page to the next. It popped up on e-commerce pages with names like Cyber Monday and EShopping Bazar, as well as on fashion-oriented Facebook pages like Its Pretty and Fashion Foundry.
The video's title is copied from a completely false story published on a website that exclusively traffics in fake news articles. But the video itself had nothing to do with the hoax story.
Anyone clicking the play button was treated to a two-minute commercial for a kitchen cutter tool, complete with an upbeat harmonica soundtrack. In the video's description, the pages sharing it posted a link to let people know they could purchase the device for themselves, which led to a site called trendyarrival.com.
The pages using the fake headline to sell a kitchen gadget are part of a network of more than 40 pages identified by BuzzFeed News that have been using every trick in the online scam playbook to build an audience and make money on Facebook. They post pictures of people with disabilities and beg fans to like and comment on them in order to help the posts spread further, thereby attracting new fans for the page. They publish images and videos with inspirational quotes or stories asking for sympathy. And, yes, they share fake news articles.
The network appears to be largely geared towards driving traffic to a group of websites, at least one of which earned money from Google's lucrative AdSense advertising network. (The site appears to have been removed from AdSense after BuzzFeed News contacted Google for comment.) The network of pages and related websites illustrates how scammers, spammers, and other malicious actors operate in plain sight and continue to exploit social platforms and ad networks using a variety of tactics.
The person, or people, running this particular group of pages and sites appears to be enjoying some success: In the last month, the link to buy the kitchen slicer has been clicked on 11,600 times, according to stats from Bit.ly.
BuzzFeed News provided Facebook with an initial list of 10 of the 44 pages involved in the same activity. The social network shut down those 10 pages, saying that they violated a policy that states, "Pages must not contain false, misleading, fraudulent, or deceptive claims or content."
The company then banned an additional 29 pages for similar violations, according to a person familiar with Facebook's actions. As of today, 22 of the pages initially identified by BuzzFeed News remain online but no longer have misleading or false content on their timelines.
"We rely on a combination of automated detection systems, as well as reports from the community, to help identify suspicious activity on the platform and ensure compliance with our policies," a Facebook spokesperson said in a statement. "In this case, we responded to a community report from a reporter. We're constantly making improvements to our automated systems."
David Carroll, an associate professor at New York's Parsons School of Design who studies media, design, and data, has noted the relationship between tech giants and the reporters who unearth scams on their platforms.

"They should be very thankful for the work that you guys do, but at the same time it draws attention to the commercial content moderation labor force that's hidden that itself is a whole other dark side of the attention economy," he said.
For Carroll, that relationship is symbiotic, but ultimately Facebook has a financial incentive to clean up its platform to attract legitimate advertisers.
"If there isn't any human intervention and quality control then it is just a race to the bottom," he said.
Mark Zuckerberg seems to think so too. In a New Year's message, the Facebook founder said, "we currently make too many errors enforcing our policies and preventing misuse of our tools. If we're successful this year then we'll end 2018 on a much better trajectory."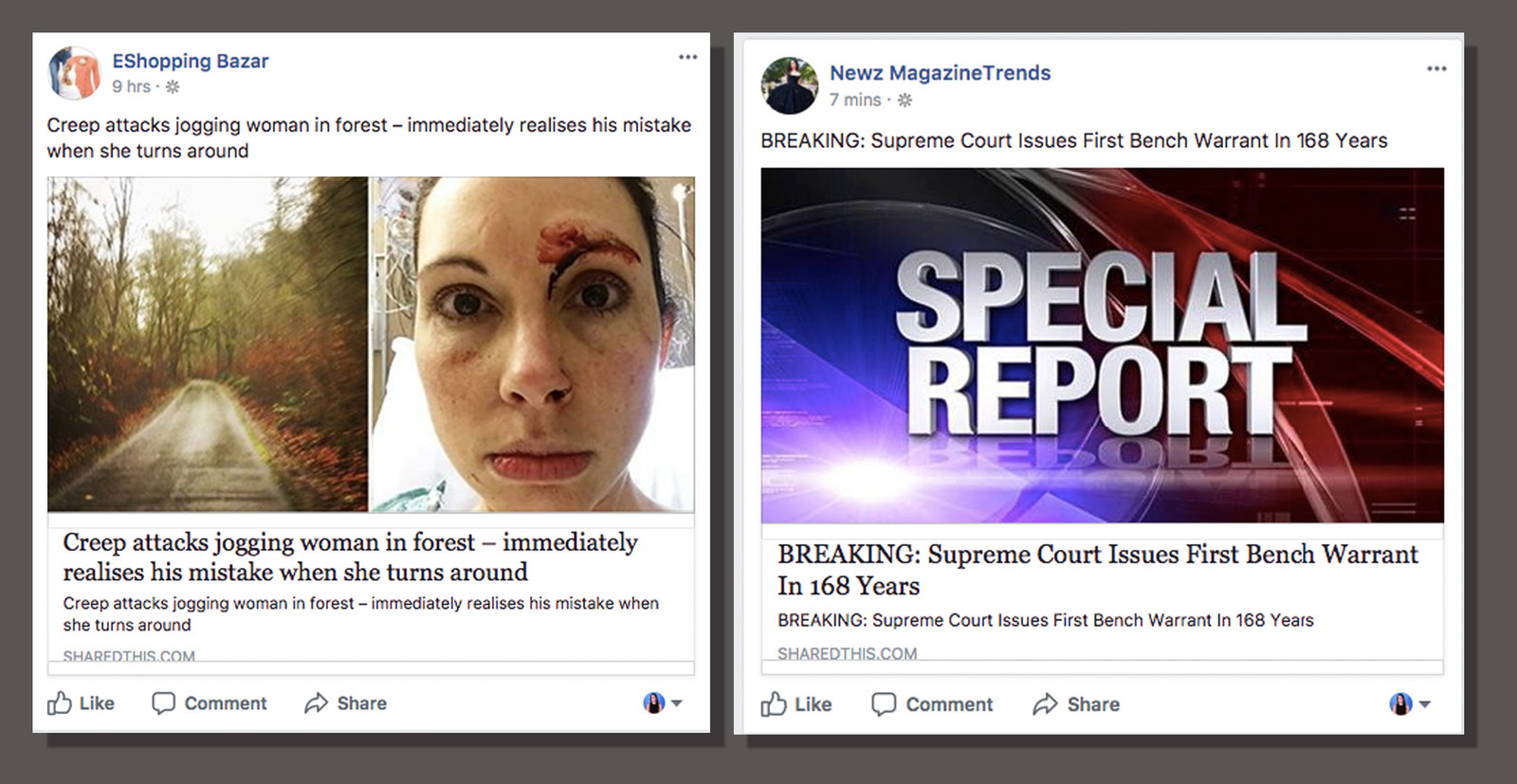 The Facebook pages in the network all had generic-sounding names like Classy Babe, American Way, Fashion in Fashion, Giveaway Corner, and the Real Campers. Along with posting photos and videos, they all posted links to a group of websites with the domain names newzmagazine.com, sharedthis.com, newslyupdates.com, and dailybuzzfeeds.com. The pages also regularly shared links to products sold on the trendyarrival.com website.
Content on the news sites includes unproven "natural" health cures, false political news, heartwarming stories, and fake announcements of attractive women going missing. Sharedthis.com scored a viral hit with its story "World's First Artificial Kidney Is All Set To Replace Dialysis in 2-3 Years. Here is how it works!" This piece earned just over 380,000 shares, likes, and comments on Facebook.

The store itself and three of the websites — sharedthis.com, newslyupdates.com, and dailybuzzfeeds.com — are registered to someone using the name Ifra Akram. Domain registration records listed an address in the UK for Akram. The email address used to register the websites is also linked to a Facebook profile using the same name. The profile doesn't offer much information and uses a photo of actor Emma Watson instead of a personal picture. Requests for comment sent by email were not answered.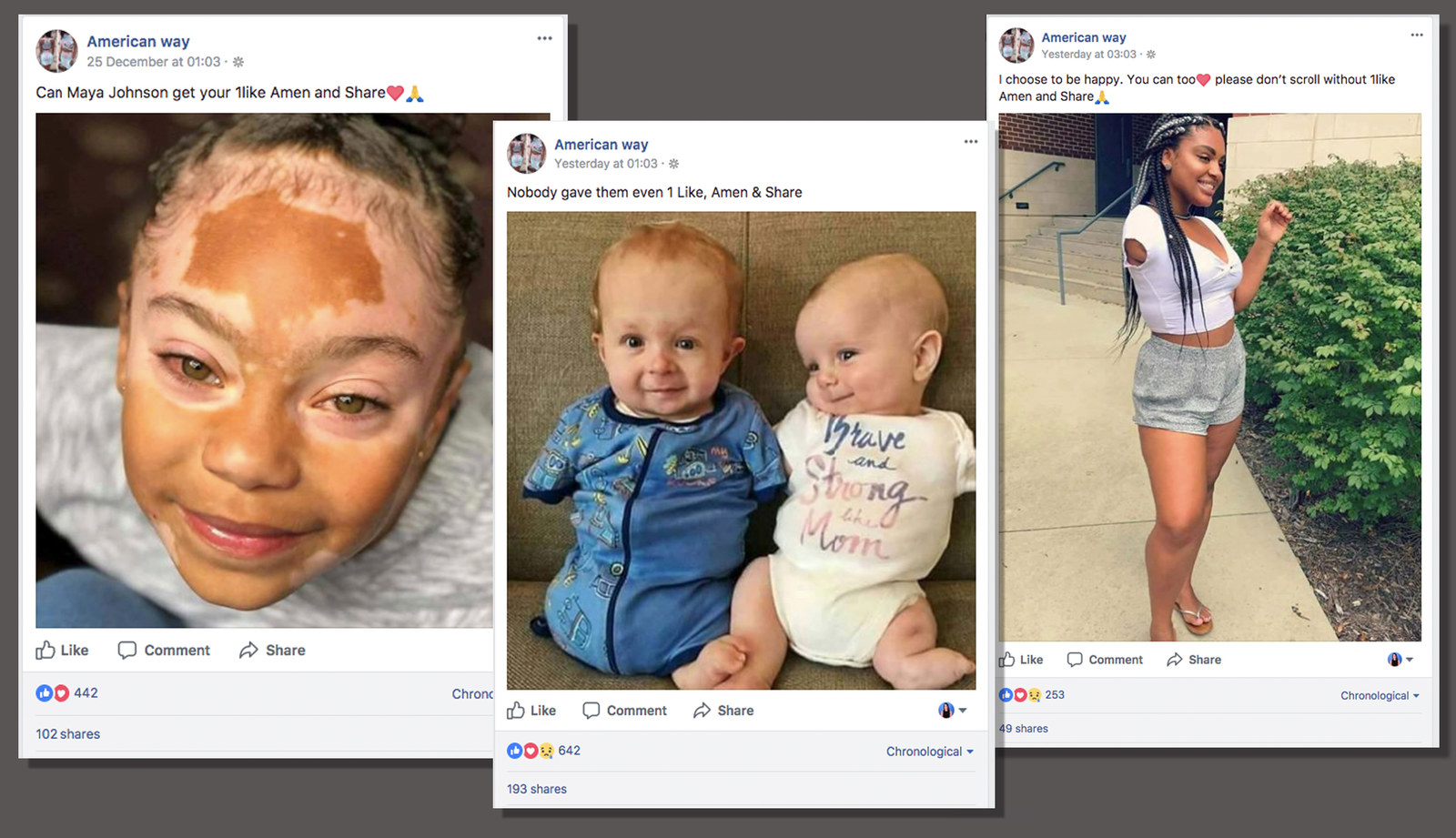 Some of the most popular posts on the pages were images of people with disabilities. They frequently asked users to comment, like, or share the images to show their sympathy or support. Many Facebook users wrote "amen" under the posts, which regularly received hundreds of engagements.
Some pages in the networks capitalized on the trend of turning static images into video to game Facebook's algorithm, which many people believe gives a preference to video. One of the most popular videos, which drew over a million views and nearly 20,000 shares, is a joke about women who are blonde superimposed on stock photos. Another is a slideshow of photos from Tiffany Trump's Instagram.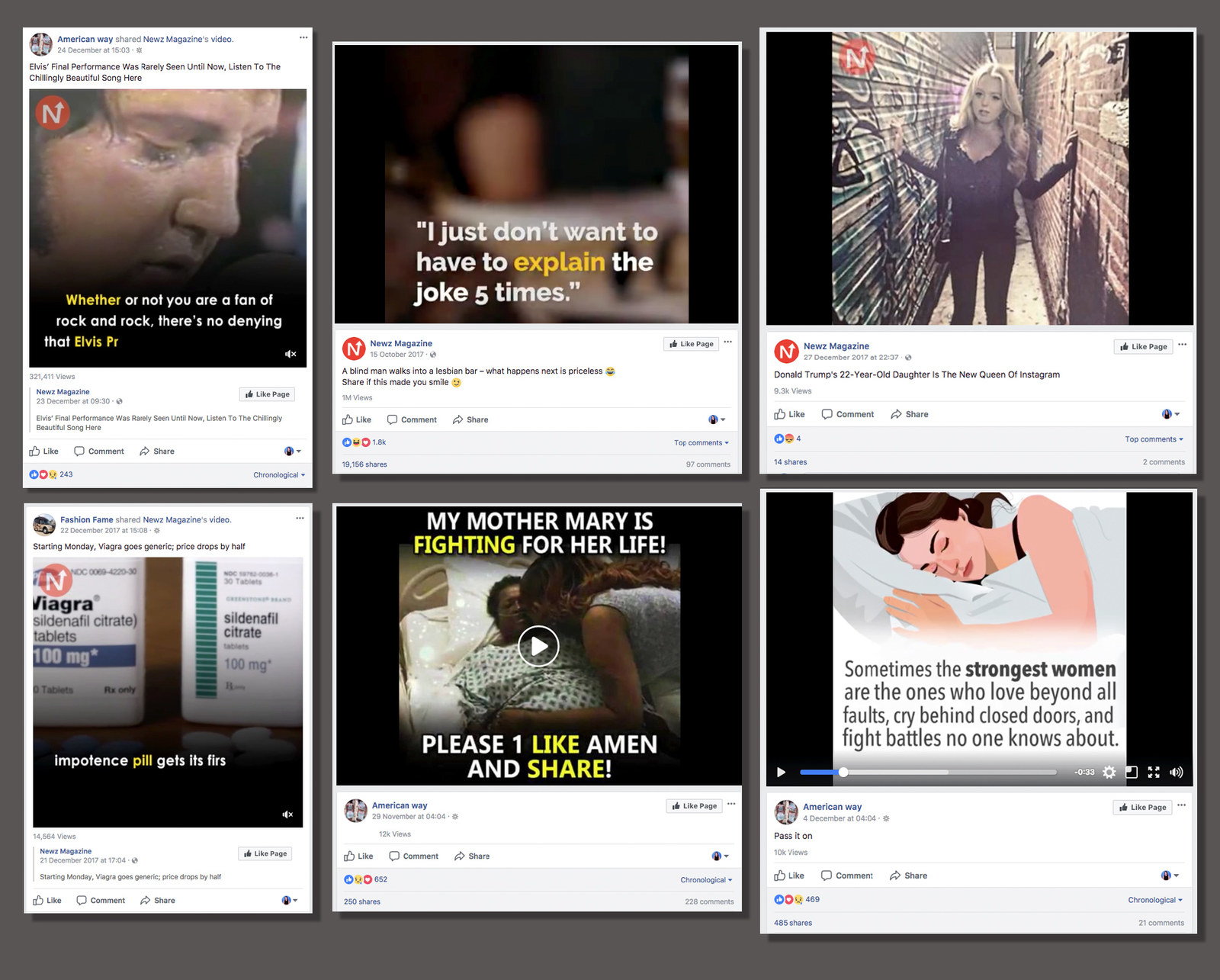 Overall, the main content strategy for the pages appeared to be to try any and every technique and content type that could attract engagement. In many cases the goal was to drive sales at trendyarrival.com.
Aside from the kitchen cutter, its products include a twerking Santa, a selection of rings, an acupuncture pen, and hair dye, along with many products that have appeared in infomercials.
People do seem to be buying, though not everyone is happy.
The site's most popular product, a cross between a sweatshirt and a baby carrier, features two reviews from people who are wondering where their order is.