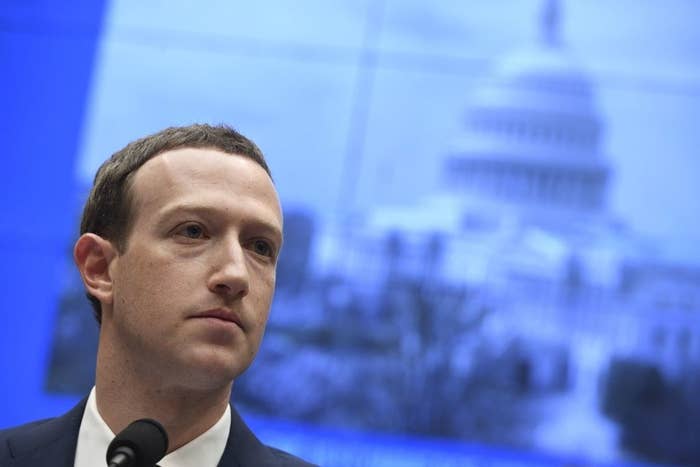 During Mark Zuckerberg's second day of congressional testimony on data privacy, Oregon Rep. Greg Walden, a Republican, ran out of time to ask a question. What Walden would have asked touched on fake veteran Facebook pages — a concern the Vietnam Veterans of America raised with him earlier.
At issue are foreign entities creating pages and websites targeted at veterans, something Kristofer Goldsmith, a top official at the congressionally recognized nonprofit, has been tracking since August of last year. In a report sent to Congress, various federal agencies, and special counsel Robert Mueller, the group raised concerns about fake pages trying to pass themselves off as VVA.
Zuckerberg did not have time to respond during the hearing, but it is likely his team will still have to address the issue with Walden. Elena Hernandez, a spokesperson for the Committee on Energy and Commerce, said VVA sent "troubling examples of foreign entities imitating veterans organizations" to Walden and he will submit a written follow-up question to Facebook.
"I feel a responsibility to 80,000 Vietnam vets who are members of the VVA," said Goldsmith, whose report, using website registration information, tracked fake pages to a man in Bulgaria.
Most VVA members are seniors, and some of Goldsmith's time goes to translating technology for a generation that did not grow up with it. It's that vulnerability that worries him about the fake sites.
"It's impossible to educate them all on the internet. What I want is a safe environment," Goldsmith said. "I want for Facebook's algorithms to detect this kind of thing where they're drawing out information that could be used to steal identities. Our population is extremely vulnerable to that type of thing."
Goldsmith initially came across a page pretending to be the VVA in August 2017 — by searching for the real thing on Facebook. He noticed the page, which has since been removed, had about a quarter of a million members, almost double the official page's 130,000. Some of his Facebook friends liked the fake page, which to Goldsmith meant that members were probably falling for it.
After BuzzFeed News showed one fake VVA page to Facebook, the company disabled it and eight other associated pages for being "inauthentic."
"We rely on a combination of automated detection systems, as well as reports from the community, to help identify suspicious activity on the platform and ensure compliance with our policies," a Facebook spokesperson told BuzzFeed News.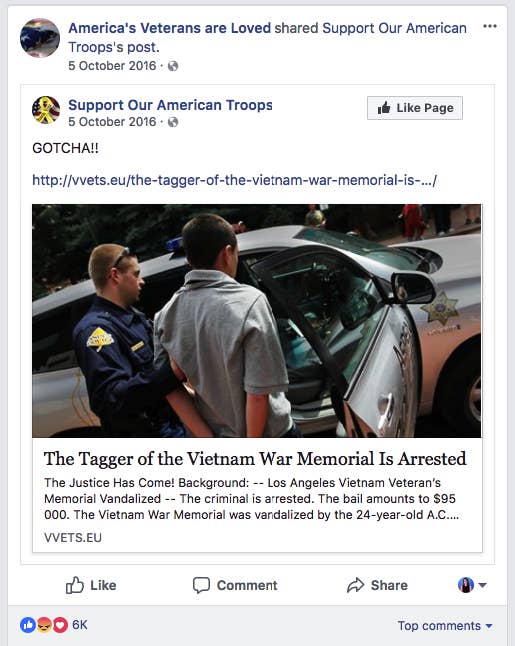 The posts were linking to vvets.eu, a website filled with ads, junk, and old, plagiarised news from military-focused publications. According to registration information, the owner is Bulgarian Nick Mitov, who has at least nine other domains including vietnam-veterans.org and the inactive puppylife.info. He did not respond to BuzzFeed News' emails — which a tracking program said he'd opened — requesting an interview and comment.
Vvets.eu was registered in July 2016 and has been getting viral hits ever since. According to social tracking tool BuzzSumo, its top story got more than 140,000 Facebook shares, likes, and comments. "The Tagger of the Vietnam War Memorial Is Arrested," says the headline. It refers to a real news story but uses a picture of an unrelated arrest.
The page itself also posted political memes about athletes kneeling during the national anthem to protest police brutality and Blue Lives Matter — which the real VVA steers clear of.
Goldsmith worries that politically divisive content could alienate members or cause them to lose trust in the organization. And if a veteran unknowingly spreads misinformation from one of the bogus sites, he said, it could get a fast boost because veterans are often very active in their communities.
"That is why these people target veterans," Goldsmith said. "Any disinformation that gets through to the leaders is going to disseminate into the population."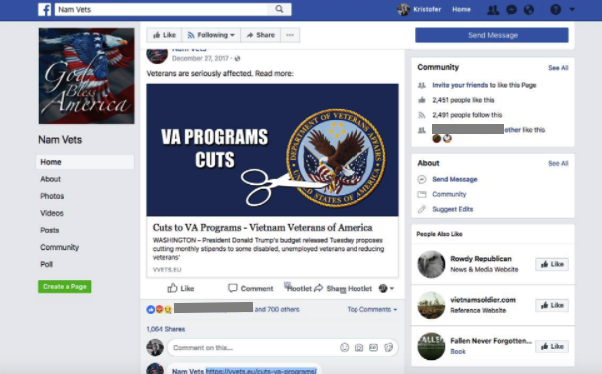 Facebook is aware is has a fake pages problem. In December 2016, BuzzFeed News reported that the biggest Native American pages were run from places like Kosovo and Vietnam. Those pages not only created fake profiles to help spread content, but sold T-shirts with designs stolen from Native American artists.
"They're just capitalizing on struggle — it's really crazy," Jared Yazzie, a Navajo who runs a Native American clothing company in Arizona called Oxdx, told BuzzFeed News at the time.
In February of this year, the website Media Matters identified a network of 25 fake Native American Facebook pages that were still up on Facebook, some of them making money directly from the platform by using Instant Articles.
More recently, CNN reported that the most popular Black Lives Matter page on Facebook was a scam. It claimed to raise money for BLM causes and received at least $100,000 in donations, but those funds went to Australian bank accounts. CNN reported that Facebook removed the pages after a week's worth of calls and emails with the reporters. Initially, the social media giant said the page did not violate community standards.
Asked about the BLM page, a Facebook spokesperson told BuzzFeed News, "We investigated this situation as soon as it was brought to our attention, and disabled the Page admin for maintaining multiple profiles on the platform. We continue to look into the situation and will take the necessary action in line with our policies."
The original fake VVA page also took two months to remove, according to the report, and others sprung up in its place after it was down. Goldsmith said Facebook initially thought it didn't violate community standards, and it was only when Goldsmith realized the fake page used VVA's trademarked logo that the social media network pulled it down.
Facebook recently introduced new measures meant to help weed out junk pages, including verifying the identity and location of the owner for large pages. However, the company didn't specify what's considered a large page or whether the new information will be available to the public.
Zuckerberg acknowledged during his testimony that fake accounts and false information on Facebook is a problem, and said the solution would come in the form of AI tools. Goldsmith told BuzzFeed News that he knows an AI solution takes time, but Facebook could do other things short-term. One idea he had is not just to shut down the offending pages, but to migrate people who liked the fakes onto the real pages.
"I would love to see it clearly communicated that they are not just going to shut down fake accounts but that they will proactively work to protect the veteran population as a whole," Goldsmith said.
He worries that VVA's elderly members — for whom Facebook is the primary communication tool — could become isolated if they decide to abandon it. For many, especially those living with disabilities or who have limited mobility in their old age, Facebook is the connective tissue to the outside world.

"If they decide that they can't trust Facebook, they lose their connection not just to VVA but with the broader community," Goldsmith said.