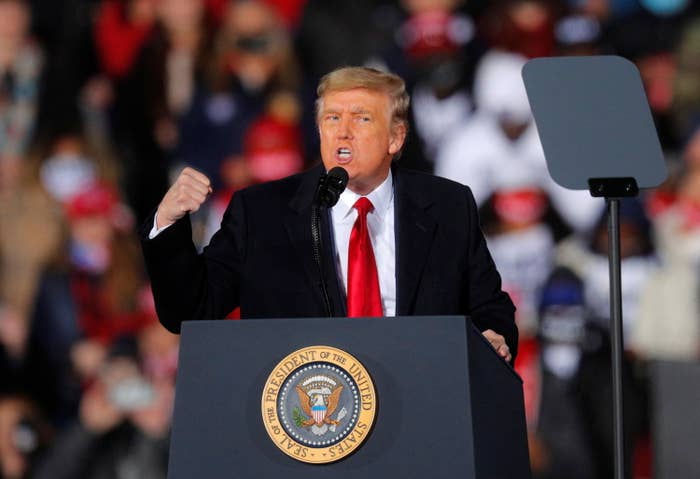 Facebook CEO Mark Zuckerberg announced Thursday that the company is blocking President Donald Trump from its platform "indefinitely." The ban will be in place for "at least the next two weeks," the company said.
This is the first time a major platform has banned Trump.
"His decision to use his platform to condone rather than condemn the actions of his supporters at the Capitol building has rightly disturbed people in the US and around the world," Zuckerberg wrote. "We removed these statements yesterday because we judged that their effect — and likely their intent — would be to provoke further violence."
Following the violence on Capitol Hill, Facebook and Instagram, which it owns, suspended the president's accounts. Twitter also suspended Trump's account and threatened to permanently ban him but has not yet done so.
Zuckerberg wrote that statements made by the president were removed because they condoned violence.
"We believe the risks of allowing the President to continue to use our service during this period are simply too great," Zuckerberg wrote. "Therefore, we are extending the block we have placed on his Facebook and Instagram accounts indefinitely and for at least the next two weeks until the peaceful transition of power is complete."
The ban also applies to Instagram. "Given the exceptional circumstances, and the fact that the President has decided to condone rather than condemn yesterday's violence at the Capital," wrote Instagram head Adam Mosseri, "we are extending the block we have placed on his accounts indefinitely and for at least the next two weeks."
Facebook's move comes as the company thwarted internal discussion of the coup attempt among employees. "Donald Trump has directly incited a terror attack on Capitol Hill," one Facebook employee wrote. "We need to take down his account right now. This is not a moment for half measures."
Trump's online store, hosted by Canadian company Shopify, was also taken down. In a statement to BuzzFeed News, Shopify said confirmed the permanent termination.
"Shopify does not tolerate actions that incite violence. Based on recent events, we have determined that the actions by President Donald J. Trump violate our Acceptable Use Policy, which prohibits promotion or support of organizations, platforms or people that threaten or condone violence to further a cause. As a result, we have terminated stores affiliated with President Trump," the company said.
Advocates have also long voiced concerns about Trump using his social media to spread disinformation and incite violence.

"Enough is enough. It's time for Facebook and Twitter to kick Trump off their platforms," said Rashad Robinson, the president of civil rights nonprofit Color of Change, prior to the announcement of the Facebook ban.
Democratic Sen. Mark Warner, who has long been a critic of social media companies, said in a statement that "While I'm pleased to see social media platforms like Facebook, Twitter and YouTube take long-belated steps to address the President's sustained misuse of their platforms to sow discord and violence, these isolated actions are both too late and not nearly enough."
"To me, it looks like nothing but 11th hour cowardice."
Following the announcement, hundreds of internal posts praised Zuckerberg for the decision, including ones that said, "THANK YOU THANK YOU THANK YOU," and "Proud of this decision, thank you."
But some current employees were not as thrilled.

"This is the definition of 'too little, too late,'" one employee wrote on the internal thread. "We should hardly be breaking our arms patting ourselves on the back for giving him a temporary ban after he whips the most fanatical of his supporters into desecrating the Capitol. I'm surprised to see how many people are saying what a brave decision this was in the comments on the official post. To me, it looks like nothing but 11th hour cowardice and reading the political winds, recognizing that the incoming administration is probably going to take a pretty jaundiced view of our laissez faire moderation of his page."
"Very much appreciated Mark! I only wish we could have done something when his rhetoric affected Black people this summer who were peacefully protesting for Black lives that were lost illegally as we well as the many other occasions," wrote another employee. "Instead we get to see how Black people and White people are treated differently and the privileges afforded vs. the lack of and even killed when standing up for what is right. We can still make it right and acknowledge that as a missed opportunity."