Law enforcement officials are disputing reports that the suspect in the Annapolis newsroom shooting had deliberately damaged his fingertips.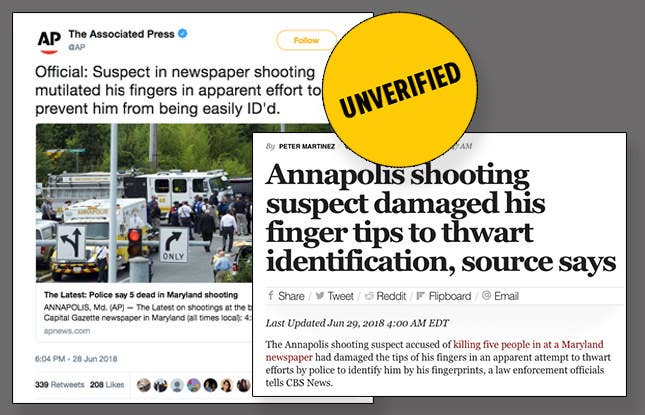 Hours after the newsroom shooting that killed five journalists, reports from CBS, the Associated Press, and CNN cited anonymous sources that claimed the suspect had deliberately "damaged" and "mutilated" his fingertips to avoid identification. But that claim is now being disputed by the local police chief and a lieutenant.
Lt. Ryan Frashure of the Anne Arundel County Police appeared on Anderson Cooper's show Thursday night and refuted the claim that Jarrod Ramos had specifically been trying to avoid identification. (The claim had appeared in CNN's live blog about the shooting.)
"The rumors are spreading to say he has obliterated his fingers for fingerprints and stuff," Frashure said. "That's simply not true."
On Friday, Anne Arundel County Police Chief Timothy Altomare gave a press conference and said there had been a delay running the suspect's fingerprints. He suggested this may have caused the unnamed law enforcement source to tell media the suspect had tried to alter his fingertips.
"We had a lag getting answers on fingerprints is all I can tell you," he said. "That's probably why the unnamed senior law enforcement source who wishes to remain anonymous said that. Because they read 'lag' as some sort of attempt on his part."
ABC News also reported that the suspect's fingertips were mutilated. It issued a correction Friday after local police refuted the report.
In a statement to BuzzFeed News, CBS News said it stands by its report. "We reported the initial police information, and attributed it to the police, that the suspect's fingertips were damaged. Our reporting is ongoing."
The Associated Press, which is a wire service that's reprinted by many outlets, and CNN do not appear to have issued updates or corrections, and did not immediately respond to a BuzzFeed News request for comment.
Newsweek published a story with the fingerprint-multilation claim and subsequently deleted it without issuing a correction.
The claim was also picked up by many local outlets and junk news sites that have not issued corrections or updates.