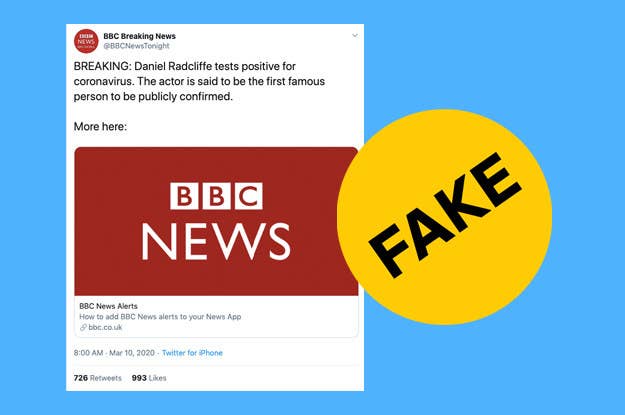 A fake BBC Twitter account posted a false claim about actor Daniel Radcliffe having tested positive for the coronavirus.
In response to a question asking whether Radcliffe had tested positive for the virus, the actor's publicist said, "Not true."
The account fooled many Twitter users, including New York Times reporter Maggie Haberman and Politico editorial director Blake Hounshell. Both have since apologized for amplifying the hoax.
The account was registered under the username @BBCNewsTonight and used the British broadcaster's logo.
"BREAKING: Daniel Radcliffe tests positive for coronavirus," the false Tweet said. "The actor is said to be the first famous person to be publicly confirmed."
The tweet also included a link to the BBC News Alerts page, but it seems to not have been updated since 2017 and led to the broadcaster promoting its email newsletters, apps, and other services. There was no evidence of the false claim in the link.
The account also used Twitter's new option to hide some responses to hide a tweet from a BuzzFeed News reporter debunking the fake.
Although the tweet seemed credible at first glance, going to the main profile revealed it was clearly a fake. The account had only 125 followers. It has since been suspended, for platform manipulation, according to a Twitter spokesperson.
BuzzFeed News spoke to the people who said they spread the hoax in a group chat on Twitter. To buttress their claims to have been behind it, they sent a screenshot with the engagement on the offending tweet, which showed over 311,000 impressions and 26,666 profile clicks before the suspension.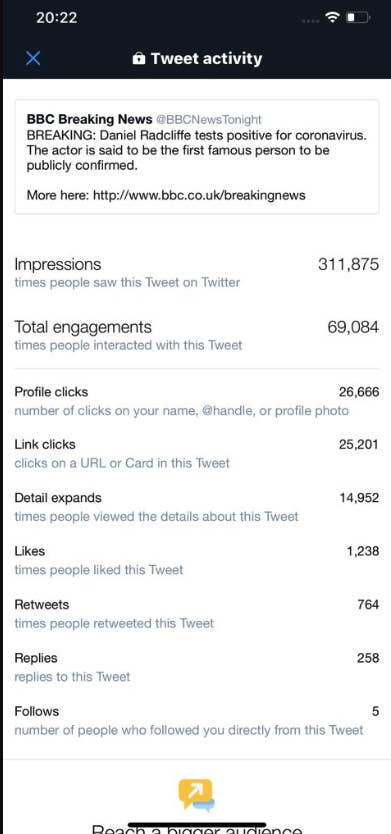 None of the 33 members of the group chat revealed their identity, locations, or ages, saying they have been spreading hoaxes since 2016 and met on the internet. Many of the responses were not meant to be taken seriously.
When asked why they spread the hoax, they said it was funny, that they were manipulating people's minds, and that the internet was lowering people's IQ.
"Deceiving other human's innocence by the numbers on a tweet. I could write a tweet right now but no one would believe it unless it has the right amount of numbers," one of the participants said.
"We are training society to become more tech savvy," said another one.
A third participant responded that they wanted to "make a mockery" of the option to hide some replies on a tweet to "show how it could be manipulated to cause mass paranoia."
One group participant also said that they've profited financially from their hoaxes over the years but did not provide any proof.
They said they targeted Radcliffe arbitrarily.
"We needed someone who was famous but not famous enough to be unbelievable," said one person.
"We [found] a celebrity that people care about but [didn't] really have relevant fame," said another. "People love Daniel Radcliffe as a childhood star, but he isn't popular on social media."
They also listed off other celebrities they could have targeted, including actors David Hasselhoff, Pamela Anderson, or Megan Fox. "People that are famous but people will only care about them if something huge happens," one of them explained.
The group would not reveal many of the other hoaxes they've done, but claim they've fooled others previously. They gave an example of a 2017 story of a group chat "spilling" chocolate milk, which BuzzFeed News wrote about.
They also would not give any insight into future hoaxes they have planned, but said to expect them. Instead of giving out any real information, one of them said, "I am a celestial being, I have been formed from the cosmos," adding, "we are scattered around the world and the cyberverse."