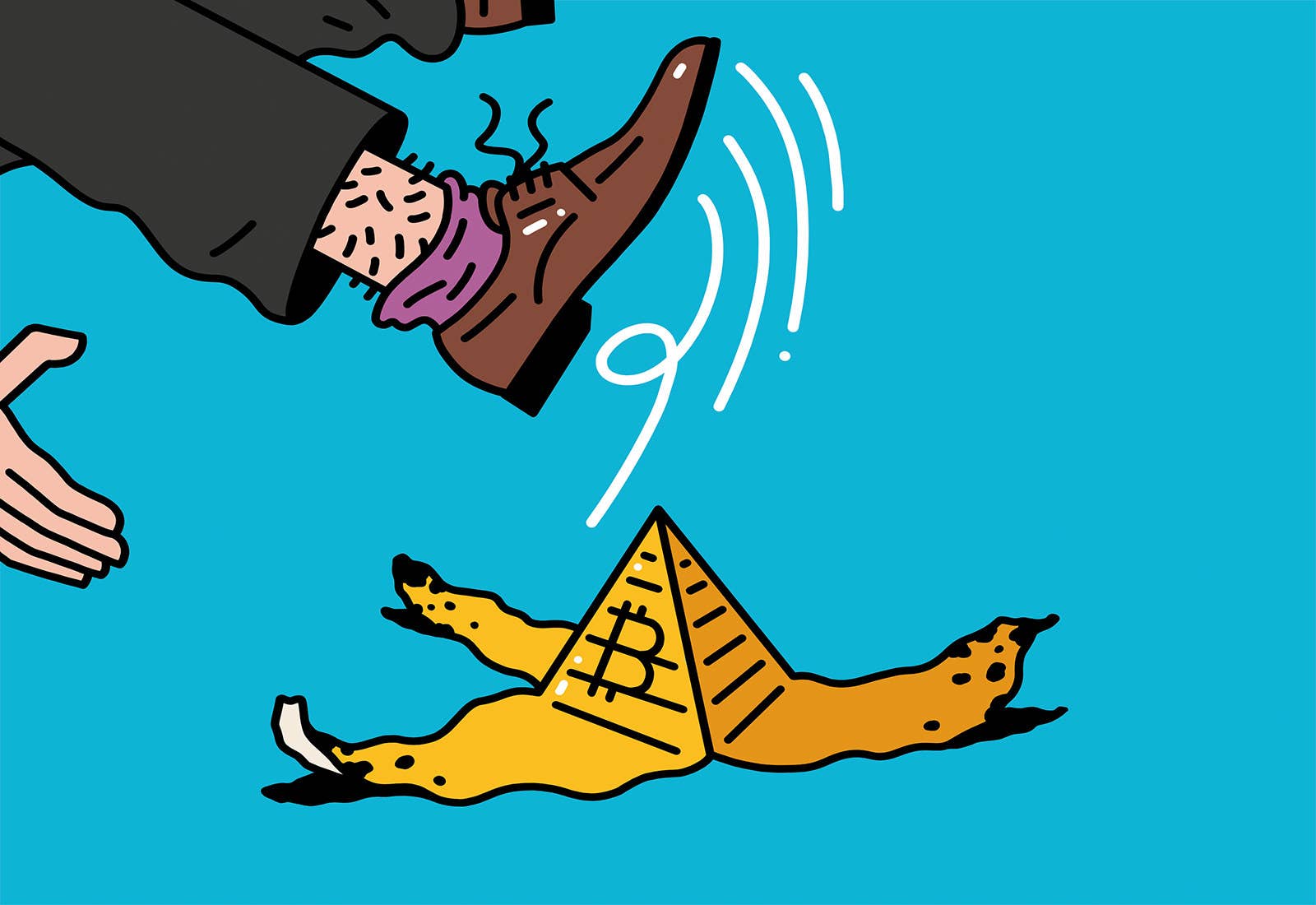 In early 2016, a Canadian software engineer named Dominic Pelletier uploaded a video to YouTube announcing a new bitcoin venture. Set to dramatic orchestral music that could have been ripped from a Lord of the Rings movie, the video was intended to entice investors by showing off his cryptocurrency mining equipment, which he had set up in his kitchen next to a sink full of dirty dishes.
In one image, about a dozen hardware mining machines are clustered on the counter, the computers connected by a mess of colorful cables. As the video closes, a logo flashes on screen announcing the imminent launch of Sephira Vision, a new platform that promised to "change your life."
Though the video may have come across as grandiose and slightly ridiculous, it was emblematic of Pelletier's approach to bitcoin. He liked to make big promises, even if he couldn't always deliver. Back in 2016, he was an enthusiastic cryptocurrency convert and had big plans about how to make money. Over the following year, as interest in cryptocurrencies continued to grow, Pelletier pitched himself as an expert who could take people's bitcoin and grow its value through a complicated mining process. Pelletier was convinced he'd developed a mining method that gave him an edge over everyone else, leading to 30% to 50% more in rewards.
Pelletier found investors on websites that allowed people to give and receive loans in bitcoin. On one site, he offered a fantastical interest rate of up to 19% a month. He said he would use the loans to buy new equipment, which would in turn enable him to be even more successful at mining bitcoin.
"All this [sic] profits go directly to finance our biggest project, like this one," he wrote on one of his lending profiles, pointing to his Sephira Vision platform mentioned in the video.
Pelletier convinced dozens of people to lend him millions of dollars' worth of bitcoin, sometimes with nothing more than a gentleman's agreement that he would pay it back. But as the cost of bitcoin mining continued to climb and his mining strategy failed, Pelletier began using the bitcoin from new investors to pay the interest he owed others, creating what was in effect a multimillion-dollar Ponzi scheme.
In a Facebook Messenger conversation with BuzzFeed News, Pelletier, 38, said he always intended to pay back the loans, and painted himself as an accidental Ponzi schemer.
"When you have lost you have to paid back and often with the capital of another loan," he said, explaining that when he lost money, he used new loans to pay people back. (BuzzFeed News is including his comments as written for accuracy's sake. Pelletier, who lives in Quebec and whose first language is French, was offered an opportunity to send a statement in French but didn't do so.)
Today, Pelletier says he regrets ever having touched bitcoin. He doesn't know exactly how much money he owes dozens of people, but it's about 200 bitcoins by his own calculations, worth more than $1 million at today's price. He is deep in debt and working an IT job to make ends meet. At the same time, some who loaned him bitcoin curse their foolishness for putting so much of their savings into the cryptocurrency and then lending some or all of it to a man halfway around the world, based on nothing more than a profile on a crypto lending website. They were part of a wave of early adopters from all over the world, including places where just one bitcoin can be worth a lifetime's savings.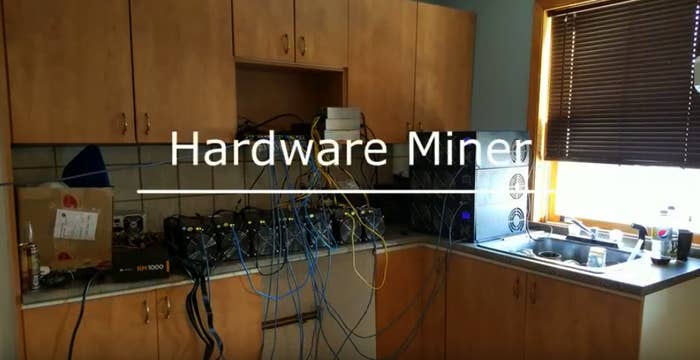 "It was all my money," said one of Pelletier's biggest investors in a messaging chat. They lost nearly 90 bitcoin, worth over $600,000 at today's price. "I was looking for investment possibilities with the bitcoins I had. That led me to the [peer-to-peer] lending sites and from there on I chose a borrower which I thought was trustworthy. Most other ones were just wanting money for an Xbox or some other business which didn't seem sustainable."

The experience of Pelletier and his lenders is a case study in the irrational exuberance that caused people around the world to place their financial futures at the mercy of a new and volatile internet technology rife with scams and lacking regulatory oversight. From early 2015 to late 2017, the value of bitcoin increased more than 7,500%, fueling a frenzy. It peaked in December 2017 at an all-time high of almost $20,000 before the bubble burst and prices crashed. The price of bitcoin is currently sitting around $6,600.
This frenzy enabled the emergence of a crypto loans industry that allowed people like Pelletier to create online profiles to entice others to hand over their bitcoin — with no actual legal agreement in place to pay it back. Suddenly, an entire industry was created, with lending sites such as BTCJam and BitLendingClub processing millions of dollars in loans.
"My feeling is that he wasn't criminal, just stupid."
By 2017, most of the websites that facilitated Pelletier's risky loans were out of business. Many shut down after scammers started to take advantage of them, sending default rates climbing and bringing the platforms themselves under scrutiny from regulators. In the end, an entire industry disappeared into the ether, leaving behind a trail of destruction — as well as Ponzi schemes like what Pelletier ended up running.
BitConnect was one of the largest cryptocurrency platforms in the world. It offered users the chance to loan the company bitcoin in return for an impossibly high rate of 1% daily compound interest, paid out in its own BitConnect Coin currency. Such an interest rate would turn a $1,000 investment into more than $50 million in just three years — a definite sign it was a Ponzi scheme. That became clear when the site closed in January and the price of BitConnect Coin took a nosedive, wiping out about $2.5 billion in value almost overnight.
Two years earlier, a US federal judge sentenced Trendon Shavers, a Texan man known online as "pirateat40," to 18 months in prison for running a massive Ponzi scheme through the business he founded, Bitcoin Savings and Trust. Shavers claimed to be using an advanced trading strategy to make his investors money, promising them a 7% weekly interest rate. But in truth, he was using new investments to pay off old ones, and spending much of the rest on his personal expenses. According to the US Attorney's Office, Shavers controlled 7% of all the bitcoin in circulation at the height of the scam — an amount that would be worth billions at today's prices.
The US Securities and Exchange Commission has been warning people against crypto Ponzi schemes as far back as 2013, two years before Pelletier started attracting investors.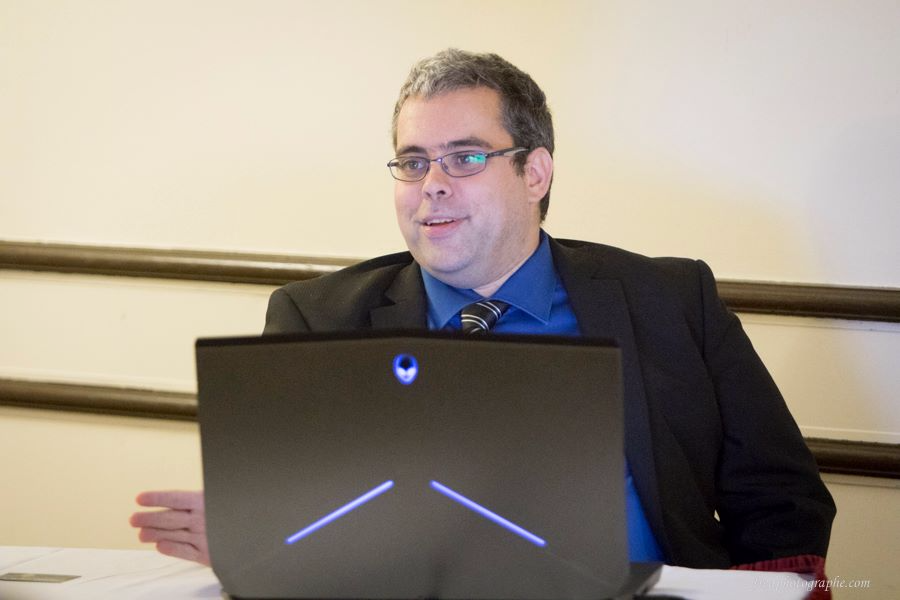 "I didn't dig into Dominic enough beforehand or his scheme," said one of Pelletier's investors, who stressed that he still believes in bitcoin as a currency and technology. "My feeling is that he wasn't criminal, just stupid."
"It looked like he made mistakes he couldn't recover from and then tried to borrow his way out...but just made progressively more mistakes."
One user who lent money to Pelletier described the transaction as "a gentleman's agreement." There were no contracts or other legal agreements involved. The lending sites took a small percentage of the profits and showed repayment statistics as a way of providing checks and balances. If the investments previously received were paid off, others could see that and contribute money to the project.

Pelletier began seeking loans at least as early as spring 2015 to fund his bitcoin mining operation. The idea behind bitcoin mining is that, rather than trucks and drills digging in the ground for something of value, people use computers to solve complicated mathematical puzzles. Whichever system solves one of these "blocks" first is rewarded with bitcoin. As the price of the cryptocurrency rose, so too did the complexity and the number of miners seeking pay dirt.
Pelletier's pitch was that he could mine bitcoin more effectively than others, thereby bringing himself and his investors a steady return. The loans, he said, were for purchasing new mining equipment as well as "renting" computing power from others.
Over time, mining for bitcoin has become too complicated and competitive for any one person to have a realistic shot at solving blocks on their own. People pool their computing power to improve their chances and then split the rewards evenly. Pelletier's system for beating the competition, he said, involved hopping between various mining pools, moving his computing power to "the good place at the good moment."
"It could very well be that this fellow is deluded that he thinks he has a good strategy."
The only problem with this method is that it doesn't actually work, according to Emin Gün Sirer, a Cornell University computer scientist and expert on cryptocurrency mining.
"It could very well be that this fellow is deluded that he thinks he has a good strategy," Gün Sirer said.
To explain why Pelletier's strategy was unlikely to work, Gün Sirer used the example of a casino. If you go into a casino and have been playing for hours with no luck you may think that it's high time for your luck to change. But probability doesn't work that way, and neither does bitcoin mining. Chances of success don't increase over time.
"What happened in the past has absolutely no effect on what's about to happen in the future," Gün Sirer said.
"This guy does seem to be hopping from pool to pool. ... And it could well be that he's deluded himself into thinking that that strategy could pay off. And it just hasn't paid off because technically there is no reason for it to pay off. It's just a broken strategy."
But Pelletier's pitch sounded convincing to enough investors for the money to start pouring in. He promised that he could predict where he would have success, built a website, and posted a photo of his miners. He created that intensely soundtracked YouTube video for Sephira Vision, a platform and company he registered in Quebec. The promised launch date was March 2016, but it never got off the ground.
Even today, Pelletier believes his plan could have worked.
"The method is good, I beliefs on my project and I didn't want to let all down on a fail," he said, adding that "at that time I did not want to give up."
Pelletier's misplaced optimism was a feature of the lending profiles that helped him attract investors.

"I've paid more than 50 BTC of interest, making me a crazy good guy," he boasted on one of his many profiles.
"His business plan looked solid," a person who operated one of the loan websites used by Pelletier told BuzzFeed News. "He was seemingly able to repay some loans, but then people realized that he was repaying loans with loans from other places." (He asked to not be named, citing legal concerns in his home country.)
Most of the lending profiles Pelletier used are no longer online due to the websites going out of business, but pages from loan website Getline illustrate the progression of his victims' creeping frustration and disillusionment as Pelletier began defaulting on payments.
"I've paid more than 50 BTC of interest, making me a crazy good guy," he boasted on one of his many profiles.
"Great borrower! Sold me a miner and has a great mining strategy. AAA+++," read his first review published in November of 2015.
By April of 2016, some had concerns. "I do tend to believe interest rates exceeding 100% APR is unsustainable for anything except very short-term loans. Checking the [L]oanbase profile, there is 45 BTC defaulted," said one user, noting that Pelletier had already defaulted on 45 bitcoin.
Then, about a year after Pelletier started accepting loans, everything fell apart. A barrage of bad reviews warned people not to give their bitcoin to him. In August 2016, he was accused of running a scam and duping his investors. "He is not flash mining or whatever he wants to call it," one comment said.
Pelletier also borrowed bitcoin privately. One private lender told BuzzFeed News they gave him nearly 90 BTC; another said they handed over 32 bitcoin. Neither saw the promised return and both told BuzzFeed News that Pelletier eventually stopped talking to them. Bitcoin transactions are publicly accessible, and one of his "wallets" shows that Pelletier received more than $6.6 million worth of bitcoin at today's prices.
"I was very naive because I had some very idealistic ideas in mind," said one lender, who asked to keep his identity anonymous. And he wasn't alone. BuzzFeed News spoke to a dozen people whom Pelletier owes money to. They said they invested at the urging of a trusted friend or because of Pelletier's glowing reviews.
Pelletier told BuzzFeed News the first website he signed up for was Loanbase, which he claims is what initially got him into financial trouble. The site assessed the risk of default of the lender and used that information to set the interest rate. Pelletier said his interest was set at 26%, which he could not meet.
"I have made only 13% of profits in this month," Pelletier said, "then I have defaulted and all shit beguns [sic] at this moment."
It was "the site where I have made the biggest mistake," he said. Pelletier said the high interest rate set him on the path to ruin.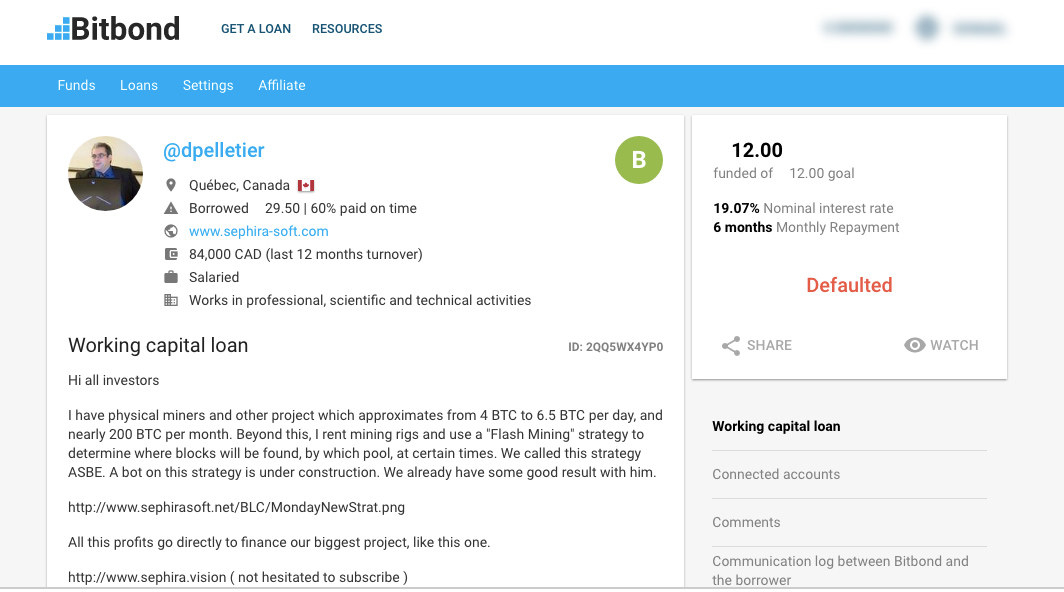 To pay for the loans he defaulted on, Pelletier opened more accounts and kept borrowing. Eventually, his creditors created a Facebook group to commiserate about their situation, and to pressure Pelletier to pay them back, they added him to it as well. Today there are about 40 people in a private Facebook group called "Dpelletier loans," described simply as "regarding the unpaid loans of @dpelletier." Created years ago, it was a place for victims of the scheme to congregate, share experiences, and keep Pelletier accountable.
Even as Pelletier was convincing new people to invest in him, in the private Facebook group, he was facing those he hadn't repaid.
"I will post here every day ... my progress on the thread dedicated to paid back my dept [sic]," he wrote in the group. From there, his updates dwindled until a year later, when he stopped posting and stopped responding to messages. When people in the group began discussing the idea of getting a lawyer, Pelletier frantically discouraged them. But there are few legal options available to those who lost their cryptocurrency.
"It put me in debt then, because I need to pay my rent and I couldn't get [back] the money," said one person who invested.
At one point, Pelletier's bank closed all of his accounts because of his cryptocurrency work. Pelletier told BuzzFeed News he's now considering filing for bankruptcy. He complained that he didn't have enough money to change his car tires, so how was he meant to pay back his loans?
"I can said bitcoin experience ruining me completely," he said. "The biggest disaster happens with the best intentions." ●
UPDATE
This post was updated to reflect Pelletier's debt in both bitcoins and their present-day price.