McDonald's made a splash last week when its Twitter account called Donald Trump "a disgusting excuse of a president."

One resulting joke, tweeted by Torontonian Matthew English, got a lot of traction. He created a fake 1973 telegram from McDonald's founder Ray Kroc to Richard Nixon, telling him to "retire bitch."
The tweet was so popular, someone even made an 1865 version to President Lincoln.
People loved it.
And then, incredibly, Fortune magazine included a reference to the fake Nixon letter in a round-up of news items aimed at CEOs.
English, the creator of the joke image, couldn't believe it.
Fortune did eventually add a correction to the story, hours after English's tweet.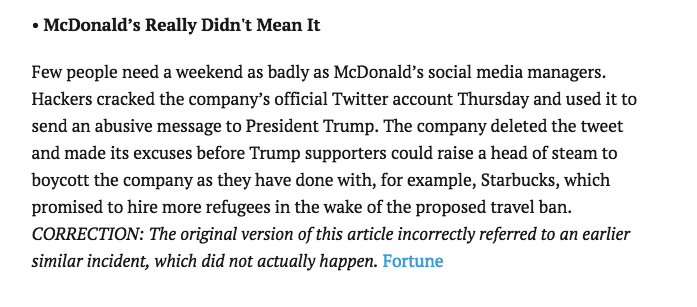 But the mistake did not go unnoticed, including by some who were unimpressed with the joke.
And others who were jokingly unimpressed.
English told BuzzFeed News it was all in good fun and there were some glaring errors in his Photoshop job that anyone paying close attention would have caught. He said he didn't expect anyone to fall for it, and called it a joke rather than a hoax.
"Never stop making jokes, that's my take," English said.