A false claim based on a nonexistent Wall Street Journal report has gone viral on Twitter.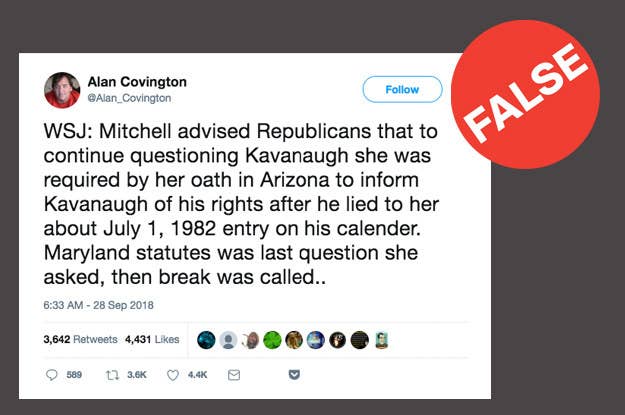 The tweet implied, without any proof, that the prosecutor Republican senators retained to question Supreme Court nominee Brett Kavanaugh and Christine Blasey Ford, one of the women accusing Kavanaugh of sexual misconduct, stopped asking Kavanaugh questions because she determined that he lied. It falsely sourced the information to the Wall Street Journal and was soon amplified by reporters and commentators on Twitter, racking up thousands of retweets and likes.
The same Twitter account also tweeted a second false claim, which stated that the American Bar Association had referred to the nonexistent WSJ report in its letter to the Senate Judiciary Committee. The letter asked the Senate to delay a vote on Kavanaugh's confirmation and allow the FBI to investigate Ford's accusation against him. It had no mention of the nonexistent WSJ report.
After these tweets spread, the editor-in-chief of the Wall Street Journal, Matt Murray, tweeted a warning about unsourced claims.
After this article was published, the person who posted the false tweets said his account has been hacked and he deleted the content. He did not provide additional details or documentation related to the hack.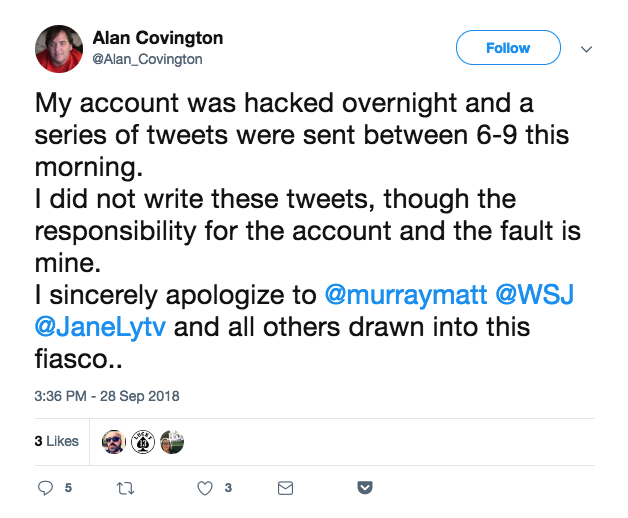 Despite the claim being false, many Twitter users, some of whom are verified and have large followings, amplified it. Many later deleted their original tweets.

The CrowdTangle browser extension, which tracks which accounts spread a specific link on social media and how much engagement it has received, showed significant traction for the false tweet.

Harvard Law professor Laurence Tribe was one person who amplified the tweet and later deleted it without correction.

"I've been watching what's going on in the Senate and deleted the WSJ report as soon as I learned it was inauthentic," Tribe, who has over 400,000 Twitter followers, told BuzzFeed News in a direct message. After being contacted, he tweeted a correction to his retweet:
Others have made an effort to knock down the tweet's claim:
"This is a lie, and you're falling for it," New York Post columnist John Podhoretz tweeted.
UPDATE
This post has been updated with comment from the person who spread the fake.