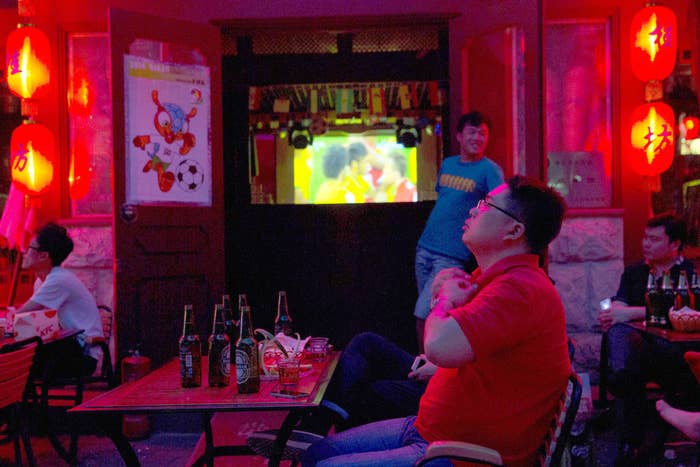 On the afternoon of Tuesday, June 17 in China's Liaoning province, a 22-year-old woman unnamed by the media was arguing with her boyfriend about the World Cup. He wanted to go out all night and watch it; she didn't want him to.
The same argument has been played out between couples all over China as the country has become engulfed in World Cup fever, despite China not qualifying for it. In Xiangyang a group of women sported skimpy shorts and football bras for photographers as a jokey "protest" about being ignored by their boyfriends. In stark contrast, the Liaoning province woman jumped off a nine-story building, killing herself.
The following Monday in the southern city of Guangzhou a student, surname Lin, jumped from the seventh floor of a building after a panicky phone call about World Cup bets. He had lost around 20,000 Yuan (£1,900) and couldn't pay it off. Then on June 27 a 32-year-old woman in Hainan province, surname Wang, committed suicide using charcoal fumes after losing bets totaling more than 200,000 Yuan (£18,800).
Xiao Cai, a 21-year-old female student from Wuxi, Jiangsu province faked her own kidnapping and tried to get ransom money from her parents to pay off football betting debts, attempting to convince them that she'd be sold into the sex trade if they refused to pay 20,000 Yuan (£1,880). She fled to Shanghai, where police found her watching a World Cup match.
Over 150 million Yuan (£14 million) was placed on bets in China on June 12, the opening day of the tournament, according to the National Sports Lottery Center. The figure is three times the amount reported for the 2010 World Cup.
In Hong Kong, three World Cup gambling-related suicides were reported. 24-year-old Lee Chi-ho, who had accrued huge debts, died after jumping from a building the day after Lin's death. The previous day, 48-year-old wine trading company worker Yu Chi-hung was found dead next to pills and a bottle of wine. Chef Lau Ka-lun, 30, killed himself with charcoal fumes the previous Thursday. Both had incurred similar debts.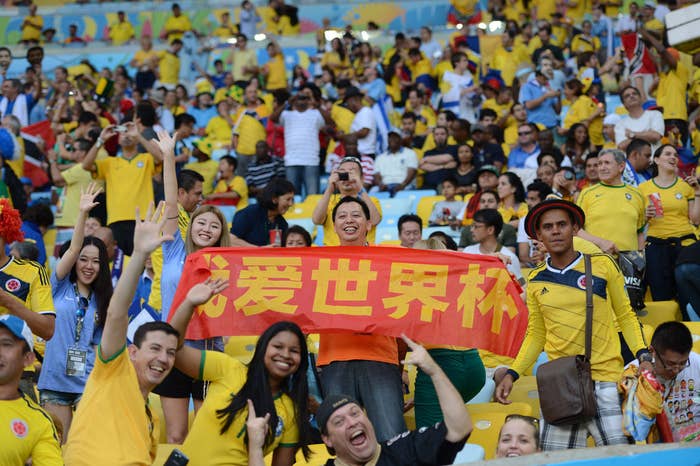 While cases of suicide suggest underlying mental health problems, medical experts in China have still pointed to the World Cup as a trigger that is causing deaths that would otherwise have been avoided.
"During the World Cup many people find that their mental disorders return because of emotional swings," Zuo Jing, doctor at the Hunan Province Brain Hospital in the city of Changsha, told BuzzFeed. "China has not done enough in the field of mental illness – this is a weak link in public health management. Many Chinese do not see anxiety or depression as a big deal and ignore them. They never see a doctor, then the World Cup triggers these problems and we see them break out on a large scale."
Zuo added that he'd observed mental health problems with many patients who gambled on the tournament. "Many who made large bets suffer from emotional swings which lead to recurrences of illnesses and fights. Many come to us for counselling."
Recent World Cup-triggered deaths in China have not been limited to those attributed to mental issues. With group stage matches kicking off at midnight, 3am and 6am fans have been forfeiting sleep to watch them. With many Chinese having no experience of binge-viewing to this extent, the experience has resulted in fatal physical ailments for some.
One 39-year-old man from Shanghai, surname Zhou, stayed up for three nights in a row to watch games. He collapsed watching Uruguay Vs Costa Rica, with doctors declaring the cause of death a brain hemorrhage. The previous day a 25-year-old man from Suzhou, Jiangsu province was found dead in front of his TV after watching matches, with doctors citing lack of sleep as the cause. 51-year-old former professional goalkeeper Li Mingqiang, from Dalian in Liaoning province, died whilst watching Holland vs Spain, suffering heart failure.
Doctor Zuo and his colleagues in Hunan were so concerned by the ailments they observed that they opened a "World Cup clinic", where they treat more than ten people a day. One 29-year-old male patient suffered from serious cerebral infarction – a kind of stroke – whilst one 30 year-old man started hallucinating after an all-night session and jumped out of a second floor window.
"Watching World Cup games has made illnesses that may have been small previously snowball into serious health concerns," Zou said.
Han Xiaoning, a doctor at the Peking University First Hospital in Beijing, gave BuzzFeed further insight into the seriousness of the problems Chinese World Cup obsessives were facing. She treated a woman who tried to stay up for every match for coronary spasms.
"I've seen patients suffering from acute gland inflammation and myocardial infarction [heart attack]," she said, adding that all her patients suffering from ailments triggered when watching matches have survived. She pointed to a lack of binge-watching experience as a major factor in the amount of deaths and illnesses being reported.
"One of my patients suffers from pancreatitis and he still eats oily meat and drinks beer every day," she said. "Football fans should be eating something less oily, and not have too much of it."
One of the starkest results of this approach to match-watching came when a 26-year-old woman, surname Xiaolan, who was two months pregnant stayed up four nights in a row to watch games. When jumping around celebrating Germany striker Thomas Müller's hat-trick against Portugal she was struck with abdominal pain, was rushed to hospital and suffered a miscarriage.
Thomas Müller of Germany completes his hat trick against Portugal
Feng Jionglin, a 34-year-old investor from Shanghai who also supports Germany, agreed that lack of experience was the root of the general problem. "My principle for the World Cup was: 'Don't miss one game'," he told BuzzFeed. "But I have read about the deaths, so now I miss a few matches. Chinese fans have to disrupt their biological clock to watch games, maybe for the first time – they fall ill because they are not prepared."
Where there is a trend there is an opportunity to make money, and one company, Zhong An, has been selling World Cup medical and life insurance.
They offer "drinking insurance" that covers against alcohol poisoning, "hooligan insurance" that covers against accidental injury, and "night owl insurance" that covers against sudden death and respiratory infection. "Glutton insurance" covers for gastroenteritis, offers 10,000 yuan in the case of death, and has been bought by 1,743 customers.
Wang Yao, spokesperson for the firm, told BuzzFeed: "Luckily we've not had any cases of death among customers. Conventional health insurance does not cover against things like over-drinking – but we're insuring fans against actual problems we've seen people suffer from when watching matches."
With only the quarter-finals, semi-finals, third place playoff and the final left to play, cases of World Cup-triggered deaths should become less common. Still, many will see it as a blessing that the 2018 tournament will be held in China-bordering Russia, at least promising a less punishing kick off schedule next time round.