Last Sunday in Huangcang Middle School in the Chinese province of Hunan, what should have been a light-hearted military demonstration turned bloody.
It ended with the hospitalisation of 42 students and their head teacher. According to Beijing News, a brawl broke out between the military staff and students during an activity day held by soldiers.
"More than 20 [military] instructors rushed to start beating the boys, while some girls were frightened to tears," an anonymous student was quoted as saying. "Some boys were bleeding, so the head teacher took out his cell phone to call an ambulance. The instructor asked other instructors, 'Beat him, or no?' One replied, 'Let's beat him'. After that, a group of people rushed to beat the head teacher."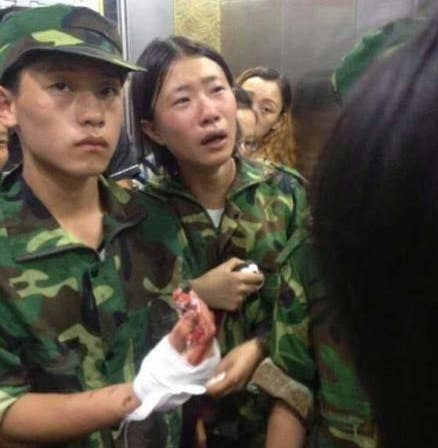 According to the student, the threat of violence was sparked earlier in the day.
Things got slightly hairy when male students became annoyed by a soldier who was flirting with a female student called Tian. Events escalated a few hours later, with the battle resulting in some students suffering broken bones.
After the fracas police arrived and 42 students were sent to hospital for treatment along with the head teacher, Liu Yunjie, and an army instructor, Chinese state media confirmed. Photos, allegedly of the injured students (who were wearing army-style clothes), circulated on social media.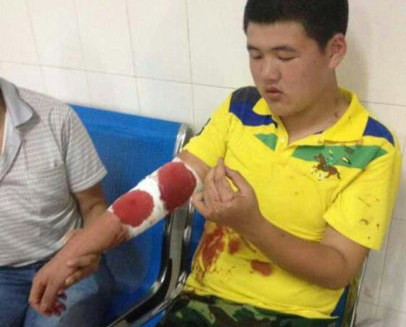 On Tuesday the Propaganda Department of Longshan County released a report into the incident.
The report provoked accusations of a cover-up with what many described as a laughably weak explanation for the students' injuries. The department said that things got nasty because, "When they were correcting students' posture, the instructors' ranges of motion were so big that a few students fell to the ground or cried'." They did acknowledge that after this, "the situation degraded into chaos."
Attempting to explain the bloody injuries sustained by the students, the department claimed that they mainly injured themselves. "Students… smashed windows and doors to show their dissatisfaction," the report read. "In the process some students' hands were hurt."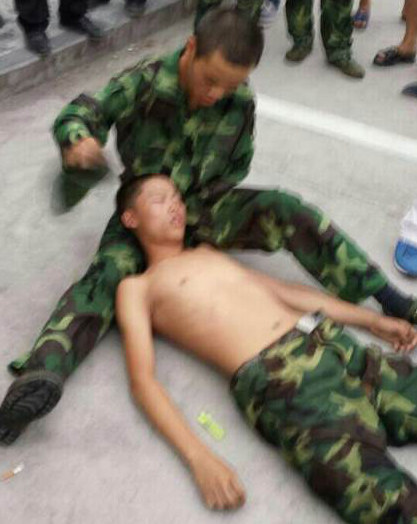 Students reacted with disbelief at being accused of injuring themselves.
A wave of support arrived on Chinese social media. Yesterday students and parents held a protest in Longshan County and spoke to high-ranking local police staff, teachers and the local mayor, who promised to get them justice. The deputy director of the police station admitted that the soldiers had been drinking alcohol before the fight.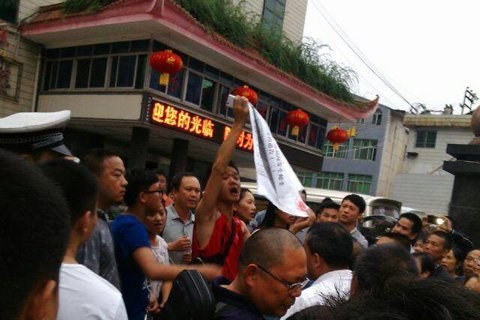 Yesterday head teacher Liu Zhijie was still unconscious in hospital.
Longshan County maintains its investigation report was accurate, but said it would investigate further. They said the head teacher and students should take some responsibility for what happened.
The social media comments have kept pouring in.



Additional reporting by Jane Wu.