How The Relationship Between Sepp Blatter And Michel Platini Soured
FIFA President Sepp Blatter and Michel Platini, the president of the European football association, were famously close before Platini made a power play for Blatter's job. Blatter was placed under criminal investigation by Swiss officials Friday – and Platini is cooperating with authorities.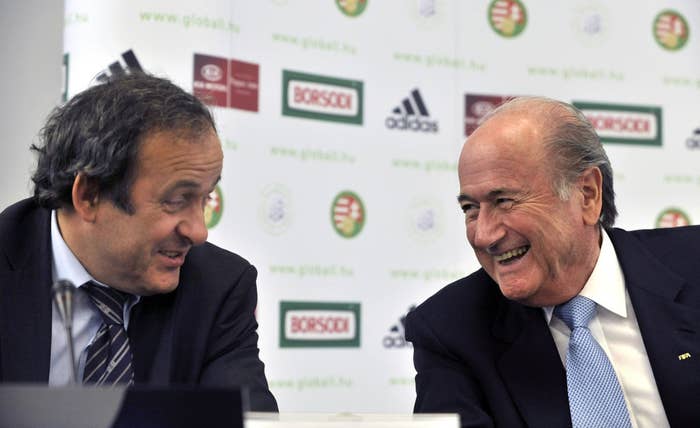 Michel Platini, the president of the European football association UEFA, has been thrust into the center of the ongoing worldwide soccer corruption scandal Friday after Swiss authorities announced Friday they opened a criminal investigation into FIFA President Joseph "Sepp" Blatter.
One of the allegations facing Blatter, the Swiss Attorney General said, is making a "disloyal payment" of 2 million Swiss Francs ($2.04 million) to Platini for "work performed" between January 1999 and June 2002 — though the alleged payment was executed in February 2011.
Platini, according to the attorney general's statement, is being questioned as a "person requested to provide information" – a mechanism under Swiss law which allows for the questioning of people who are not directly accused of an offense but who may be related to it, or "cannot be excluded" as a participant.
"Today I was asked by the Swiss authorities to provide information relating to the ongoing investigations surrounding FIFA," Platini said in a statement.
"Regarding the payment that was made to me, I wish to state that this amount relates to work which I carried out under a contract with FIFA and I was pleased to have been able to clarify all matters relating to this with the authorities," Platini added.
The attorney general's office said Blatter retains the presumption of innocence.
The developments bring the tumultuous relationship between two of the most powerful men in soccer to the fore.
Once, the two men were famously close colleagues. Platini, a former French footballer, led the organization of his country's 1998 hosting of the World Cup. After leaving this role, he joined FIFA as a special advisor to Blatter, according to reports from the Telegraph in 2011.
Platini filled this role until taking a position on the executive committee of UEFA in 2002 — spanning the period covered by the Swiss attorney general's allegations — and for several years the two men remained close allies, with Blatter helping his friend secure the presidency of UEFA in 2007.
Such was the closeness of the pair that South Korea's Chung Mong-joon, a rival candidate against both men in 2015's election for FIFA president, said their relationship had been "that of a mentor and protégé, or a father and son", Reuters reported.
But frustrations between the two mounted, eventually spilling over in a series of increasingly bitter public clashes, largely centered around Qatar's controversial but successful bid for the 2022 World Cup, which caused major concerns among European clubs that the games would be played to the winter, disrupting club football. The change to the winter was denied at the time, but confirmed earlier Friday.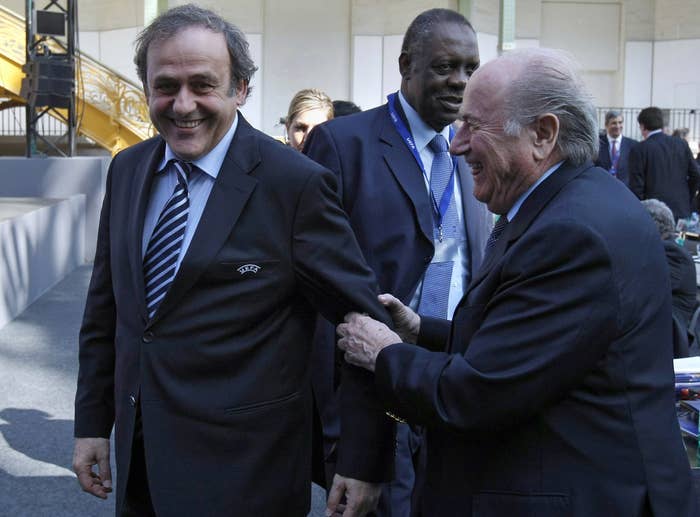 By early 2014, Platini was publicly accusing Blatter of bypassing FIFA processes on the timing of the 2022 games, and breaking agreements not to make statements on the matter.
Speculation had already been mounting that Platini would challenge his former mentor for the presidency of FIFA in the 2015 elections, and when the time came, Platini did indeed launch an unsuccessful bid for the role. His move came amid the mounting corruption investigations which had just two days before seen seven senior FIFA officials arrested and questioned.
Accusations and counter-accusations swirled through August. Blatter told the Danish magazine De Volkskrant that Platini had "intimidated" his 80-year-old brother during FIFA's presidential election congress. According to Blatter, Platini leaned to Blatter's brother Peter during lunch and said: "Tell Sepp to withdraw from the election or he will go to prison."
At that point, according to Blatter's account, his brother burst in to tears. Platini declined at the time to comment.
Just two days later, Reuters reported FIFA had to reveal it was launching an internal investigation into allegations that an anonymous dossier titled "Platini – skeleton in the closet," containing damaging allegations against the UEFA president, had been distributed from within FIFA headquarters.
Blatter won the election to the presidency of FIFA — his fifth term — by a landslide on May 29. Just four days later he appeared in public once again to announce he would resign by no later than March 2016.
FIFA said it was cooperating with all investigations.
"Today, at the Home of FIFA, representatives from the Office of the Swiss Attorney General conducted interviews and gathered documents pursuant to its investigation. FIFA facilitated these interviews as part of our ongoing cooperation," it said in a statement.
"We will have no further comment on the matter as it is an active investigation."
Read the Swiss Attorney General's statement on the investigation into Blatter:
Download PDF