Wyoming Braces For Modern Campaign Warfare
"The cash chase is going to be vicious... they're going to inundate voters in Wyoming in a way they've never experienced before."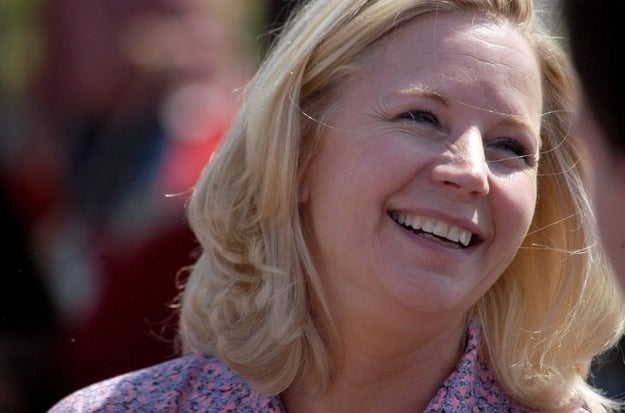 As Sen. Mike Enzi and Liz Cheney prepare to do battle in a hyper-contentious Republican primary, Wyoming — a state that has largely been isolated from the aggressive, well-financed, wall-to-wall warfare of modern campaign politics — is about to get carpet-bombed with an unprecedented level of national attention and campaign cash.
Since Cheney announced her challenge to the three-term senator in July, the pair have been amassing big money for the state. Enzi has raised more than $1.64 million so far for the 2014 cycle, already outdoing his 2002 reelection total a year before Election Day 2014. Meanwhile, Enzi's third quarter tally $848,311 — more than double his fundraising total for the third quarters of 2007 and 2008, combined — fell short of Cheney's $1 million haul.
Put together, Cheney and Enzi's fundraising total so far — about $2.64 million — would average out to more than $10 for each of Wyoming's roughly 250,000 registered voters.
And the primary isn't until August.
"They have raised enough that you could run a very effective campaign and so now that we're in the fourth quarter, they're both going to be expected to put those kind of numbers up again or the pundits are going to say that they don't have the ground swell of support," said Wyoming-based political consultant Bill Novotny.
"So the cash chase is going to be vicious," he said. "When they unleash those dollars on the airwaves, radio and direct mail, they're going to inundate voters in Wyoming in a way they've never experienced before."
Despite the flood of money, many Republican Wyomingites insist retail politics still hold the key to success.
"On the one hand, for the first time in peoples' lives, they're watching outside groups spend millions of dollars in negative television advertising, but they're able to distance that because they can say 'You know, I've met Liz' or 'I know Mike,' and so you have to make those connections," Novotny said.
Both candidates already have a personal foundation with voters. Enzi grew up in Wyoming and has served the state in the Senate since 1996. Cheney's father, former Vice President Dick Cheney, represented the state in the House of Representatives for a decade and remains immensely popular.
But in the expansive, sparsely populated state of Wyoming — the ninth largest but least populous state in the country, according to the 2010 census — going door-to-door isn't as simple it sounds.
"You're forced to log a lot of windshield time to get to voters," said Novotny, who served as campaign manager for Gov. Matt Mead's 2010 election. "It's a very large state, the populations are spread out and it's not easy to navigate because we've got mountain ranges all over it. So what looks like a straight shot to a place might mean that you travel for 8 or 9 hours to get to your next event."
Bonnie Foster, chairman of the Natrona County Republican Party, added that while trekking across the state is crucial, it's expensive.
"When you go door-to-door in Wyoming, it takes a lot of money. And you spend a lot of time behind that windshield. So you're paying for the gas," she said. "Even if they're not going to be running a lot of TV, radio or print ads, there still is money that has to be raised to travel across this state back and forth. And I can tell you from having done it personally, there's a lot of miles, that's a lot of gas."
Along with large sums raised by the campaigns, outside spending has already entered the race. A conservative super PAC ran a TV ad statewide earlier this month titled "Wrong for Wyoming" attacking Cheney's stance on gay marriage. The Cheney campaign disputed the ad and attempted to have it taken off the airwaves, according to the Casper Star-Tribune.
But some Wyomingites say they don't take kindly to out-of-state attack ads.
"One of the things that people in Wyoming don't like is really bad, negative campaigning," Foster said. "It doesn't mean it hasn't happened but it really turns them off and then it even turns them off even more when they find out that it's somebody from out of state who's placing the ads and don't really know anything that's going on."
Ember Oakley, a lifelong Wyoming resident currently living in Riverton, said she hadn't seen the "Wrong for Wyoming" ad, but admitted that she might be a little more tolerant of attack ads against Cheney because she is a strong supporter of Enzi. Despite that, she said she doesn't think negativity plays well in Wyoming because its citizens are very "neighborly."
"You get to know people all around the state. And so negativity doesn't go just because if nothing else it doesn't pay because somebody is just going to say 'Hey, I know that person, I don't appreciate it,'" Oakley said. "And so it's usually just not a successful strategy here because you're going to have to answer to other people who know that person and don't appreciate it."
Stephanie Billings, a 33-year-old businesswoman from Buffalo, Wyo., said she's already seen some ads, but doesn't think negative ads will sway votes.
"A lot of people in Wyoming are going to the candidate they already – nothing's going to change their minds," Billings said. "They pick who they're going to pick and there's not really anything that's going to change that."
In a survey conducted by Harper Polling for Conservative Intel in July, 76 percent of likely GOP primary voters had a favorable opinion of Enzi.
Though just 45 percent of primary voters viewed Cheney favorably, only 15 percent held an unfavorable opinion of her and 38 percent had heard of her, but had no opinion — room for her to define herself with voters.
And as far as the election was concerned, 55 percent said they would vote for Enzi if the election were held that day — to Cheney's 21 percent. But when asked if Enzi had done enough to deserve reelection, 48 percent said yes, but 28 percent wanted someone new and 24 percent were unsure, leaving more room for Cheney.
Ultimately, Foster maintained, the election will come down to retail politics.
"Campaigning in Wyoming, here's what works the best, is going door to door and shaking people's hands and looking at them in the face," she said. "That's what really wins the campaigns. People start to tune out the ads and all that and they really like a lot more of the one on one."
"People have kind of, you know, joked and laughed, but elections can be won and lost in Wyoming at the local coffee shop."