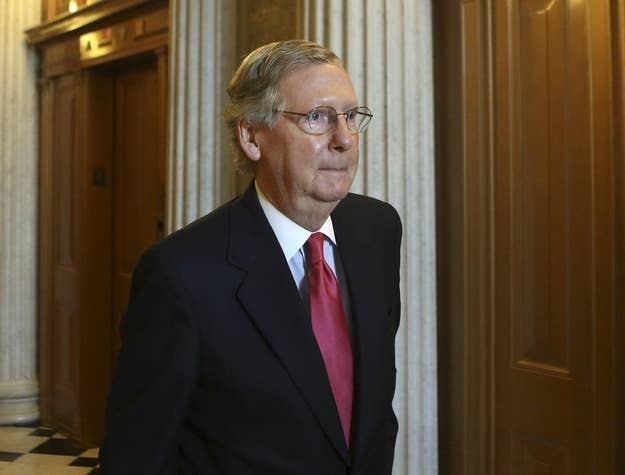 If you're a Republican lawmaker fending off a tea party challenge and you voted to end the government shutdown Wednesday night, you're not having a good day.
Conservatives looking to score early points against incumbent Republicans in races across the country pounced almost immediately after the votes were cast. In some cases, even the lawmaker who toed the tea party line and voted against the bill have been criticized for being squishes in conservative clothing. The swiftness and intensity of the onslaught underscore just how closely incumbents are being watched by their party's right wing as it the conservative movement strives for ever more ideological purity.
Matt Bevin, who is waging a primary against Senate Minority Leader Mitch McConnell, released a video Thursday criticizing McConnell, who was integral in crafting the deal with Majority Leader Harry Reid to reopen the government.
"Now it seems Mitch McConnell has cut and run from yet another fight," Bevin said. "Making deals with Washington Democrats like Harry Reid to raise the debt limit without consideration for defunding or even delaying Obamacare. Worse, it doesn't even put us on a path to financial sustainability."
Republican Sens. Thad Cochran of Mississippi and Lindsey Graham of South Carolina both also voted in favor of the Senate deal. Graham tweeted that Republicans "left a lot on the table" in the deal, but that didn't stop him from getting attacked by challenger Lee Bright, who said at an event Wednesday night that Republicans "surrendered," according to U.S. News and World Report.
"We'll stand with Ted Cruz, we'll stand with Rand Paul, we'll stand with Mike Lee. You'll have a fourth up there fighting the battle," Bright said. "I'm ready to go to war."
Cochran, meanwhile, gained a primary challenger Thursday in Mississippi State Sen. Chris McDaniel, who announced his bid the afternoon after the government opened. Similar to Bright, McDaniel criticized Republicans "surrender" on the vote, saying Cochran "failed to stand his ground for the American people."
On the House side, the majority of Republicans voted against the deal, including six of the 10 members the Club for Growth earlier this year singled out for potential 2014 primary challenges on the website primarymycongressman.com.
Reps. Mike Simpson of Idaho and Adam Kinzinger of Illinois, both listed on the Club for Growth site, were two of only four of those targeted to vote for the bill. Kinzinger's challenger, David Hale, tweeted Wednesday night that Kinzinger "blamed Conservatives for the Debt Crisis and throws them under the bus." Bryan Smith, who is running against Simpson, criticized the vote in a statement released Thursday.
"Our nation's debt problem is serious, and last night, Congressman Simpson voted to kick the can down the road instead of fighting for cuts in spending and making any major changes to Obamacare. Idaho needs a congressman that will stand up and be courageous for them in Washington," Smith said.
In some cases, voting no was a wise choice, at least politically. Indiana Rep. Larry Bucshon voted against the measure, but as of Thursday afternoon, his challenger Andrew McNeil had yet to release a statement about the deal on his official campaign website.
Wyoming Sen. Mike Enzi also avoided criticism from his challenger, Liz Cheney, daughter of the former vice president. Cheney has not been shy about attacking Enzi, but as of Thursday her official website had no statement on the vote and her only tweet in response to the deal was aimed at McConnell for a large subsidy for Kentucky in the legislation.
But not all vulnerable Republicans were so lucky. Kansas Sen. Pat Roberts opposed the bargain, but was criticized by his primary opponent, Dr. Milton Wolf, for switching positions.
"It is good that Sen. Roberts has continued in his election year conversion, and decided to oppose this deal as well, however that doesn't change the fact that Roberts has voted to raise the debt ceiling eleven times in his more than three decades in Congress," Wolf said in a statement.
"Since I announced my candidacy last week, Sen. Roberts has frantically tried to cast himself as a conservative. He already flip flopped on Kathleen Sebelius, and now he is trying to cover up his eleven votes to raise the debt ceiling. Kansans will not be fooled by this."