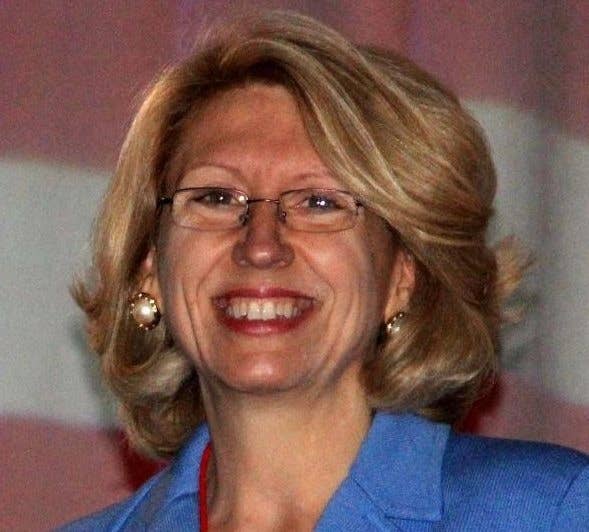 Within the span of a few hours, Michigan Senate candidate Terri Lynn Land flipped her position on the repeal of Obamacare.
Speaking on "Michigan's Big Show" Monday morning, Land, the former Michigan secretary of state, dodged a question about whether she supported repealing the law.
"Well, again, we all agree we need affordable health care," she said, when asked if she was part of a group to repeal the law.
"After you pass bills, sometimes you have to go back and do fixes," she said in the interview. "That's not unusual, and it's something that, you know, I've done in the past and that's something that we need to do here."
Land added later that she previously supported defunding the Affordable Care Act, but that "we're past that."
"I supported defunding it because I thought that was a way to get the conversation going. We're past that now. We need to now fix this," Land said. "And again, like I mentioned, where 5 million people nationwide have lost their insurance and 225,000 here in Michigan alone and those people wanted that insurance. And I just think that's critical that they have that opportunity to have that insurance that they want."
Several hours later, Land sent messages on Facebook and Twitter saying she supported a repeal of Obamacare.
"I supported defunding the Obamacare law when that was an option. I support repealing the Obamacare law if we can get it repealed. President Obama and Congressman Peters promised that Michiganders could keep their insurance and their promise has been broken. I support the Upton bill to fix Obamacare in the short term if that is what it takes to stop 225,000 people in Michigan from losing their insurance. Washington is broken and we need leaders who are ready to make the tough decisions," Land wrote on Facebook.
Obamacare will likely be a key issue for the 2014 midterm elections — but Land's switch could indicate it may be more difficult to run against the health care law for Republicans than some have suggested in recent weeks.