Here's Why That Kentucky Doctor Is Closing His Practice "Due To The Policies Of Obamacare"
A Kentucky doctor took out a newspaper ad saying he was closing his practice "due to the policies of Obamacare." The reason is a federal requirement that he keep electronic records.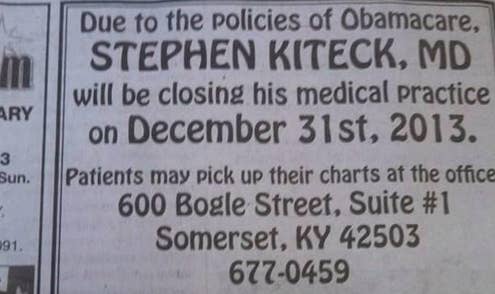 A Kentucky doctor who took out a local newspaper ad saying he was closing his practice "due to the policies of Obamacare" is shutting down his practice because of federal requirements to transfer from paper to electronic records.
Dr. Stephen Kiteck of Somerset, Ky., said the financial burden of electronic records is "too much of a burden to overcome" and that he didn't want to "make a long-term investment" in his small medical practice.
Though Kiteck's ad blames Obamacare, the electronic health care incentive programs were part of the American Recovery and Reinvestment Act in 2009 — the federal stimulus act — and not part of the Affordable Care Act, according to the Centers for Medicare and Medicaid Services.
Kiteck said he is approaching retirement age, and that he and his office are "computer illiterate," adding that he would need special training to add electronic records. He said it would be a financial burden and take "thousands of man hours or woman hours to get the records on the computer."
Analysis from earlier this year showed that electronic health records have not produced expected savings in health care costs.
The ad, placed in the Commonwealth Journal in Somerset, was passed around Tuesday morning by conservatives on Twitter.
Kiteck said that he petitioned the Department of Health and Human Services to get an exemption for this policy, but was not successful.
He said that he's no fan of Obamacare, but that the ad was mainly to get the word out to his patients, most of whom have been seeing him for a long time. Kiteck said he is required to give 30 days notice to his patients, and that he will provide them with a list of doctors to call.
"It did not make this feel any more comfortable knowing Obamacare has these requirements in it," he said.