Gambling Lobby Turns To Attorneys General For Protection From Internet Competition
An exec at Sheldon Adelson's Las Vegas Sands Corporation presented the case against legalized online gambling to state attorneys general this week. The rival Caesar's Entertainment Corporation argues for regulated internet gambling.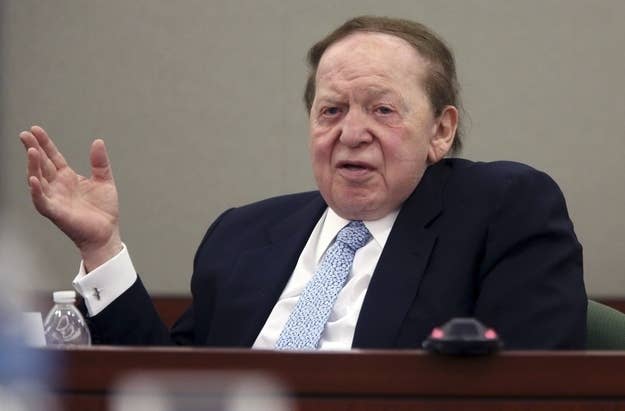 A representative of gambling tycoon and Republican mega-donor Sheldon Adelson lobbied the Republican Attorneys General Association against legalized internet gambling at a meeting earlier this month, according to documents obtained by BuzzFeed.
The meeting came as the casino industry is gearing up for a heated debate over gambling online.
Andy Abboud, senior vice president of government relations for the Las Vegas Sands Corporation — whose CEO is Republican and pro-Israel mega-donor Sheldon Adelson — gave a presentation on the dangers of online gambling at a Nov. 10 meeting of the RAGA.
His presentation included poll results suggesting Americans oppose online gambling; technical warnings that it can be manipulated; and even a glimpse of an unusual campaign against the practice with the slogan that "online gambling just takes gambling too far" — a remarkable departure for an industry that typically insists its business be called "gaming" not "gambling."
At the same event, David J. Satz, senior vice president of government affairs for one of Adelson's competitors, Caesar's Entertainment Corporation, also made a presentation to the RAGA on Nov. 10 in favor of tightly regulated, legal online gambling.
Adelson, the billionaire casino mogul who donated nearly $100 million in the 2012 election, according to the Center for Responsive Politics, is preparing for a fight to ban online gambling. The Washington Post reported Sunday that in January, Adelson will unveil an advocacy group, the Coalition to Stop Internet Gambling, and that Adelson himself may travel to Washington in January to meet with lawmakers about the issue.
The Post also reported that the three co-chairs of the coalition are former Denver Mayor Wellington Webb, former Sen. Blanche Lincoln, and former New York Gov. George Pataki. Abboud confirmed the co-chairs to BuzzFeed, saying they would take leadership in the effort going forward.
"We do not think that the technology exists to protect consumers. We feel that casino gaming was never meant to be in every pocket and on every phone in America," Abboud said. "Gaming was organized to be a destination. Someone had to get up, get dressed, and make a conscious decision to go. And we just simply don't think it is good for the industry or good for our country to put a casino in the pocket of every American."
Abboud's presentation included a 2006 letter from the National Association of Attorneys General praising Congress for its efforts to ban internet gambling, as well as data from the Tarrance Group, a Republican polling firm, showing that a majority of Americans harbor negative views of online gambling.
Satz's presentation made a case that online gambling occurs even in states where it is illegal and that law enforcement lacks the tools to enforce current laws. His presentation suggests that this hinders consumer protections such as preventing minors from playing or preventing fraud, and that it also stops states from collecting tax revenue from the industry.
The recommendations in the presentation were for new laws to respect states rights to prohibit online gambling or define what is allowed; establish consumer protections and strict regulations; remove unauthorized gambling; and provide resources to law enforcement to keep "bad actors" out of the market.
Abboud said his presentation was "received very warmly by the attorney generals. They're taking their time to study it and figure out their decisions."
Satz did not return a request for comment for this story.
Jill Bader, communications director for the Republican State Leadership Committee said in a statement, "The Republican Attorneys General Association does not have a position on this issue, but there are Republican attorneys general on both sides of the debate."
The two presentations outlined the arguments both sides will likely use to make their case either for or against Internet gambling as the debate moves forward. Abboud said the coalition will be a "very robust effort," to fight legalized online gambling both at the federal and state levels.
Copies of Satz's and Abboud's presentations, obtained by BuzzFeed, appear below.