Short, Fat Guys Are Overrated — And Other Observations From A Big-Ass Study Of Football Recruiting
We're in that football void between national college signing day and the NFL draft. How many of those high school stars will turn their potential into a pro career?
It's the time of the football year for speculating about potential — while fans of college teams rejoice/mope about their incoming freshman classes after last month's national signing day, NFL obsessives are studying combine results in anticipation of April's draft. But how many of this year's top graduating high school players will be NFL caliber four years from now? With a hat tip to Matt Hinton's annual analysis of recruiting rankings and college success, we compiled a big pile of data on how recruits fared in their efforts to make the pros, tracking all the players ranked by Rivals.com, generally thought of as the most reliable recruiting site, between 2002 and 2009. (Players from later classes aren't yet eligible to play in the league. All FBS players are accounted for in the rankings.) Here's some of what we found.
The Rankings Are, Overall, Reliable. But...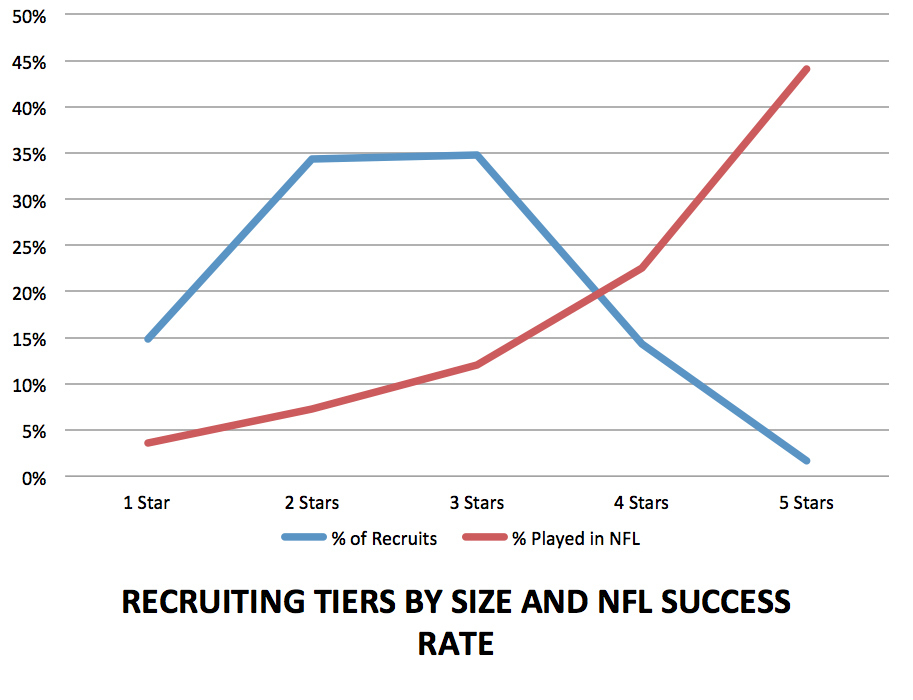 No big surprises here. The chart looks about how you'd expect: a few extremely low- and high-ranked players with a lot of middling prospects in the...middle. And the rankings, taken broadly, perform well — each recruiting tier outperforms those below it. But there's something a little off about the five-stars.
...Five-Star Recruits Aren't That Much Better Than Four-Star Recruits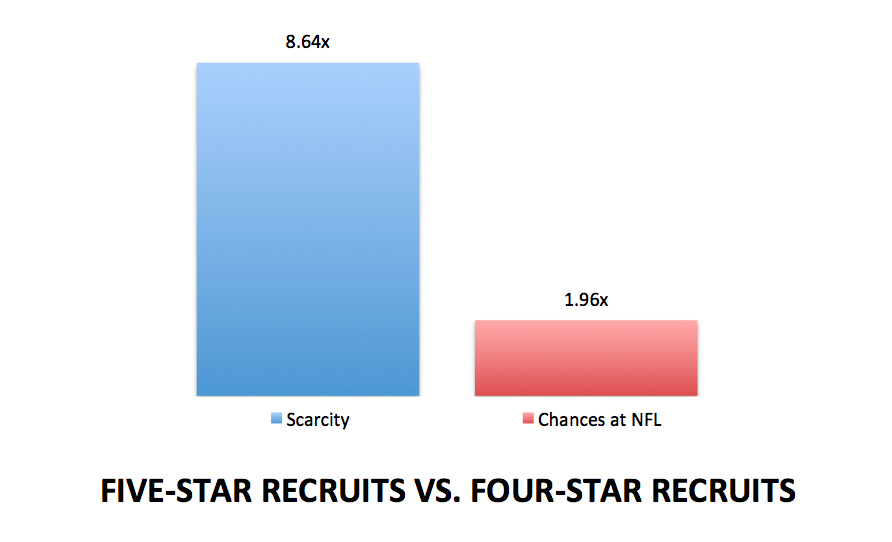 Rivals and the other rating services hand out very few five-star ratings. In our sample, there were 2,410 four-stars and 279 five-stars — more than eight times as many of the former. But, as indicated above, five-star prospects only made the NFL twice as often as four-stars. It doesn't look like there's actually as much difference between four- and five-star recruits as their relative scarcity would imply.
High School Rankings Overstate the Importance of Quarterbacks Relative to Offensive Linemen and Tight Ends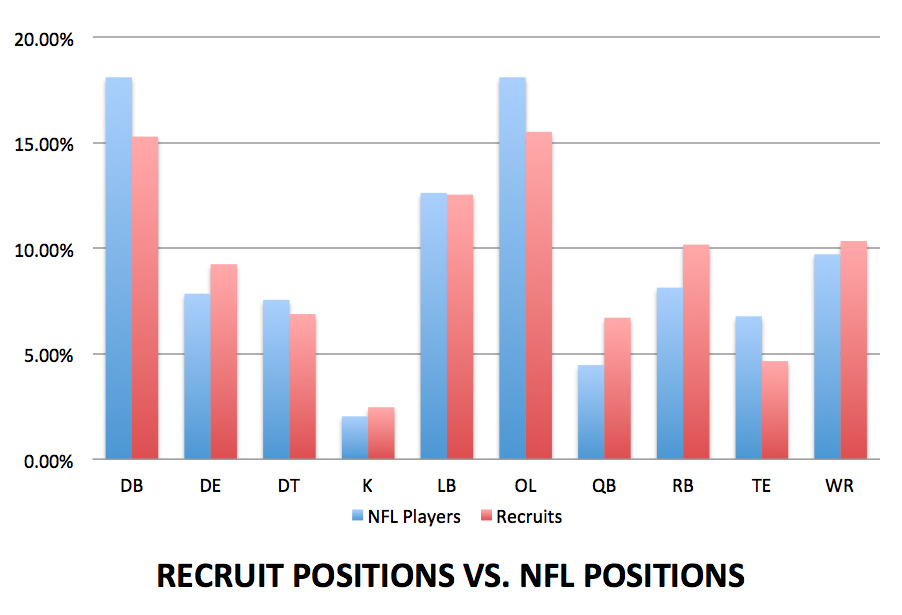 Ideally, the breakdown of rated high school recruits by position would mirror that of the players in the NFL — the stated goal of these recruiting services is not to evaluate how good a player was in high school, but to project how likely he is to make the NFL and identify the pro position he's most suited for. But in our sample 6.7% of Rivals' ranked players were quarterbacks, even though 4.5% of NFL players play QB. At the same time, only 15.5% of ranked Rivals players were offensive linemen, while the O-line positions account for 18.1% of roster spots in the NFL. (Running backs are also overrepresented, while defensive backs and tight ends are underrepresented.)
(We considered that this might actually be the fault of college coaches overstocking certain positions — Rivals gives a rating to anyone an FBS coach gives a scholarship to — but it turns out that the positional skewing of three- to five-star prospects, i.e., the ones Rivals think most highly of, is pretty much the same as the positional skewing in the chart of all players above.)
Some of this is unsurprising — the best athletes at a given high school often play quarterback and running back, switching to a different position (often defensive back) before or during college, so it makes sense that those players would show up disproportionately. Meanwhile, tight ends might be a unique case because...
The NFL Has a Fever and the Only Prescription Is More Tight Ends...
The bars above indicate the portion of four- and five-star recruits (the cream of the crop) at a given position that eventually make an NFL roster. The portion is lower for quarterbacks than it is for any other position; meanwhile, more than 30% of top high school tight end prospects go pro, the highest percentage of any position group. There are only five five-star tight ends in our sample, and all of them — Greg Olsen, Kyle Rudolph, Marcedes Lewis, Martellus Bennet, and Tony Hills Jr. — made the NFL. But less-highly rated tight ends do pretty well too...
...Even The Low-Rated Ones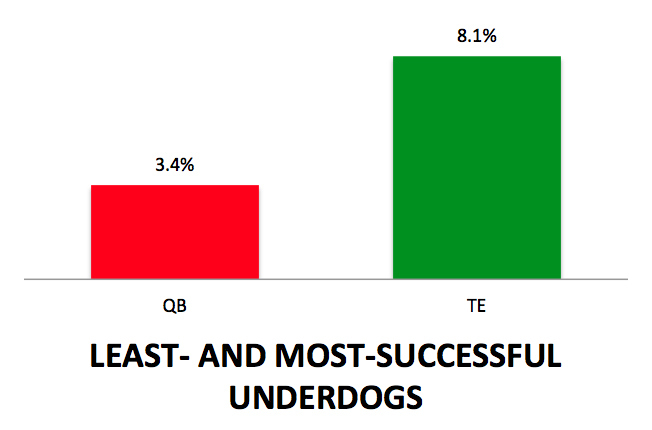 This chart highlights the positions at which one- and two-stars — the biggest underdogs — are least and most likely to make the league. Again, it's tough out there for a quarterback, as fewer low-rated QBs succeed than players at any other position. And again, tight ends are in high demand. Thirty of the 372 one- and two-star tight ends — players who likely didn't receive scholarship offers from any major program — in our sample made the pros.
Why do tight ends succeed so disproportionately? Is it that the recent success of tight end–driven offenses like New England's have caused a run on the position? Is it that the position of tight end naturally attracts hardworking individuals who wash out less than their peers? Is it because Rivals refuses to adequately survey the field of available high school tight ends, their long-standing anti–tight end bias driven by a time that a tight end sold them a used Trans Am that turned out not to have brakes, an engine, or a left turn signal? More research is needed, especially into how someone could buy a car without realizing it didn't have an engine.
Five-Star Defensive Ends Go Bust a Lot

Only 12 of the 31 five-star defensive ends in our sample have made the pros, the worst performance of any group of five-stars. (With the caveat that some, like Alex Okafor, are draft-eligible but haven't yet left school.) (With the secondary caveat that the same is true for every other five-star position group as well.) None have made a Pro Bowl or All-Pro team or won a Super Bowl. With an NFL success rate of 38.71%, five-star defensive ends are barely more reliable than four-star defensive ends, who made the league at a rate of 28.40%, even though they are more than eight times as scarce.
Last But Not Least nor Skinniest: Heavier Prospects Are Overrated if They're Short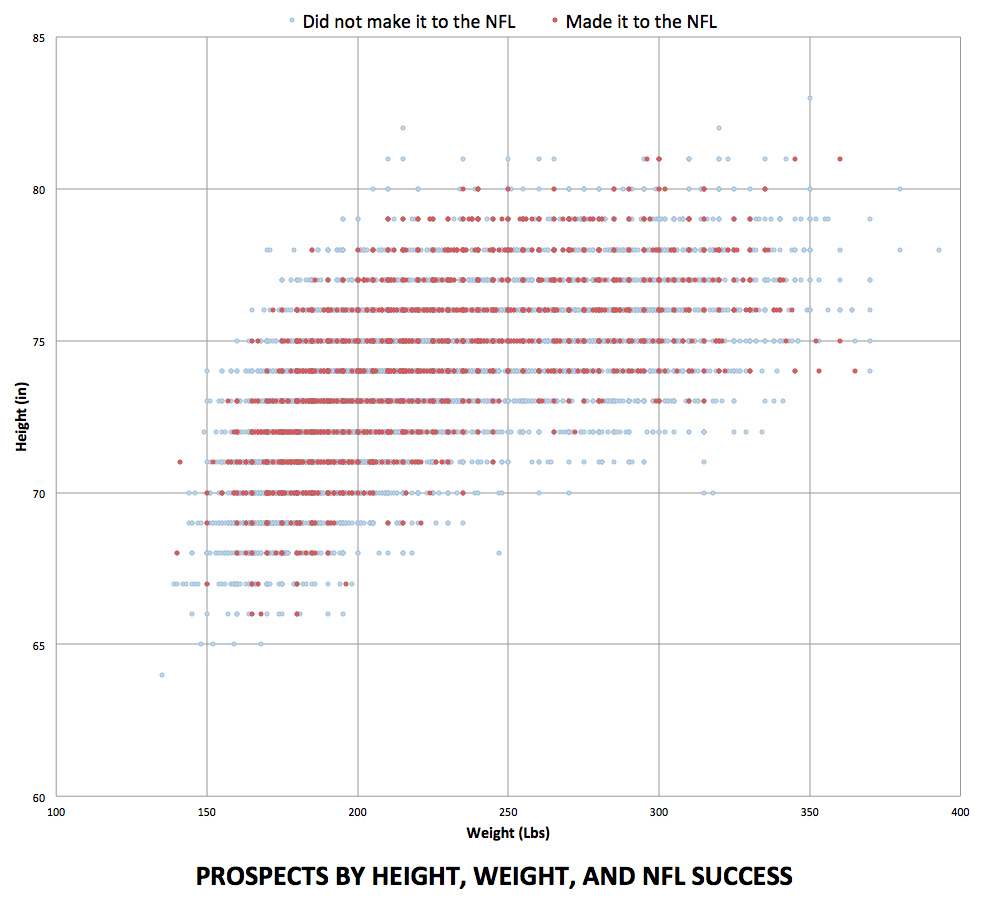 The chart here shows the listed high school height (on the y-axis) and weight (on the x-axis) of every recruit in our sample. The red dots are players that made the pros; the blue dots didn't. On the whole, Rivals was highly accurate in selecting players with the right profile to make the league. The average recruit that made the NFL was 6 feet 2 inches and 221 lbs — and the average recruit that didn't make the NFL was the exact same height and weight.
However! You'll notice that among shorter players, there are a lot of blue dots on the right side of the chart. Which means that the heaviest recruits at a given height didn't make the NFL. The numbers match the visual: The average weight of recruits 6 feet and under who made the NFL is 185.5 lbs, while recruits 6 feet and under who didn't make it all the way weighed an average of 188.1 lbs. Rivals' pool of players under 6 feet skews heavy. Put another way, no player 6 feet or below and heavier than 245 lbs made the NFL in the period we studied — but 30 played FBS football, and Rivals gave eight of them ratings of three stars or better.
So. What did we screw up?This is our first stab at analyzing recruiting rankings (though not our first stab at obsessing about recruiting rankings). Let us know what we might have overlooked in the comments — or via email to bml@buzzfeed.com and jake.levy@buzzfeed.com.