How Different Guns Kill Black, White, And Hispanic Americans Unequally
FBI data show striking contrasts between the race of victims of handgun, shotgun and rifle murders. A BuzzFeed original analysis.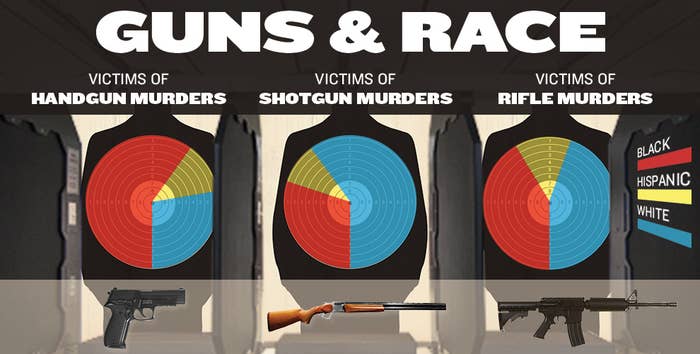 The massacre in Newtown, Connecticut. last month set off a national debate over regulating military-style rifles and other guns.
But not all Americans fall victim to gun violence equally — or to the same guns. African-Americans are far more likely to be victims of gun murders than any other group — they make up 57% of all gun murders, according to FBI figures analyzed by BuzzFeed. Handgun victims, over all, were 60% black and 27% white.
And handguns are by far the most common murder weapon, killing 89% of all gun murder victims in the country.
Other guns take a different set of victims. Shotgun victims showed the opposite pattern: 30% black and 60% white.
And rifles, the weapons that are currently the focus of attention from media and lawmakers, victimized white and black people nearly equally.
This data was pulled from the 2010 FBI Uniform Crime Report.