Sylvester Stallone Comments On Hollywood's Diversity Problem
"I really do owe everything to these two young men, for sure," he said of Coogler and Creed star Michael B. Jordan at the Oscar nominees luncheon in Beverly Hills.
BEVERLY HILLS, California — Nearly 40 years ago, Sylvester Stallone earned his first Oscar nomination for his performance as Rocky Balboa. And this year, he earned another for reprising the role in the 2015 reboot of the Rocky franchise, Creed, which was directed by Ryan Coogler and co-starred Michael B. Jordan.
But, according to the actor, he wasn't sure how to celebrate. His nod for Best Supporting Actor was the only Academy Award nomination Creed earned. As the conversation surrounding the lack of diversity among this year's Academy Awards nominees intensified and some actors and directors proclaimed they'd boycott the event, Stallone turned to Coogler for guidance.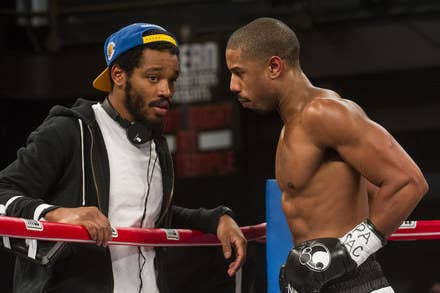 "I said, 'Ryan, how do you want to handle this? Because I really believe that you are responsible for me being here. Michael Jordan, every time I look in his eyes as an actor, he's making me better. I think he should've been given a lot more respect, a lot more attention,'" Stallone recalled at the Oscar nominees luncheon on Monday, describing his hesitance to commit to attending the Academy Awards ceremony. "He goes, 'Sly, just go there. Try to represent the film. ... We feel you deserve it.'"
But Stallone said he was still unsure. "I said, 'If you want me to go, I'll go. If you don't, I won't,'" Stallone remembered. "And he goes, 'No, we want you to go.' That's the kind of guy he is. 'We want you to go and respect us and stand up for the film.'"
Stallone certainly represented at the luncheon. When asked about his thoughts regarding the lack of racial diversity among the nominees and in Hollywood at large, Stallone said: "Certainly, there's the universal law of existence: You either adapt or cease to exist. So I think adaptation and evolving is definitely necessary. ... I do believe that things will change in just a matter of time. Eventually, all talent will rise to the top, it's just a matter of getting a new paradigm, a new way of thinking. It's gonna happen, but I really do owe everything to these two young men, for sure."