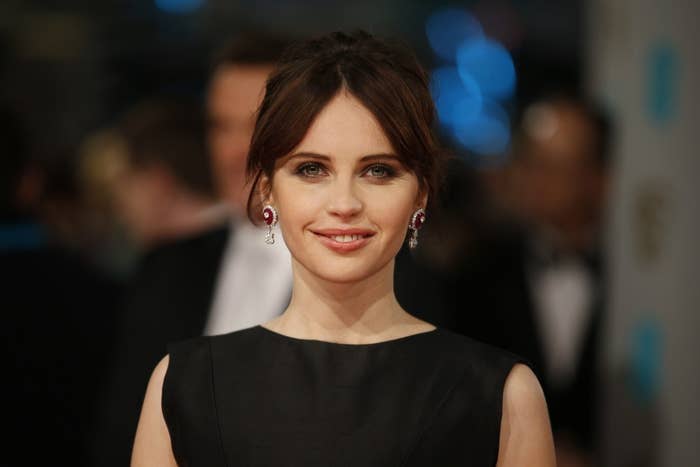 Lots of exciting Star Wars-related news emerged on Thursday during Disney's annual shareholders meeting in San Francisco: The franchise's first stand-alone movie officially has a title, star, director, writer, and release date, and Star Wars: Episode VIII has also been dated for May 26, 2017, the 40th anniversary of the first Star Wars movie's debut.
The stand-alone feature will be called Rogue One and Oscar nominee Felicity Jones (The Theory of Everything) is the first actor officially cast in the film. The title, however, suggests the movie could be about Wedge Antilles, the leader of the Rebel Squadron in the original Star Wars trilogy (played by Denis Lawson), whose call-sign was Rogue One. Then again, according to U.K. outlet The Courier, Lawson has said that he declined to play Antilles in J.J. Abrams' upcoming sequel Star Wars: The Force Awakens (formerly Episode VII), which opens on Dec. 18, 2015.
A rep for Disney did not immediately reply to BuzzFeed News' request for clarification regarding Rogue One's central story.
Godzilla's Gareth Edwards has signed on to direct Rogue One and Oscar nominee Chris Weitz (Cinderella and About a Boy) will write the screenplay. Industrial Light & Magic chief John Knoll, who came up with the story for Rogue One, will executive-produce along with Simon Emanuel and Jason McGatlin; Kathleen Kennedy and Tony To will produce; and John Swartz will co-produce.
The spin-off starts shooting in London in the summer with the goal of a Dec. 16, 2016, release date.
Meanwhile, Disney also confirmed that Looper's Rian Johnson will write and direct Star Wars: Episode VIII, after the news of Johnson's involvement first broke in June 2014.