We May Find Out Amy Sherman-Palladino's Final Four Words For "Gilmore Girls"
"If it ever happened, I promise you we'd do it correctly," creator Amy Sherman-Palladino said.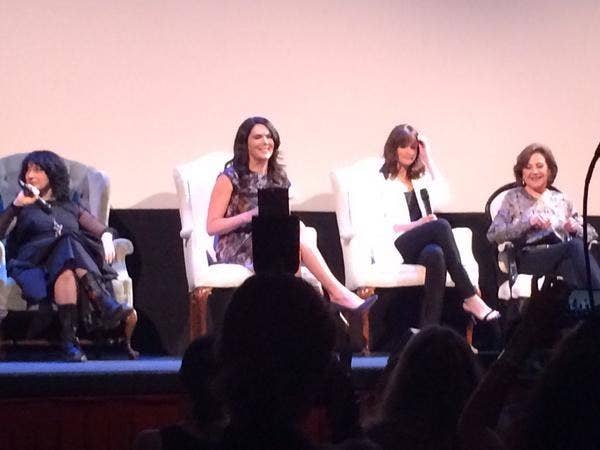 AUSTIN, Texas — Gilmore Girls creator Amy Sherman-Palladino broke some hearts when asked about a continuation of her beloved series at the ATX Television Festival on Saturday.
"I'm sorry, there's nothing in the works at the moment," she told the audience at the Gilmore Girls reunion panel. "But here's the good thing," she added after the moans died down. "Nobody here hates each other. That's very important."
Two weeks ago, Scott Patterson, who played Luke Danes on The WB's hit series, gave fans some false hope, saying there were talks going on about a Gilmore Girls movie. "I can't really go into any details, but there is some activity," he said during the Gilmore Guys podcast. "I'm hopeful, and I'm in. I think it would be a big event, and I think it would be a great fan celebration."
But at the Gilmore Girls reunion panel on Saturday night, Patterson had to eat his words. "It springs more from hopefulness," he said of his "stock answer" to the question he gets asked most often. "It's like a love letter back to the fans because you guys made this show... I think it's kinda time, don't you?"
Sadly though, not quite yet. "It would have to be the right everything — the right format, the right timing, the right way," Sherman-Palladino said. "It would have to be honored in a certain way and I think that if you look around, we would all jump in and do it," she added, getting nods from the cast.
Clearly, she's thinking about it. Sherman-Palladino has long said she knew what four word would end the series, but unfortunately, she didn't work on Gilmore Girls' final seventh season, so we never got to hear those words.
And she wasn't willing to spill them at the reunion panel either. "I'm holding onto it still 'cause in my mind, I don't know, who knows..." she said, trailing off.
The only person who knows the four words are her husband, Gilmore Girls executive producer/writer Dan Palladino. Even the Gilmore women themselves — Alexis Bledel (Rory) and Lauren Graham (Lorelai) — don't know them. But Graham hopes some day, she will.
"Unless either I am saying them or I'm listening to someone saying them who's in the show, the way it was intended…" she said before applause drowned out her sentence.
Eventually, Sherman-Palladino put the topic to rest, telling fans, "If it ever happened, I promise you we'd do it correctly."