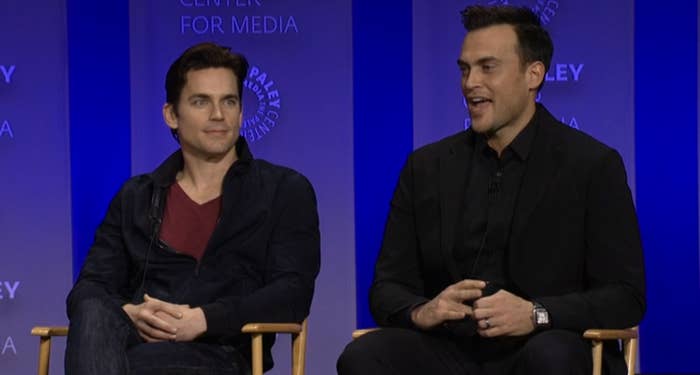 It's been less than a month since it was announced that Lady Gaga would star in American Horror Story's fifth season, Hotel — and on Sunday night, we found out she'd be joined by White Collar star Matt Bomer.
Bomer, who had a single-episode stint on Season 4's Freak Show, surprised fans at the American Horror Story PaleyFest panel in Los Angeles on Sunday to make the announcement. "I love collaborating with Ryan Murphy. We've done it quite of few times," said Bomer, who also starred in Murphy's HBO adaptation of The Normal Heart, and on Glee Season 3 as Blaine's (Darren Criss) older brother Cooper. "He texted me during [Freak Show] and said, 'Hey. You have first right of refusal. There's a really brief role on the show, but it's kind of out there. Will you come do it?' And I said, 'Yes.' I came down to New Orleans... And when you showed up on set, it was like arriving at a community and it felt like this world where there really are no bounds, which is very rare to experience as an actor, especially on television. So, I had the time of my life and told Ryan that, and he said, 'Great. Would you come do it next season?' And I said, 'Hell yeah."
Bomer would not confirm or deny whether his and Gaga's characters are romantically linked. In fact, he has yet to meet her. "Her name is Stephanie, I believe," he said with a smile. "I don't even know, do I call her Gaga?"
And though he doesn't exactly know what's in store for him on AHS: Hotel, he is "down" for whatever. "I only got to dip my toes in the freaky-deaky nature," he said. "I'm ready to go in the deep end, baby."
After Bomer spoke at the PaleyFest panel, Cheyenne Jackson also emerged to announce he's joining Hotel. Jackson — who also previously worked with Murphy on Season 2 of Glee, where he played Dustin Goolsby, the coach of New Directions' rival group Vocal Adrenaline — did not know any details about his character, but said Murphy first spoke with him about joining the cast six months ago. "It's my absolute favorite show. It's the best acting on television. It's the most exciting television," Jackson said. "I'm absolutely nervous, but really excited. Like Matt, I'm ready to jump in."
Production on AHS: Hotel's 13-episode season will begin in late summer and will bring the franchise back to Los Angeles. The previous two seasons — Coven and Freak Show — were shot in New Orleans.
No other cast members for AHS: Hotel have been confirmed, but sadly on Sunday night, it was also revealed that Jessica Lange will not be returning.
On Tuesday, Murphy announced via Twitter that Wes Bentley, who played the extra-faced Edward Mordrake on AHS: Freak Show, will be a series regular on AHS: Hotel.
Sarah Paulson is the latest American Horror Story actor to join Hotel. According to a tweet from Murphy, she's playing "the baddest bad girl of them all."
Angela Bassett has just signed on to return to the franchise. Murphy Tweeted, "In October, Angela Bassett will be making lots of trouble with Lady Gaga in the ballroom and elsewhere."
New Girl star Max Greenfield will be checking in — "but not checking out" — of American Horror Story: Hotel, Murphy Tweeted.
American Horror Story: Hotel will debut on FX in October.