Lin-Manuel Miranda Got Emotional Paying Tribute To The Orlando Shooting Victims At The Tonys
"Love cannot be killed or swept aside."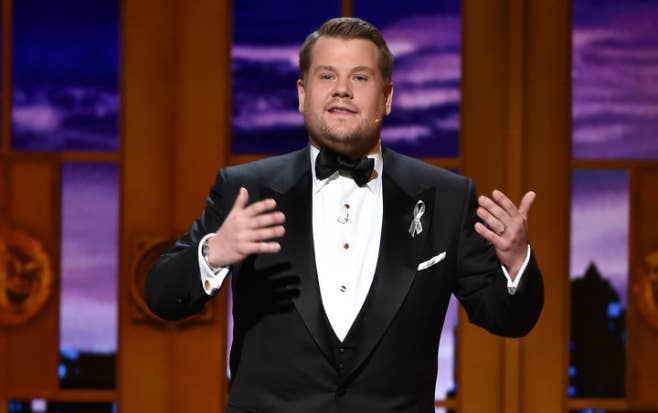 The 2016 Tony Awards were held at New York City's Beacon Theater on Sunday night, less than 24 hours after a deadly shooting at a gay nightclub in Orlando claimed the lives of 50 people and left more than 50 more injured.
The Late Late Show host James Corden, the evening's host, took the stage at the start of the ceremony and paid tribute to the victims of the shooting. "All around the world, people are trying to come to terms with the horrific events that took place in Orlando this morning," he said. "On behalf of the whole theater community and every person in this room, our hearts go out to all of those affected by this atrocity. All we can say is you are not on your own right now. Your tragedy is our tragedy. Theater is a place where every race, creed, sexuality and gender is equal, is embraced, and is loved. Hate will never win. Together, we have to make sure of that. Tonight's show stands as a symbol and celebration of that principle."
Later at the 70th annual Tony Awards, Hamilton creator and star Lin Manuel-Miranda accepted the award for Best Original Score and said in a sonnet, "When senseless acts of tragedy remind us that nothing here is promised — not one day."
He continued, as tears filled his eyes: "This show is proof that history remembers. We live through times when hate and fear seem stronger. We rise and fall and light from dying embers, remembrances that hope and love last longer. And love is love is love is love is love cannot be killed or swept aside."
Jessica Lange, who won the Tony for Best Leading Actress in a Play, started off her speech by saying, "It fills me with such happiness even on a day as sad as this."
She was followed by Frank Langella, who won Best Leading Actor in a Play. Concluding his speech, the actor said, "I found some words that I think will mean more to you than a litany of names: 'When something bad happens, we have three choices: We let it define us, we let it destroy us, or we let it strengthen us.' Today in Orlando, we had a hideous dose of reality, and I urge you, Orlando, to be strong, because I'm standing in a room full of the most generous human beings on Earth, and we will be with you every step of the way."
And before she announced Hamilton as the winner of Best Musical, the last award of the night, Barbra Streisand said, "Tonight our joy is tinged with sorrow, but we're here to celebrate Broadway."