After two months (and seven episodes), Joan Rivers' Fashion Police successor, Kathy Griffin, announced on Twitter that she's leaving the series behind.
In a lengthy statement, Griffin said her "style does not fit with the creative direction of the show & now it's time to move on."
"Let me introduce myself. Hi, my name is Kathy Griffin. I'm 54, have written and starred in 23 stand-up comedy specials, I have two EMMYS, a Grammy, a NYTimes #1 Bestseller, decades of activism for the #LGBT community, have performed for the troops in Afghanistan and Iraq, among many other things. When I chose to step into the shoes of my beloved friend Joan Rivers at Fashion Police, I was thrilled to continue her legacy as a woman being brash and eccentric on television. I am a freedom-loving female and gay rights activist who loves to find the funny in all people, attitudes, beliefs, and appearances, but only when the context permits intelligent humor. I thought that I could bring my brand of humor to Fashion Police so that beautiful people in beautiful dresses could be teased when appropriate. My brand of humor, while unrepentant and unafraid, is all about CONTEXT. There is plenty to make fun of in pop culture without bringing people's bodies into it. Again people…context! Listen, I'm no saint — I'm a feminist AND a Gurrrrl who loves an offensive joke or a well-timed barb and you will find plenty in my repertoire. But I do not want to use my comedy to contribute to a culture of unattainable perfectionism and intolerance towards difference. I want to help women, gay kids, people of color and anyone who feels underrepresented to have a voice and a LAUGH! That has been my platform for decades and my body of work speaks for itself. After 7 epodes of Fashion Police, I discovered that my style does not fit with the creative direction of the show & now it's time to move on. I wish E! and the E! only the best and I hope to continue to make you all laugh performing live or on television where I can be smart, irreverent, unrepentant and unafraid in an observational way that is candid, honest and justified. Thank you to my fans for taking the ride with me. See you at the gay bars…and the MF-ing KENNEDY CENTER Saturday, June 20 and everywhere else! Tickets on sale at KathyGriffin.com. How's that for #unapologetic?"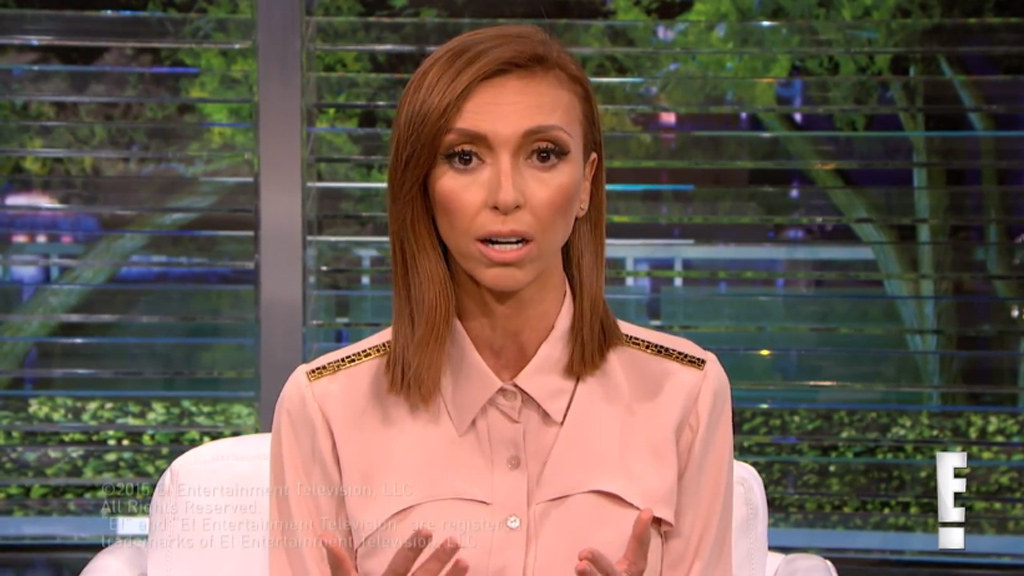 Yesterday, in an interview with, Chicago Sun-Times' Splash magazine, Griffin said of Rancic's pre-written comment, "I wouldn't have said the joke in the first place." Another quote she gave the publication also echoes her Twitter statement:
"Since the announcement was made that the show was going to continue — very soon after Joan's passing, I might add — the speculation over who would take over Joan's seat became a very hot topic in the Hollywood journalism world. Little did I know, after a lot of soul searching and the network begging me to take the position, the overwhelming response to me personally was quite simply, 'You're no Joan Rivers,' 'I'll always miss Joan Rivers,' 'You'll never be able to fill her shoes,' 'Who do you think you are trying to be? Joan Rivers?' Well, no shit. Joan Rivers is no longer with us. I miss her far more than any angry tweeter! I've been dealing with the unique challenges that come with taking over a very specific role when someone has passed away. I have done/will do my best to fill my own shoes. I'm no spring chicken, kids — I have a body of work myself that I stand by. To my knowledge, the current Fashion Police team is, for the most part, the team that worked for Joan all those years. You cannot put a square peg in a round hole. My approach to comedy may seem too nuanced, and this may be too inside baseball for the viewers to give a crap about. But as it is my living, passion, and vocation, here's the best I can give you: I will make my Miley Cyrus jokes as long as people want to laugh at them. But there is a chasm of difference between making a joke about Miley Cyrus wearing duct tape over her nipples out in public (which I think is totally fair game) and simply looking at a photo of her on a red carpet and saying she is ugly or a bad singer or pathetic or something like that."
(Read the full interview here.)
E! confirmed Griffin's departure to BuzzFeed News with the below statement:
"We wish her all the best and are grateful for her time on the show, as well as the many laughs that she gave us all. Fashion Police will return, as scheduled, on Monday, March 30 at 9 p.m. with our talented co-Hosts Giuliana Rancic and Brad Goreski and executive producer Melissa Rivers. No further information is available at this time."
BuzzFeed News has obtained the text of an email Griffin sent out to undisclosed recipients after she tweeted her statement, asking for support on Twitter.
Here it is below:
Date: March 12, 2015
To: Undisclosed recipients: ;
Subject: I Need You!
Here's why I need you...
I went live with the following statement on my social media platforms this evening. I'm reaching out to you because I think you will understand why I have made this decision and I am asking for your support via Twitter, etc. IF you are comfortable. I admire you & your work and hope that you can stand by me. Once again, IF you are comfortable. Oh, and I am nervous and scared about this...in case you're wondering :wink:
Thanks!
XXOO,
Kathy Griffin