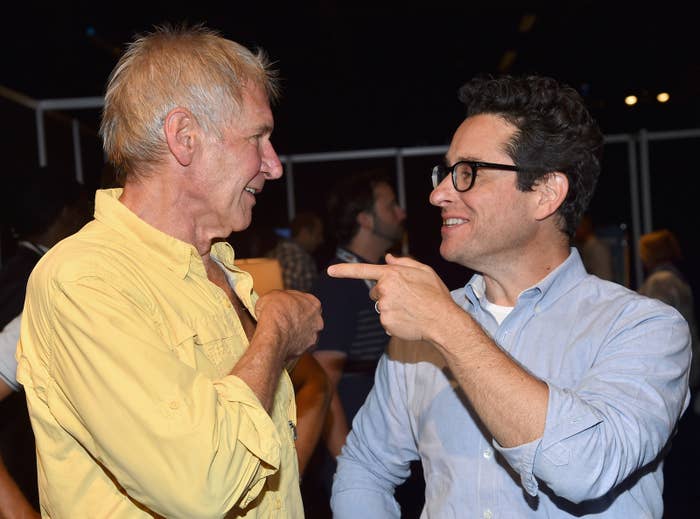 When Harrison Ford broke his leg on set of Star Wars: The Force Awakens, director J.J. Abrams was forced to halt production for nearly three weeks while the actor healed. But some good did come from that "very scary day" for Abrams' new additions Rey (Daisy Ridley) and Finn (John Boyega), the director revealed during a Tribeca Film Festival interview with Chris Rock on Friday.
"I was on the set of the Millennium Falcon, and we started working with Rey and Finn; the first time we did it, it didn't work at all as we wrote it. They were much more contentious," Abrams said. "I didn't direct it right. It was set up all wrong. And when Harrison Ford got injured, which was a very scary day, we ended up having a few weeks off. And it was during that time that I really got to look at what we had done and rethink it, and then rewrite quite a bit of that relationship. So when we went back to work again, we actually just reshot those scenes from the ground up, and it was an amazingly helpful thing to get these two characters to where they needed to be."

Abrams also said that in the process of making The Force Awakens, he discovered "that just because you're doing a Star Wars movie, nothing changes in terms of the fundamentals."
"The establishing shots and the big, wide shots, they're important, they're critical, they're great," he continued. "But the stuff that really matters are the looks, are the things that aren't said, are the things the audience can infer based on what's being alluded to."