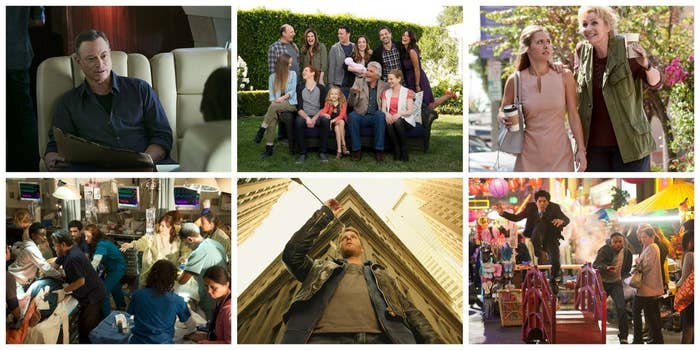 CBS, the most-watched network, doesn't need to make any drastic changes to its steady lineup. NBC will finish first among 18- to 49-year-olds this season, but that is solely because NBC broadcast this year's Super Bowl.
In the fall, CBS's schedule is once again revolving around football, which was "a great boon for us this year," said Kelly Kahl, the network's head of scheduling, at CBS's annuval breakfast with press where its fall schedule is revealed. With football broadcasts taking over Thursday nights, the network has a pre- and post-football schedule established, as it did during this current season.
During the presentation, Kahl and CBS CEO Les Moonves insisted that the network is not as geriatric as the public — and its rivals — perceives it to be. Moonves noted that CBS is bringing back five of its 2014-2015 freshman series as a sign of its youth, while Kahl said, "We have more Top 20 or Top 30 shows than ABC, NBC, or Fox ... We are not old. We're actually fairly dominant."
Speaking of dominance, the non-football jewel in CBS's crown, The Big Bang Theory, will kick things off on Monday nights at 8 p.m. again during the football season, serving as a lead-in for the new family comedy Life in Pieces. "Within a record amount of time, that was cast. Everybody responded to it," Nina Tassler, the chairman of CBS Entertainment, said at the press event. "It is a who's who of wonderful actors. It's a dream cast." After CBS's football run is over, likely in early November, Supergirl will take over for those two comedies, which will move to Thursdays and kick off CBS's comedy block. "She was the hero we could root for," Tassler said of Supergirl. "We've been given license and latitude to make some adjustments." CBS's sophomore drama, Scorpion will air at 9 p.m. on Mondays, followed by NCIS: Los Angeles.
Tuesdays will continue to be centered on NCIS and NCIS: New Orleans with the new series Limitless following them at 10 p.m. Wednesdays also remain the same with Survivor — which Kahl called "the miracle show, the marathon show" because "it just keeps going" — and Criminal Minds, but this season, Code Black will follow at 10 p.m.. "Leslie and I, when we were at Warner Bros., were very involved in the development and production of E.R.," Tassler said of the new drama. "We realized this had all of the feel that E.R. had," she said, calling Code Black "the future of the medical show."
The network will keep comedies on Thursdays after football ends. But with Two and a Half Men finishing its run and The Millers' and The McCarthys' cancellations, the night looks a bit different. Big Bang will kick things off, followed by Life in Pieces, Mom at 9 p.m., and the new Jane Lynch comedy Angel from Hell at 9:30 p.m. with Elementary capping off the night at 10 p.m.
Fridays, Saturdays, and Sundays be exactly the same, except that CSI will come to an end with a big two-hour series finale on Sept. 27 that will see some former favorites, like William Petersen and Marg Helgenberger, return. "We actually get a little misty-eyed about this one," Tassler said of the show ending. "It was one of the shows that really helped reverse our fortunes… So I'm very happy we can send it off in the right way," Kahl added. After that send-off, CSI: Cyber will take its place, now co-starring Ted Danson alongside Patricia Arquette.
And there is more changings of the guards. The 2015-2016 season will also feature the premiere of The Late Show With Stephen Colbert on Tuesday, Sept. 8. "This is an event that's going to go on for months," Tassler said. CBS also has the Super Bowl this season, which will air on Feb. 7. Time will tell which series gets to follow it.
A few other notable details:
—Superman will a part of Supergirl. "As the rules are very strict in the DC universe, her cousin, is also known as Superman. He's referenced and he is part of her universe," Tassler said.
—She and Kahl aren't worried about Supergirl going up against Fox's DC Comics-based series Gotham. "I think we see this as a must broader show than just a genre show, just a superhero show," Kahl said. "I would hope this is a show that brings generations together."
—Bradley Cooper, who executive produced Limitless, which is based on the 2011 movie he starred in, will also pop up in it. "He appears in the pilot and will recur, you know, subject to his availability, in the series," Tassler said.
—When asked why CBS doesn't have a show featuring a cast of largely people of color, Tassler, who is Latina, said, "I could absolutely see it happening and of course, look forward to that ... It's always a goal of ours." So why hasn't it happened yet? "There's diversity across the entire schedule," she added. "We're just waiting for that show to come into the door for us."
—This could be the end of Person of Interest, which is currently not on the schedule. "We're having those conversations with the team right now... We have to see," Tassler said. "We don't know yet if it's going to be the end or not, but if it is, we'll have a great ending."
—Mike & Molly, The Odd Couple, 2 Broke Girls, and Undercover Boss will also be scheduled in midseason.
—But this is not the end of The Good Wife. "As long as [creators Robert and Michelle King] want to continue producing and writing, we love having that show on our air," Tassler said of the series, which lost one of its stars, Josh Charles, last season, and then another, Archie Panjabi, this season.
The full schedule is at the bottom of the story, and the new shows are now arranged in night-of-the-week order.
Life in Pieces (Mondays at 8:30 p.m. before moving to Thursdays at 8:30 p.m. after football)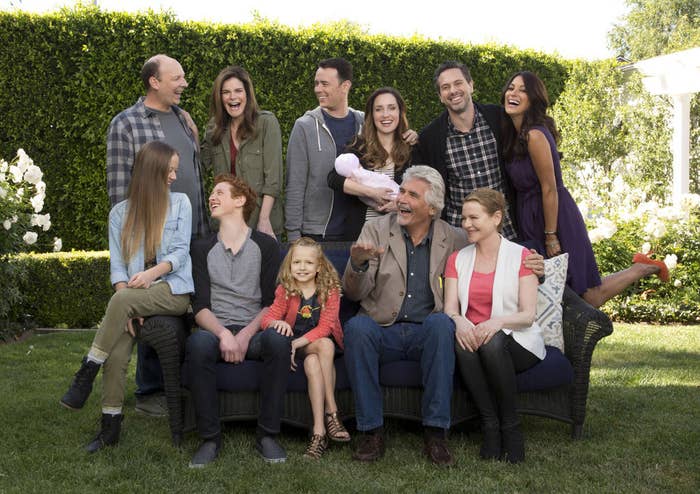 Limitless (Tuesdays at 10 p.m.)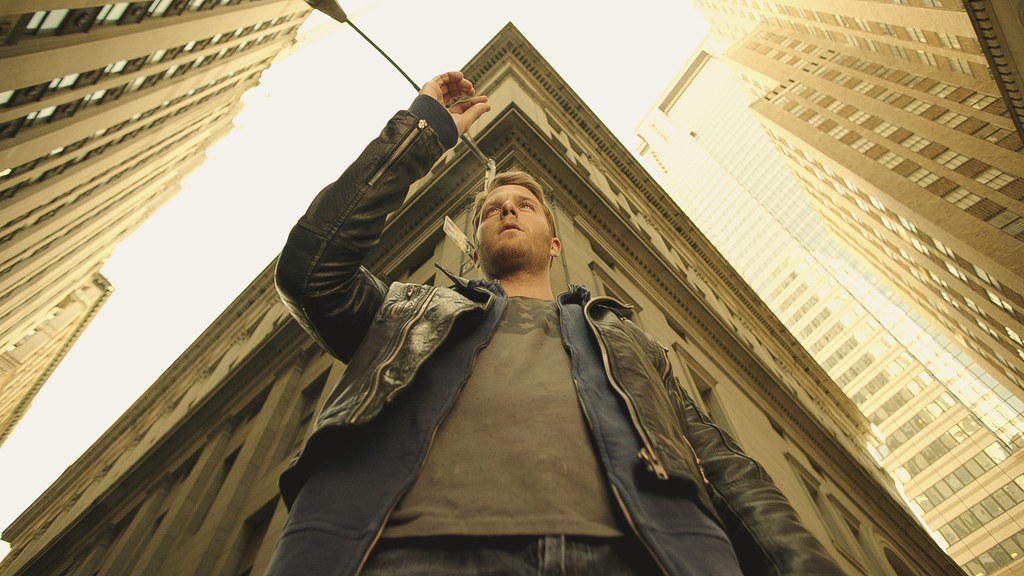 Code Black (Wednesdays at 10 p.m.)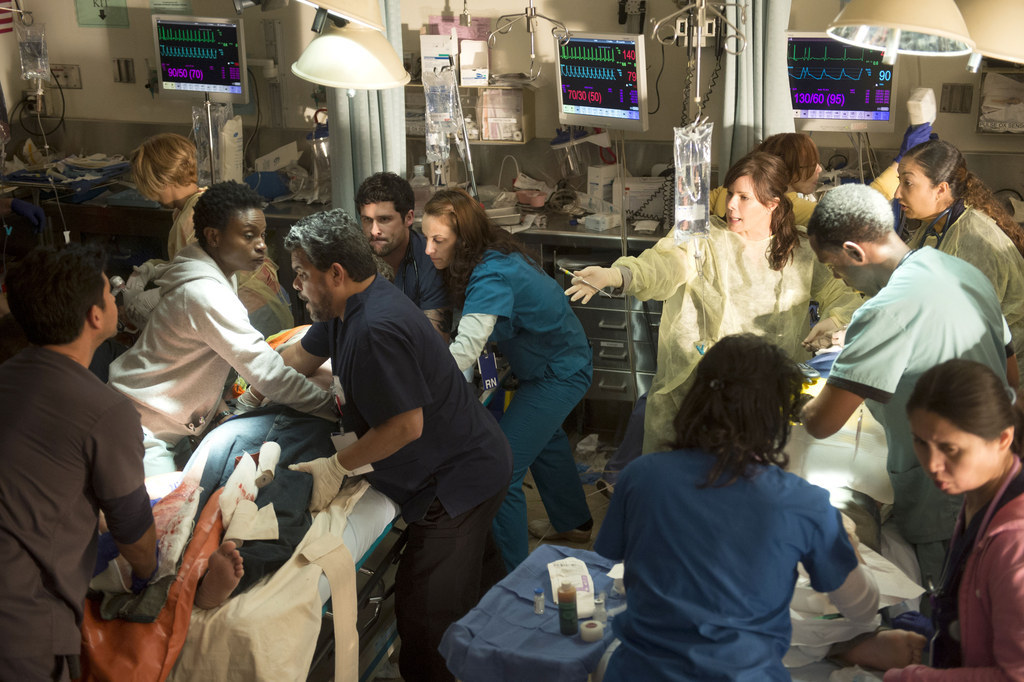 Supergirl (Mondays at 9 p.m., debuting after football ends)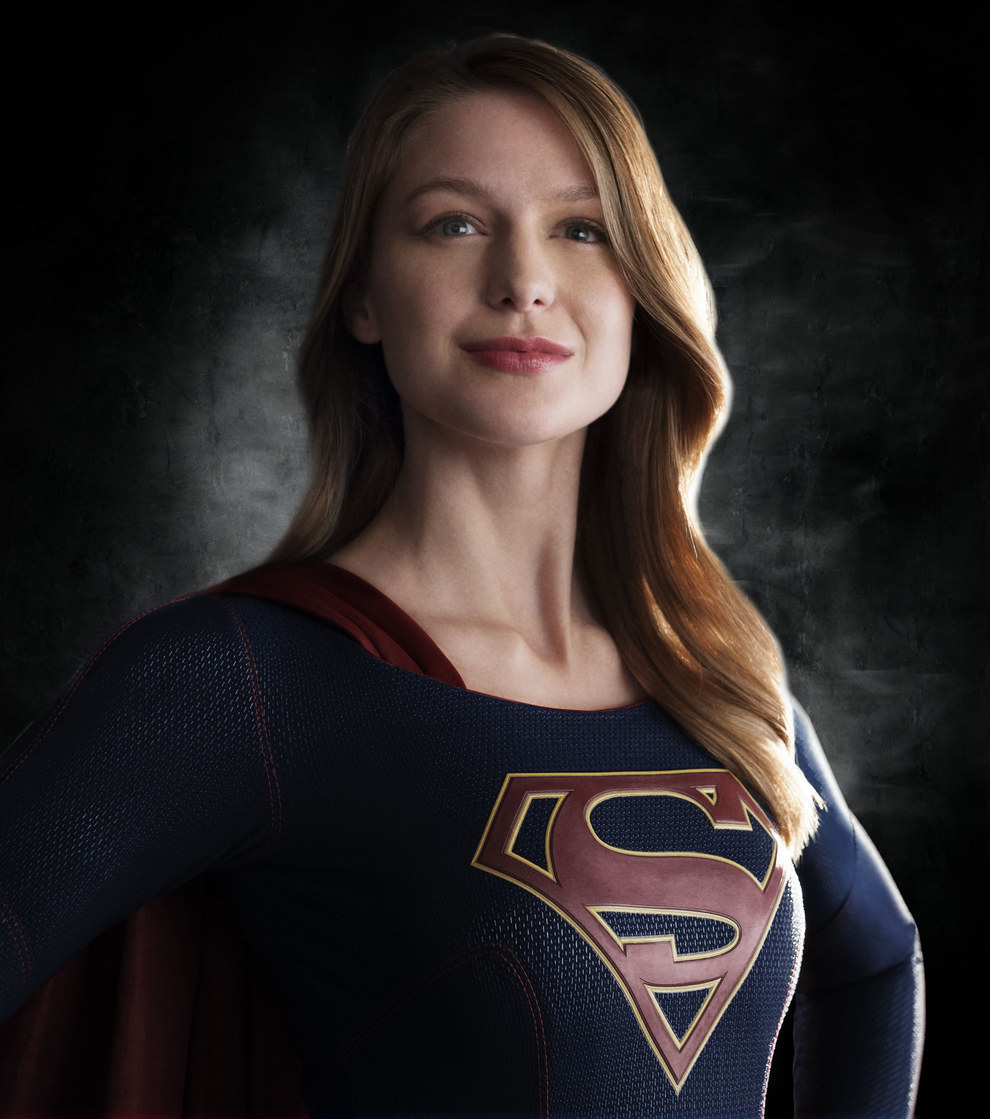 Angel From Hell (Thursdays at 9:30 p.m., debuting after football ends)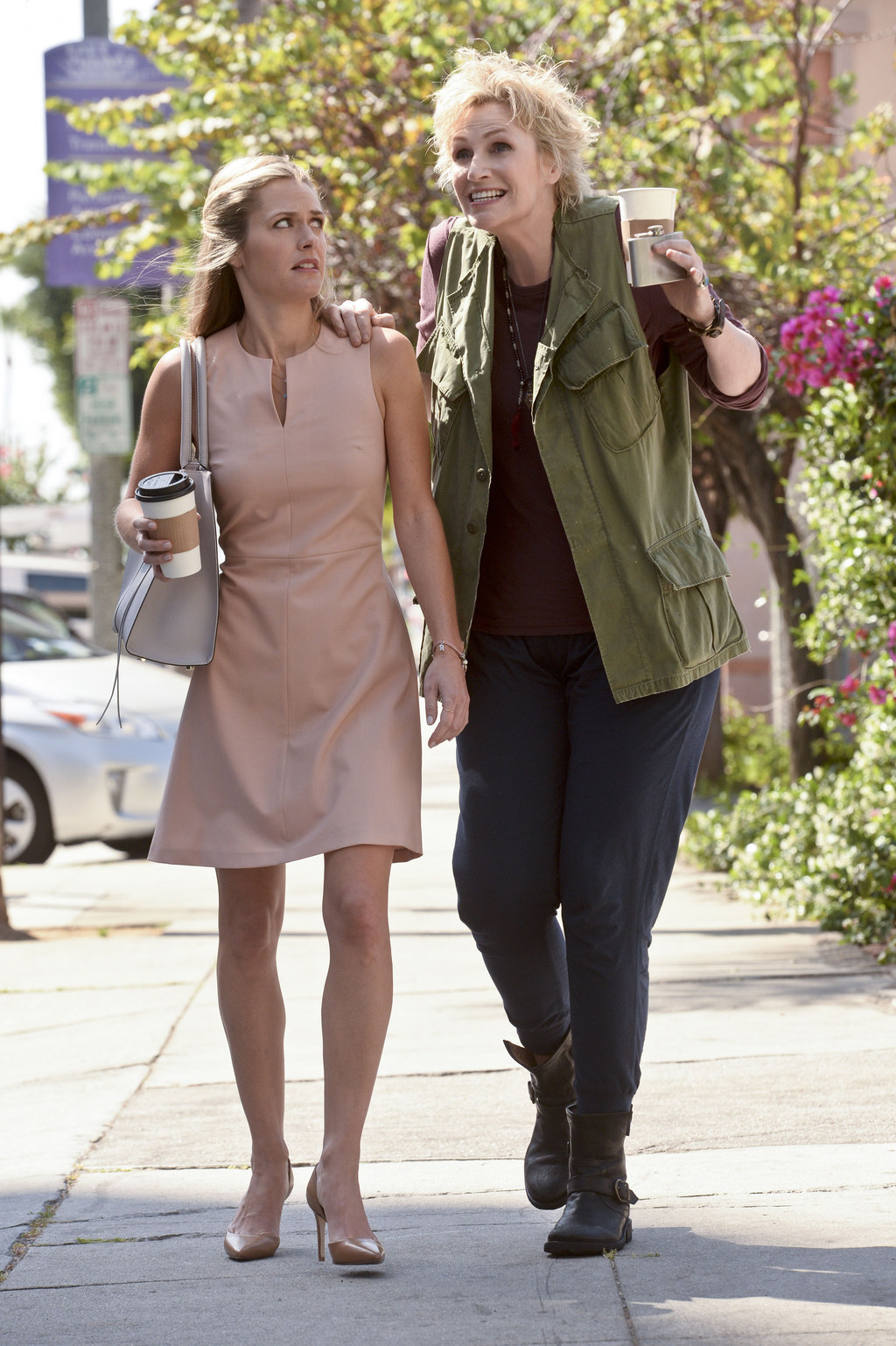 Rush Hour (Midseason TBD)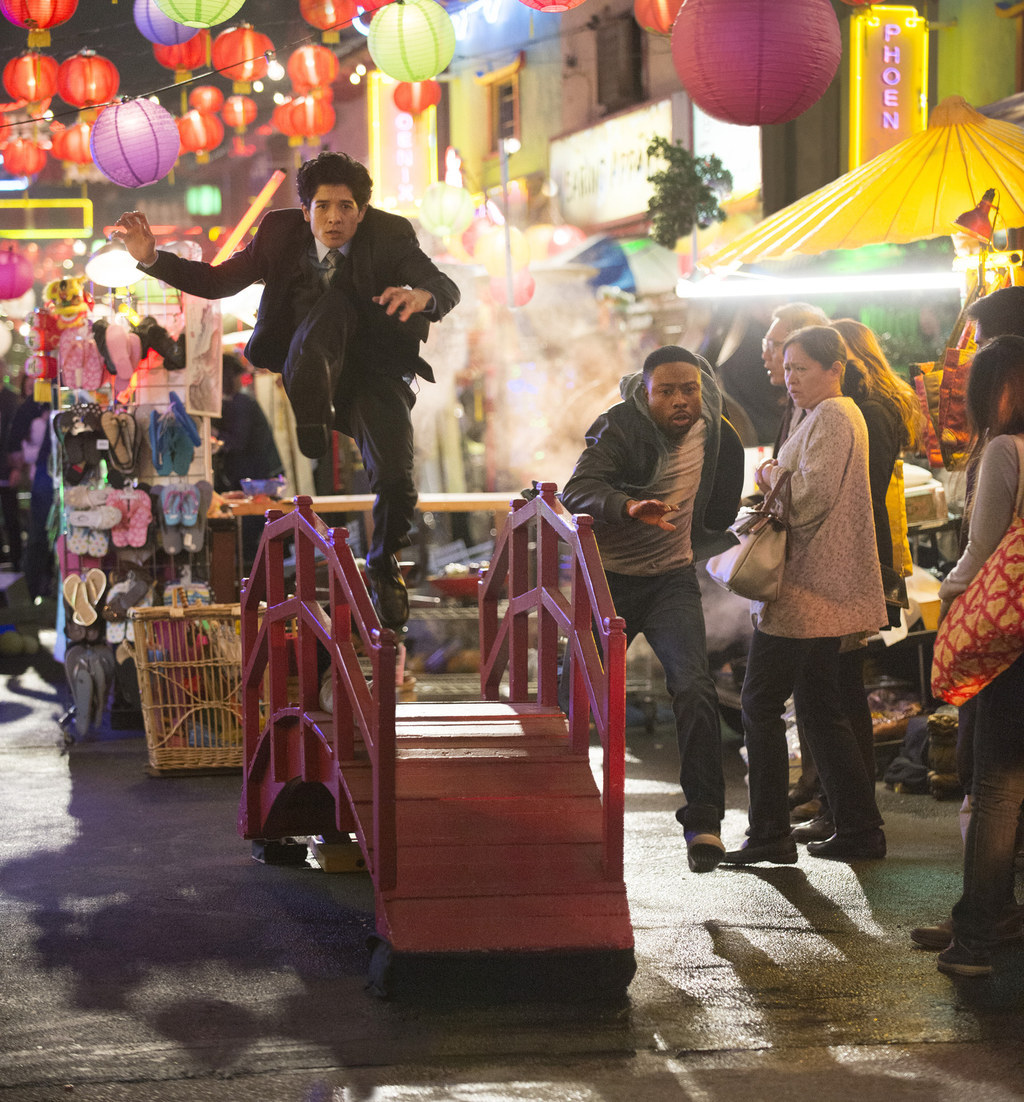 Criminal Minds: Beyond Borders (Midseason TBD)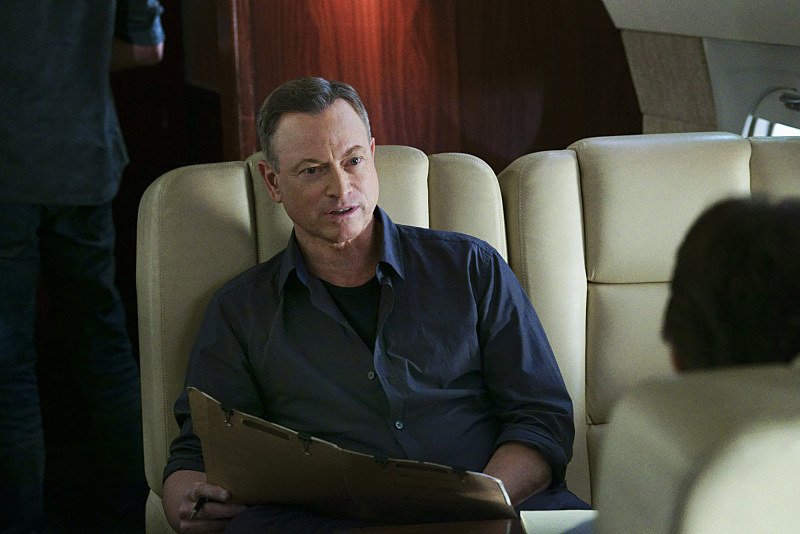 Monday
The Big Bang Theory 8 p.m.
*Life in Pieces 8:30 p.m.
Scorpion 9 p.m.
NCIS: Los Angeles 10 p.m.
(Supergirl will air at 8 p.m. after football)
Tuesday
NCIS 8 p.m.
NCIS: New Orleans 9 p.m.
*Limitless 10 p.m.
Wednesday
Survivor 8 p.m.
Criminal Minds 9 p.m.
*Code Black 10 p.m.
Thursday
NFL Thursday Night Football 8 p.m. - 11 pm.
(Replacing football on Thursdays will be:
The Big Bang Theory 8 p.m.
*Life in Pieces 8:30 p.m.
Mom 9 p.m.
*Angel from Hell 9:30 p.m.
Elementary 10 p.m.)
Friday
The Amazing Race 8 p.m.
Hawaii Five-0 9 p.m.
Blue Bloods 10 p.m.
Saturday
Crimetime Saturday 8 p.m.
48 Hours 10 p.m.
Sunday
Madam Secretary 8 p.m.
The Good Wife 9 p.m.
CSI: Cyber 10 p.m.
Note: In mid-May every year, the five television broadcast networks — NBC, CBS, ABC, Fox, and The CW — present their new shows and upcoming schedules to advertisers at events called "the upfronts." That's why you see an onslaught of new programming in May, as well as the cancellation of current shows. This post will be continually updated.