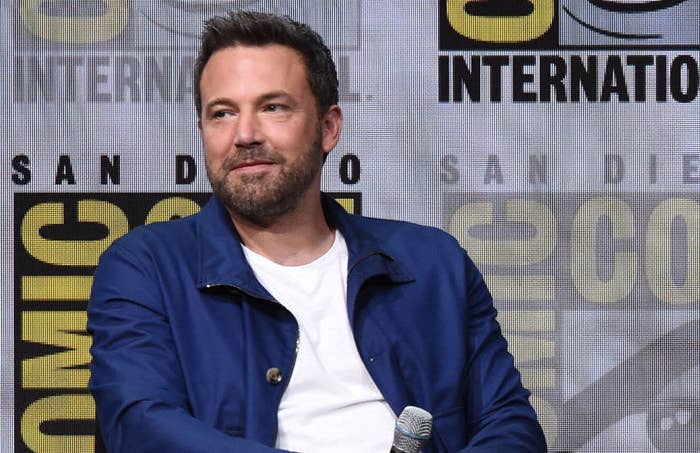 SAN DIEGO — Just one day after The Hollywood Reporter posted a story alleging Ben Affleck is being pushed out as Batman in the DC Extended Universe, the actor took the stage at San Diego Comic-Con and put the rumors to bed.
"Let me be very clear, I am the luckiest guy in the world. Batman is the coolest fucking part in any movies," he said. "I'm so thrilled to do it. I know there's been some misconceptions because maybe I wasn't enthusiastic about it." But, he added, "It's fucking amazing."
Affleck — who was joined on stage by Ezra Miller (The Flash), Gal Gadot (Wonder Woman), Ray Fisher (Cyborg), and Jason Momoa (Aquaman) — will next appear as Batman in the upcoming Justice League movie, which will be released on Nov. 17. He's also set to star in the 2018 Batman standalone film, titled The Batman, directed by Matt Reeves — whose newest film War for the Planet of the Apes just debuted in theaters on July 14.
"I would be a fucking ape on the ground for Matt Reeves," Affleck said at the panel. "Don't believe the hype," Miller added.

"I'm really blown away and excited, and it's a great time in the DC Universe," Affleck said. "I think you'll see why I'm so excited for Batman."

Warner Bros. film studio chief Toby Emmerich previously debunked the report that Affleck was being pushed out, telling The Hollywood Reporter: "Ben is our Batman. We love him as Batman. We want to keep him in the cowl as long as we can."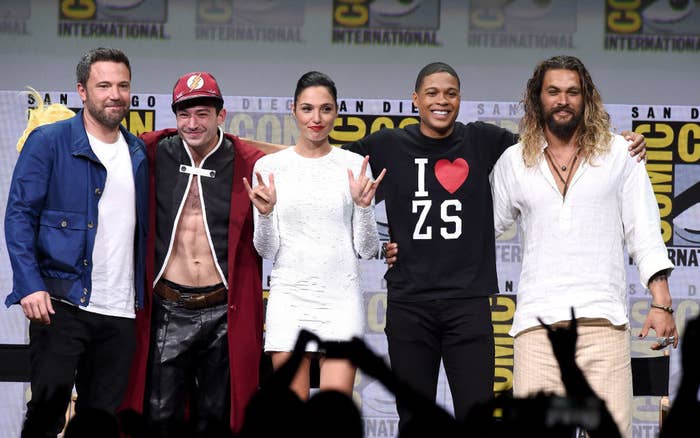 Affleck planned to direct the 2018 Batman standalone movie, but stepped down in January. At the time, he said: "Performing this role demands focus, passion and the very best performance I can give. It has become clear that I cannot do both jobs to the level they require. ... I remain extremely committed to this project, and look forward to bringing this to life for fans around the world."
Reeves, who was brought on as a director in February, dropped the script Affleck wrote with DC's chief creative officer Geoff Johns, he said on MTV's Happy Sad Confused podcast earlier this month. "It's a new story," he said. "It's just starting again. I'm excited about it. I think it's going to be really cool."

Affleck made his debut as Batman in Batman v Superman: Dawn of Justice, the long-anticipated sequel to 2013's Man of Steel. His performance was not well received, and because Man of Steel, Batman v Superman: Dawn of Justice, and then Suicide Squad were all met with indifference at best and mockery at worst, the fate of the interconnected DC films Warner Bros. was betting on seemed to be up in the air.

That is, until Wonder Woman changed everything earlier this summer and surpassed all of its DC predecessors at the box office, exceeding expectations in every single way. But time will tell if it's enough to save Affleck's Batman movie.
Casey Rackham contributed reporting to this story.