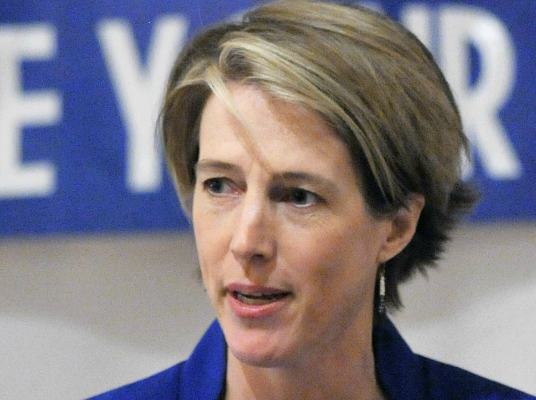 Zephyr Teachout, who failed in a surprisingly stiff challenge to New York Governor Andrew Cuomo for the nomination of the progressive Working Families Party, will challenge Cuomo for the Democratic nomination for governor, she confirmed for the first time in an interview with BuzzFeed Friday.
Teachout, a Fordham law professor who also worked on Howard Dean's failed presidential bid, will run alongside Tim Wu, a Columbia law professor known for his advocacy of net neutrality, as her lieutenant governor, they said in the joint interview.
Teachout also opened a new front against Cuomo with criticism of his own choice for Lieutenant Governor, Kathy Hochul, who is best known in the state for her 2007 battle against a plan to issue drivers licenses to undocumented immigrants.
Teachout said that in a state that typically focuses on "honoring the dignity of all immigrants" she is "disappointed" in Hochul.
She described Hochul as someone "who has not traditionally been a friend of immigrant communities."
Another progressive candidate, Bill Samuels, reportedly considered challenging Hochul.
Even getting on the primary ballot may be a challenge: New York State requires 15,000 signatures. And Cuomo, who eked out a victory in the progressive-dominated Working Families Party, has deep roots in the state's Democratic Party. He has also supported liberal causes on social issues, such as same sex marriage, even as he tacked to the center on economic issues.
Teachout and Wu said they will to position themselves as the anti-Cuomo's, touting their progressive bonafides while highlighting Cuomo's right-leaning tendencies, such as cooperating with a Republican-led state Senate and supporting tax breaks for the rich.
Teachout's unlikely bid at the Working Families Party convention was upended by a last minute deal cut between Cuomo, top union leaders, and New York City Mayor Bill de Blasio. Though Cuomo promised to champion some progressive causes and work to win a Democratic state Senate, many within the party don't fully trust him to uphold his end of the bargain. Teachout said she hopes to win their support and draw out others who usually skip out on primaries.
Despite de Blasio's role in helping Cuomo win the party line, Teachout said she isn't upset with the mayor who has become a national darling of the progressive movement.
"No bad blood at all. I love the Working Families Party," she said. "I think it was an important moment for concessions from Andrew Cuomo. I think it's still important to challenge him. I think I can beat Andrew Cuomo."
In reaction to growing rumors of Teachout's challenge to Cuomo, the Working Families Party sent out a statement Friday afternoon encouraging "progressives to support Governor Cuomo in the Democratic primary."
Teachout and Wu wouldn't delve too much into politics outside of the state. They said they admire Elizabeth Warren and Sherrod Brown but wouldn't name any current governors they look up to because it's "very hard to judge people in the present."
Instead, they harkened back to the early 20th Century, citing both Theodore and Franklin Roosevelt as governors they admire.
"We think anti-trust policy is important," Wu said. "It used to be Standard Oil...now it's Comcast."
Though Teachout's campaign can prove disruptive to Cuomo's early election season, it has one silver lining for the incumbent.
Without a primary challenger, Cuomo would have to return a percentage of donations he received. With Teachout's entry, Cuomo will be able to accept maximum donations for both the primary and general election cycles.